Now LafargeHolcim can deliver concrete five minutes faster
For building material manufacturers LafargeHolcim, getting concrete delivered within 90 minutes is critical or it will perish.
Concrete trucks are heavy and often hindered by routing restrictions. The challenge was to pinpoint the exact location at the construction site to avoid delay, limit in-person transactions due to COVID-19, and work towards a 'net zero climate pledge' to reduce greenhouse gas emissions.
With HERE we have a partner on board who is able to provide mapping and navigation services across our global footprint.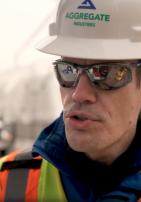 Read the full story
Explore how LafargeHolcim uses location to improve safety, sustainability and customer satisfaction.
Get in touch to learn more
Let's talk about how our spatial intelligence solutions for asset tracking and supply chain can help you.
Discover related solutions
HERE Last Mile
Help fleet managers take control of delivery operations with our end-to-end planning application.
Supply Chain
Solve supply chain challenges quickly by spotting disruptions and problems in real-time.