Build customer trust in assisted and automated driving, with high-precision ADAS map content and data
Enhance your advanced driver-assistance systems (ADAS) or highly automated driving (HAD) solution with thousands of location data sources – to see what vehicle sensors can't.
Explore HERE capabilities and services for ADAS and HAD
Customer stories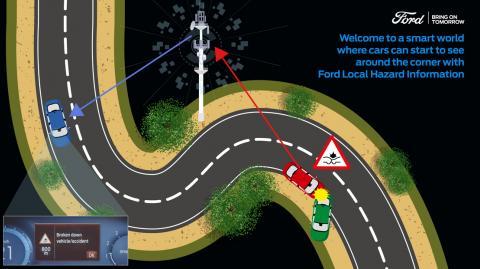 Giving drivers early warning of danger around the corner
Together with Ford, we deliver a warning system to create awareness for upcoming road hazards.
This is a significant step forward. Warnings are specific, relevant and tailored to try to help improve your specific journey.
Creating the next level of mobility
Watch how NIRA Dynamics utilizes the growing HERE ecosystem by reaching out to a larger audience.
We can make use of the vast network of customers that HERE has from the beginning.
Providing 5G-enabled collision avoidance
Verizon's 5G Ultra Wideband capabilities, combined with HERE HD Live Map and Live Sense SDK, help warn vehicles about potential collisions.
By harnessing the power of Verizon 5G Ultra Wideband and 5G Edge, along with HERE's proprietary 3D positioning algorithms, we are driving together toward a safer and more precise future.
VSI Labs lane-keeping report
Learn how you can use HERE HD Map data to improve ADAS and HAD performance.
Take ADAS and HAD to the next level with HERE
Join other major OEMs and automotive brands in enabling a better location-aware experience, across all levels of assisted and automated driving.
Related products and services