Bold? Innovative? Curious?
Are you full of ideas to move forward, and driven by a desire to give back? There may be a place for you at HERE.
We're looking for people who are doers as well as thinkers, can adapt fast, and thrive when working with others. We have offices in 53 countries, including North America, Germany, India, France and our HQ in the Netherlands.
You'll enjoy a positive, stimulating and fun environment – with opportunities to grow, a fast-paced approach to technology, and a place that values diverse perspectives.
Ukrainian talent? Join our fast-track program
We want to help talented people who are fleeing the conflict in Ukraine. Our dedicated talent community and fast-track application program aims to match Ukraine talent with jobs in technology, product, design, marketing and other areas.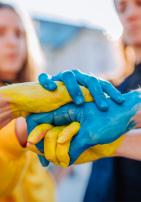 Awards
We're proud to have been recognized by external organizations and institutions all over the world for our open, innovative culture.
Like what you've read?
Whether you're a developer, marketer, project manager or IT expert, we welcome you to apply to HERE. We look forward to hearing from you.
Equal opportunity
HERE is an equal opportunity employer. We evaluate qualified applicants without regard to race, color, religion, sex, sexual orientation, gender identity or expression, national origin, disability, veteran status, and other legally protected characteristics.
Security and privacy
Our recruitment communications
To communicate with candidates for employment we use the applicant tracking system iCIMS. Email addresses used in the talent acquisition process will end with @here.com or will include a reference to HERE in the front part and end with @agents.icims.com (example here+email+9zio-27880318f6@agents.icims.com). We will not contact you from commercial email accounts, such as @gmail.com, @yahoo.com or @outlook.com. If you have reason to believe that a person reaching out to you is not an official HERE Technologies representative, please feel free to contact security@here.com to have the contact validated.
Recruiting process changes during COVID-19
At HERE Technologies, we are actively monitoring the evolving COVID-19 pandemic and adapting to protect the health and safety of our employees, their families, our customers, our partners and the communities in which we operate including our job candidates. Learn more about how we're fighting COVID-19 with location by supporting our partners, communities and relief efforts. We are listening and working to provide you with information on changes to our recruiting process. We understand you may have questions for our recruiters and we're here to help – contact us via our online chat system.