Services
HERE Positioning
Bring high-precision location awareness to your apps and devices, even in challenging indoor and outdoor environments.
Gain worldwide positioning accuracy using a combination of satellite, sensor, cellular and Wi-Fi signals
Access hyper-precise GNSS positioning
Get precise global positioning with accuracy up to 0.2 meters for automotive and mass-market devices.
Use a full positioning technology stack
Gain a faster time-to-first-fix (TTFF) even when offline, using integrated positioning methods including radio map tiles or power-efficient sensors.
Scale seamlessly on your preferred cloud
Deploy quickly and easily worldwide with multi-region and multi-cloud availability on AWS and Azure or on-premises.
Explore a range of advanced positioning services
HERE HD GNSS Positioning
Use hyper-precise, sub-meter level positioning accuracy for automotive, mobile devices and chipsets. You can improve accuracy by 3-4 times compared to regular GNSS positioning.
HERE Network Positioning
Pinpoint the geographic position of a device or asset with our hybrid technology. Even when GPS is compromised or unavailable, you can obtain an accurate location fix with our global, crowdsourced database of cell IDs and Wi-Fi access points.
HERE A GNSS Positioning
Reduce your time-to-first-fix for GNSS receivers from minutes to seconds. Support all constellations, including GPS, GLONASS, Beidou, QZSS and Galileo.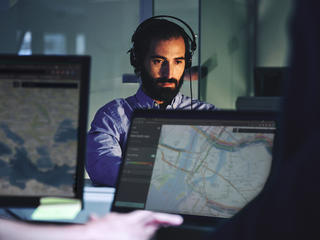 Available for self-hosting
Find out how storing location data on your own infrastructure provides full control of your data safety, security and privacy while reducing latency and improving cost management.
Improve positioning accuracy for your specific use case
Related resources
HERE Positioning factsheet
Learn more about HERE Positioning in this handy reference.
Case study: Positioning for Sony
Discover how Sony brings precise positioning to devices with HERE.
White paper: Positioning in a 5G World
Read more about the increasingly vital role of high-precision positioning.
Discover our pricing
Get started for free with flexible pay-as-you-grow pricing.
See related products and services