Services
HERE Map Rendering
Render spatial data to suit your business needs. Use data that is accurate, comprehensive and updated daily.
Use customizable graphics and live data that reflect the real world
Harness advanced customization
Import, style, display and customize map appearance towards your specific customer use cases or brand guidelines. Configure the look and feel of your map by changing the color, icon size, width, length and other properties. 
Access and visualize real-time location data
Use contextual and intuitive map displays powered by unique map attributes, including millions of real-time updates across the globe. Display real-time location date using HERE's easy-to-use visualization tools and libraries, for data sets of any size.
Get global and local user interfaces
Discover high-quality maps with worldwide coverage in over 190 countries, featuring a native design to fit your application's look and feel.
Harness our catalog of APIs for improved rendering
Vector Tile API
Access vector tiles with HERE data. Use customizable and interactive map styles to support your business needs.
Raster Tile API
Build applications using maps and satellite tiles with a variety of map styles and display options (base, satellite, hybrid, day/night, geopolitical views, etc.). Power use cases with specially designed features for the Transportation and Logistics space (e.g., Truck Restrictions and Environmental Zones).
Maps API for JS
Display geospatial data seamlessly on web pages with a client-side JavaScript SDK. Build location-based internet applications for both desktop and mobile. Use maps API for JavaScript (Map Rendering Web SDK).
Map Image API
Integrate personalized static map images into your applications, with access to a variety of styles and the ability to overlay custom data.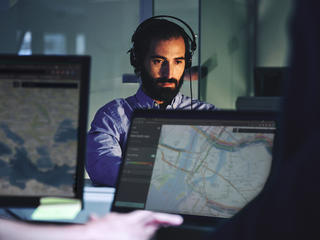 Available for self-hosting
Find out how storing location data on your own infrastructure provides full control of your data safety, security and privacy while reducing latency and improving cost management.
Related resources
Try our real-world example
Learn how to use HERE's JavaScript Map API by creating a web application for Waterfall Express – a start-up specializing in bespoke adventure travel itineraries. Your app will plan and display routes based on the client's starting point, preferred mode of transport and multiple destinations by searching for locations of interest. 
Control the location of the map
Display a map centred on specified location at a specified zoom level. 
Discover our pricing
Get started for free with flexible pay-as-you-grow pricing.
See related products and services