HERE Tour Planning
Improve how you utilize your fleet with many-to-many route planning and customizable, en route optimization.
Lower costs and improve delivery times
Improve delivery and tour planning
Use advanced fleet planning that minimizes cost or time on the road by considering factors such as fleet size, vehicle types and loading capacity. Calculate and dispatch thousands of deliveries within a working shift across your fleet in a single request.
Reduce missed deliveries
Improve customer satisfaction and delivery success rates with dynamic route re-planning. Optimize tours based on delivery windows and driver shifts, linking customer-defined job requirements to vehicle capabilities.
Unlock fleet optimization
Factor in specific rules and regulations such as hazmat restrictions and speed limits, applicable to all types of vehicle and driver profiles. Use live traffic feeds to dynamically optimize en-route journeys and update ETAs.
Optimize plans for your entire fleet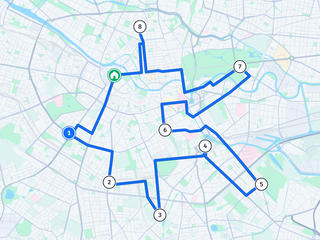 Plan better routes and save time
Optimize routes according to cost or completion time. Operate more efficiently and lower costs by estimating the total delivery cost for each vehicle. Maximize fleet utilization by selecting parameters such as vehicle type and capacity. Match jobs with vehicles based on time windows, job priority and driver skills.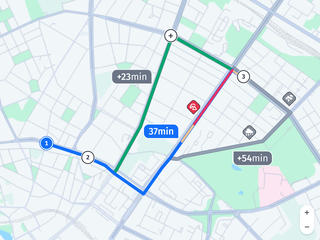 Dynamically update live tours
Re-plan or modify routes on the go using real-time traffic data. Ensure customer satisfaction by adapting to changing plans or sudden disruptions. Add new jobs, re-route instantly and maintain updated ETAs, applying special truck-routing attributes when commercial vehicles are used for a tour.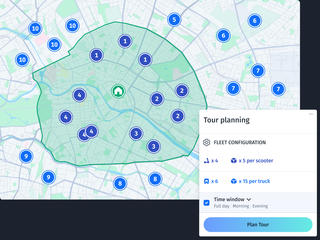 Benefit from flexible vehicle profiles
Get accurate and reliable outputs with the HERE Tour planning algorithm that's applicable to large and diverse fleets, including electric vehicles. Factor in specific vehicle types (e.g. truck, van, and scooter), vehicle range, relevant truck rules and regulations (physical, legal, hazmat) and speed profiles.
Discover our pricing
Get started for free with flexible pay-as-you-grow pricing.
active logistics
Improving productivity through automation
Watch active logistics explain how location technology helps them build fleet management software that creates accurate tour plans within minutes, unlocks operational gains and boosts productivity through the entire supply chain.
For every challenge we have – regarding technology or location technology – HERE has something to offer.
METRO.digital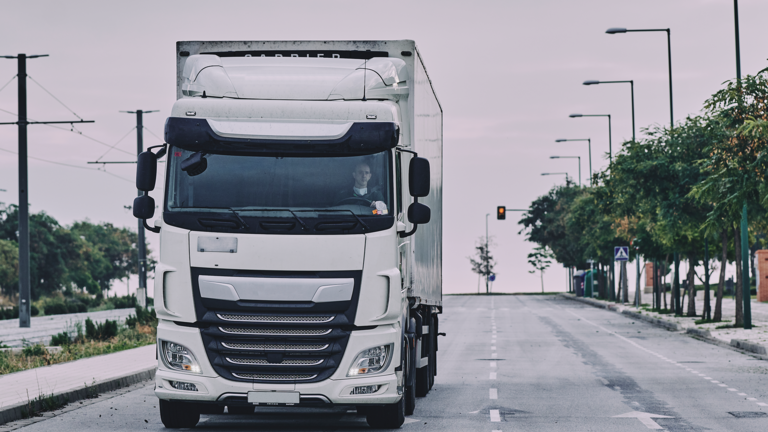 Automating tour planning for faster delivery
Read about how HERE Tour Planning allowed METRO.digital to achieve operational efficiency, flexibility and continual business innovation to increase customer satisfaction by 13%, increase fleet planning automation by 37% and enable late orders.
HERE offers the most comprehensive solution in the market, especially considering how many countries we operate in.