HERE Tour Planning
Improve how you utilize your fleet with many-to-many route planning and customizable, en route optimization.
Lower costs and improve delivery times with superior tour planning
Straight-forward integration
Benefit from smooth and easy integration. Get to market faster by reducing the time and effort from the evaluation phase to service release.
Advanced fleet planning
Optimize your tour planning for cost or time, incorporating fleet size, vehicle types and loading capacity across all vehicles. Calculate and dispatch thousands of deliveries across your fleet within a working shift, in a single request.
State of the art tour optimization
Factor in specific rules and regulations for trucks, such as hazmat restrictions and speed limits. Applicable to all types of vehicle and driver profiles. Dynamically optimize journeys while en route.
Optimize plans for your entire fleet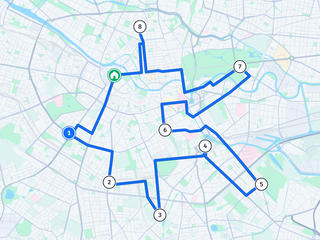 Plan routes effortlessly and save time
Optimize routes to minimize costs or total time on the road. Our algorithms estimate the total delivery cost for each vehicle, helping you operate more efficiently and lower costs. Select from various parameters, such as vehicle type and capacity, to maximize fleet utilization. Match jobs to vehicles based on time windows, job priority and skills.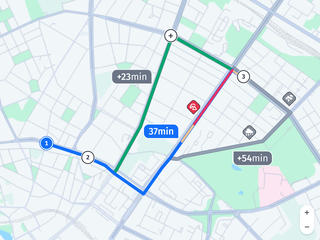 Dynamically update live tours
Replan or modify routes using real-time traffic data. Add new jobs, re-route instantly and maintain updated ETAs, as plans change or disruptions occur, to ensure customer satisfaction.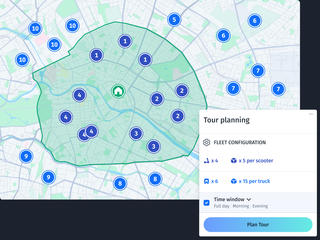 Benefit from flexible vehicle profiles
Get accurate and reliable outputs with the HERE Tour planning algorithm. Factor in specific vehicle types (e.g. truck, car, and scooter), vehicle range, relevant truck rules and regulations (physical, legal, hazmat) and speed profiles. Applicable to large and diverse fleets, including electric vehicles.
Related resources
HERE Tour Planning API demo
HERE Tour Planning one-pager
HERE Tour Planning developer guide
Discover our pricing
Get started for free with flexible pay-as-you-grow pricing.