Maps & Data
Dynamic Map Content
Enhance the journey experience with real-time information. Help drivers to arrive safely, comfortably and on schedule, by using dynamic content APIs in your apps and services.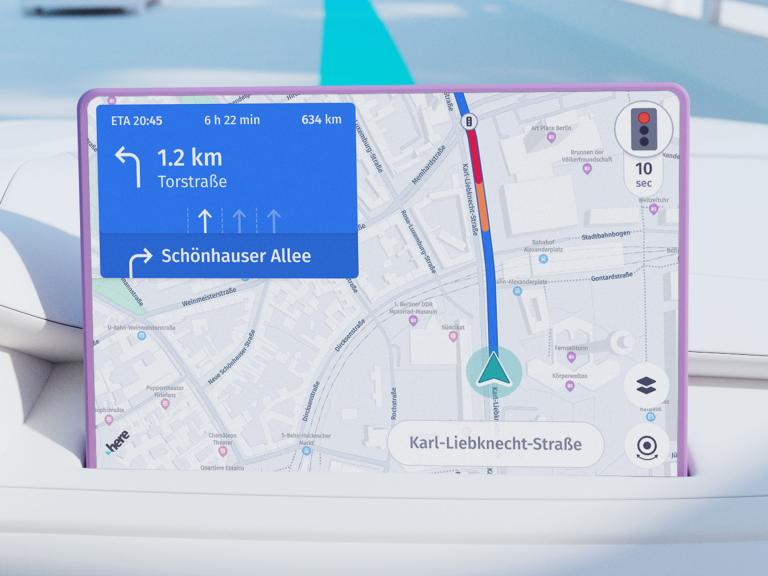 Empower drivers with relevant real-time data about the road ahead, delivered via a set of RESTful APIs
Enable informed decisions with rich data
Enrich your in-vehicle navigation systems and mobile companion apps with granular data about traffic, road hazards, fuel and parking options.
Access a one-stop-shop for dynamic content
Avoid the hassle of dealing with multiple service providers. HERE gathers data from hundreds of sources and delivers it via easy-to-use APIs.
Support consistent data quality
Our strict quality control and real-world testing deliver robust data to your drivers – providing accurate and relevant results and avoiding data duplication.
Transform the way you use location-related content
HERE Real-Time Traffic
Keep drivers informed and on the move, with access to real-time information on traffic flow, roadworks and accidents.
Eleos
Helping truck drivers and operators make more informed decisions
Eleos integrates HERE live data for truck routing, navigation and real-time traffic into native iOS and Android apps for business customers.
HERE has packaged and delivered capabilities in a way that makes it easy to consume and utilize as we build our overall offering. That's very important to us.
Discover our pricing
Get started for free with flexible pay-as-you-grow pricing.
See related products and services