Applications
HERE Navigation
Deliver a complete navigation and services experience for connected vehicles – with a turnkey or customizable Software-as-a-Service (SaaS) solution.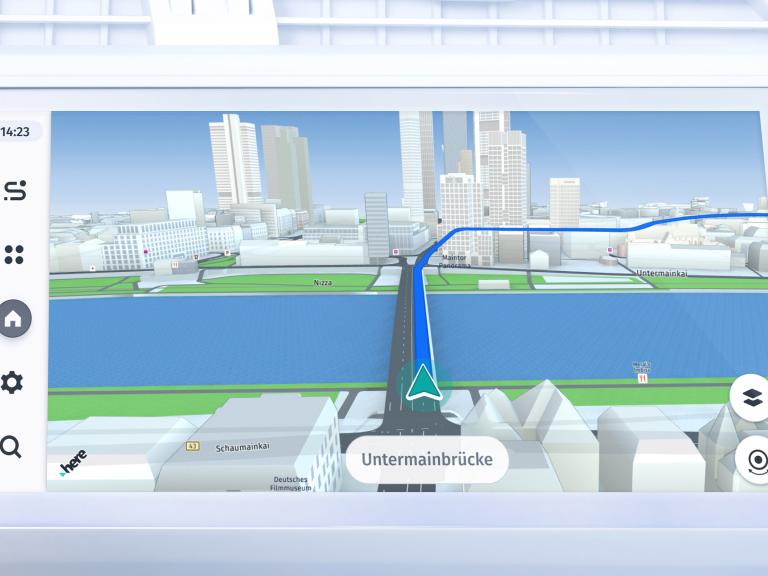 Discover a new direction for navigation and connected services
Give your customers a turnkey and fresh automotive navigation experience with HERE Navigation.
Developing and maintaining a navigation system is both expensive and time-consuming. Not only do you have to build it, but to stay competitive you have to constantly launch new features and roll out fresh updates.
With HERE Navigation, you can give your end-users the latest in-vehicle navigation without any of the hassles of building and maintaining it.
Reduce costs and complexity by using an off-the-shelf white-label SaaS application, ready for you to skin using your brand. Start by choosing from a full set of UX, features and services to give your drivers as standard. Rather than investing in your own developers, get automatic updates directly from HERE. Create new revenue opportunities by offering drivers additional paid-for service through HERE Platform and third-party services.
HERE Navigation is already being implemented by major OEMs globally – in both cars and heavy trucks.
Deliver the freshest navigation experience
Provide up-to-date maps with streaming and caching. Develop new proprietary features and services with our Service Package SDK.
Upgrade navigation features and services easily
Use over-the-air (OTA) capability to update user interface (UI), features and services throughout the vehicle's whole life cycle. Access our secure portal for seamlessly adding new connected services.
Get to market faster with a SaaS solution
Accelerate deployment with a complete turnkey navigation application. Benefit from a re-styleable UI, global availability and full integration with connected services and voice solutions.
Explore the benefits of HERE Navigation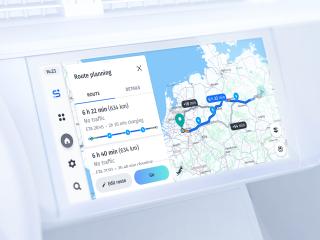 Improve the EV driving experience
Reassure electric vehicle drivers with multi-stop route planning and automatic addition of charging stops, based on the charge level of the car.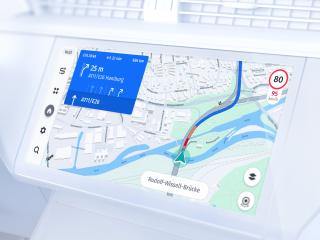 Help drivers stay in the optimal lane
Guide drivers safely and clearly into the correct lane for their next turn, with detailed road lane information.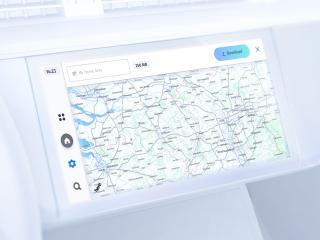 Provide reliable, accurate navigation
Access our latest accurate streaming maps and cache location data for offline navigation.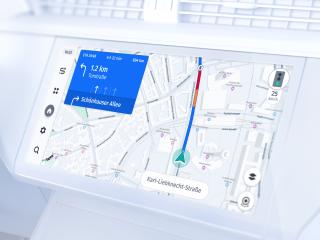 Give the green light to efficient driving
Use predictive traffic signal data to enable a red-light countdown – and get guidance on speed needed to catch green lights ahead safely.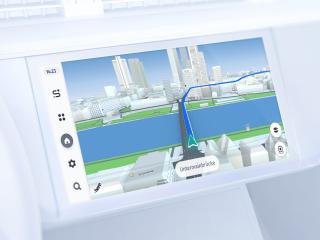 See the urban landscape in 3D
Give drivers a clearer navigation context – with optional 3D representations of selected city center features, such as major buildings and bridges.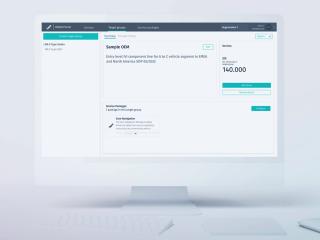 Control your solution securely
Configure different navigation experiences for drivers, in line with vehicle brands, trim levels or regional needs – using a secure online portal.
See related products and services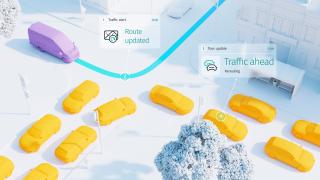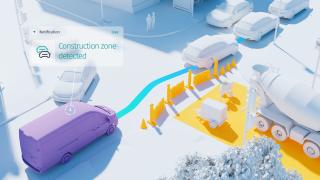 Resources
One-pager
Learn more about HERE Navigation as an off-the-shelf navigation solution for embedded IVIplatforms or mobile with a fully configurable UX and map design.
Get in touch
Learn more about how HERE Navigation can help you deliver an up-to-date navigation experience and leverage a Software-as-a-Service for navigation and connected services.