Improve your supply chain operations with increased efficiency, seamless indoor-outdoor tracking and accurate multimodal ETAs
Track your shipments and assets in real-time
Maintain delivery SLAs, get full condition monitoring and prevent delays, damages or loss.
End-to-end shipment visibility in your supply chain is critical for maintaining delivery SLAs. Reduce time spent guessing ETAs by monitoring the location and condition of your shipments. Detect damages in transit to increase on-time, in-full performance and boost your NPS score.
Enable the real-time tracking of your assets ranging from containers, pallets, bins and racks to forklifts, inventory and heavy machinery. Reduce loss of assets and costs and increase your process throughput by at least 20%. Have full visibility on what is in stock, how it is used and when it needs maintenance.
Customer stories
Optimizing technician time
Siemens Healthineers has the capability to inform technicians if the shipment has been delivered to the right floor and room.
Through our relationship with HERE, Siemens Healthineers can inform hospitals and technicians ahead of time about early or delayed shipment arrivals.
Preventing warehouse gridlock
Watch how Crave InfoTech optimizes routing for large warehouses using HERE indoor mapping solution.
We're very excited with the HERE Technologies indoor mapping solution. It's cost-effective, it's easy to implement and it serves most of the scenarios you can think of in a large warehouse environment.
Optimizing route planning
See how HERE helped Leogistics solve its yard management and route planning challenges.
Our expectation from a continued partnership with HERE is that we don't need to do anything about location data at all...We can just present it by doing look-ups directly on the HERE platform.
HERE offering within Supply Chain
HERE Asset Tracking
Improve the efficiency of your assets with real-time visibility of asset location, status, health and behavior – both indoor and outdoor. Reduce the loss of assets through misplacement or theft, ensuring they're never sitting idle.
HERE Shipment Visibility
Get end-to-end tracking of the location and condition of high-value shipments across multimodal supply chains – in transit and all the way up to the right floor and room. Receive real-time ETAs and alerts throughout the journey to avoid delays. Optimize your SLAs, reduce costs and improve customer satisfaction.
HERE Yards
Improve efficiency by mapping your business sites, such as warehouses, factories, distribution centers, hubs, yards and ports. Increase driver throughput and improve inbound logistics and safety while reducing dwell time, missed slots and costs.
Our hardware portfolio
Affordably lease hardware from our portfolio of trackers for every use case and need. This includes complete condition monitoring to global connectivity and indoor tracking.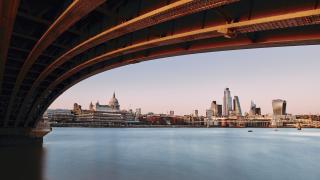 Waterways: outdated travel method or novel mobility solution?
HERE specializes in solving transportation and mobility challenges using location intelligence. And that might mean getting your feet wet.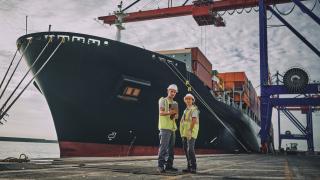 How supply chains have responded to COVID-19
Low Power, High Visibility: Seamless Outdoor and Indoor Asset Tracking
Join Aymeric Ramboud (Lead Product Manager at Actility) and  Ajatshatru (AJ) Kotwal (Director of Product Management at HERE Technologies) to discover how cutting edge IOT tracking can help deliver business benefits and lower costs.
When Supply Chain Visibility Matters Most
Join speakers from HERE Technologies and Siemens Healthineers as they discuss how shipment visibility drives change in the healthcare industry and beyond.
Discover our powerful platform capabilities
See how our platform capabilities can help you optimize your supply chain.
Contact us
Learn more about how you can make your supply chain more resilient with accurate ETAs, shipment visibility and precise location of assets. Please fill out the form below and one of our experts will contact you.
*Required field. We will use your information according to our privacy policy.