Don't get stuck in the middle mile: here's how to save time and money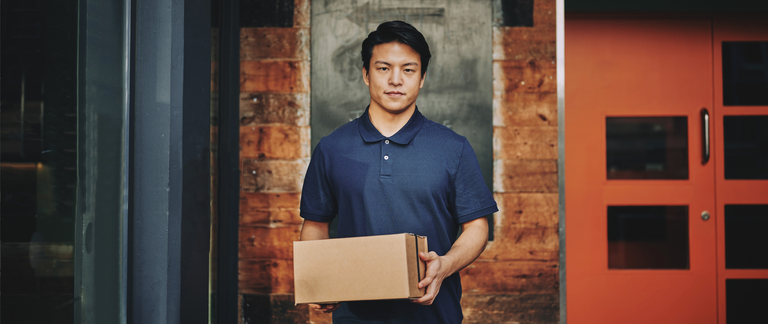 A more efficient middle mile can reduce the costs of last-mile delivery and help logistics companies save on overall costs.
In supply chains, the costly last mile gets a lot of attention. This is no surprise as it can be the most expensive and inefficient part of the supply chain — but get the middle mile right, and the last mile becomes a whole lot cheaper and more efficient.
Middle-mile delivery is the transfer of products from a distribution center to fulfillment facilities where customers will eventually buy them. Some of the challenges include a lack of visibility in warehouses and yards, routing issues and the location of fulfillment centers themselves.
Tracking assets and goods, even when this involves several companies working together, is key to improving visibility over the whole network. Many organizations such as Walmart and Target are automating their warehouses and fulfillment centers and implementing high-tech solutions to gain more efficiency in their middle mile.
In many customers' cases, the biggest topic is digitization of their operation.
Mapping the middle mile
But critical for those looking to improve routing in private areas such as yards is to be able to use their private data along with accurate maps to create bespoke solutions.
Speaking at HERE Directions 2022, Alex Gevrenov, Director of Product Management, said: "In the world we live in, there is a proliferation of data: map data, sensor data, all kinds of data that can become actionable. In many customers' cases, the biggest topic is the digitization of their operation."
He said HERE Workspace and the extended HERE ecosystem can make all that data actionable so you can create the right custom maps, experiences and services for your business. This would not be possible with off-the-shelf content and services only.
Customers can use HERE Workspace in three ways. Firstly, customers can make private changes to HERE Maps or create private map layers and use them in routing.
It can also be used for intelligent search when customers bring their own points of interest (POI) data and use them in the context of search and HERE Maps and services.
Finally, it can be used to generate business insights when the data are brought to and given context within the HERE map.
"The HERE ecosystem is becoming a leader in the creation and use of custom maps and location services," Gevrenov said. "It is powered by some key building blocks: HERE Workspace, with its secure and scalable private mapping and processing capabilities, HERE Dynamic Map Content and location services which are designed to be extensible and customizable, and business models based on subscriptions that make payment predictable. Customers can use HERE SDK to build the application that brings these customized experiences to life."
How a delivery giant solved its routing challenges
An online shopping and delivery organization had the permits to route in areas that others could not and wanted to reduce noise complaints. HERE gave them the ability to customize HERE Map Data, HERE Routing and HERE SDK to ensure they get the benefits they are looking for. "None of this could be achieved with an off-the-shelf map and off-the-shelf services," Gevrenov said.
The retailer opted for a Workspace-based map and services customization approach where they could create specific speed limits and restrictions for their trucks. Using HERE SDK, customers and drivers were able to see a version of the map tailored for their needs.
The solution resulted in improved ETAs and the ability to avoid the areas that had been a cause of complaints in the past.
Find out how you can create, deploy and scale your location-based solutions with HERE Workspace.
Sign up for our newsletter
Why sign up:
Latest offers and discounts
Tailored content delivered weekly
Exclusive events
One click to unsubscribe