Predict, plan, save: supply chains have changed in these three ways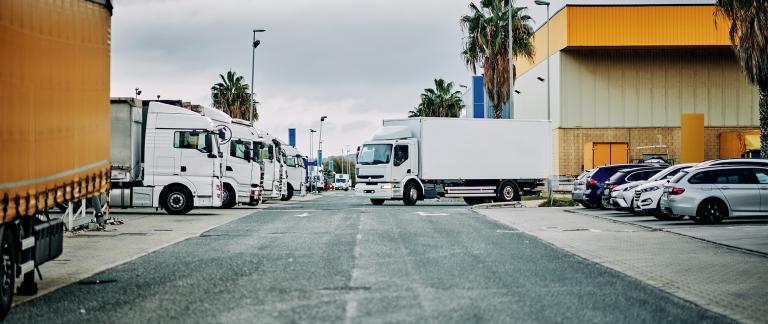 How companies can replace silos of information with end-to-end visibility — and become more resilient in the face of disruption as a result.
In their journey to the end consumer, goods generate a huge amount of information. These terabytes of data can include warehouse, fleet, vehicle, vessel, rail, air cargo, shipment and environmental data.
The problem is that most of it is housed in separate silos, not really put to work when supply chains need to generate accurate ETAs or gain insights into performance.
The previous two years have shown that external factors can wreak havoc on the best-laid plans. Geopolitical upheaval, the COVID-19 pandemic, and shortages of goods and employees — have all played their part in making supply chain management one of the most unpredictable tasks around.
This is where predictive supply chains come in. Location technology acts as a unifying link, bringing these disparate datasets together to gain insights that can help you save time, money, and fuel.
In our ebook, The predictive supply chain evolution, HERE Technologies experts explain the three phases of supply chains: static, dynamic and predictive.
Static supply chains are based on paper maps and fixed routes. While dynamic supply chains start to use real-time ETAs and visibility tools, a predictive supply chain will automate workflow management and some decision-making, using a deep learning-based predictive algorithm. In this phase, users can create accurate multimodal ETAs and replace time-consuming, manual tasks, such as load and capacity, optimization and risk analytics.
"Predictive supply chains help save costs by optimizing overall metrics and preventing claims and penalties and improving the overall customer experience."
Pressure drop
While supply chain visibility has been in demand for some time, the unique set of challenges logistics companies face today has made it imperative.
A recent webinar on Supply Chain Brain sponsored by HERE and AWS explored this topic. Titled Data-driven predictive supply chains, the webinar saw Bart Coppelmans, Global Head of Industry Solutions at HERE, join with Manish Govil, Global Supply Chain Segment Leader at AWS, to highlight the need for and benefits of predictive supply chains.
Govil pointed out that customer demands in the business world have intensified as a result of how expectations have increased for consumers in their personal lives.
"Not only do they want it delivered faster, but they want to know where it is at any given moment," he said. "If people can order an item for their home and get it delivered the next day, they see no reason this can't happen in business too."
"A lot of things disrupt supply chains. We have to predict what the impact will be on operations and take action to minimize it."
At the same time, external disruptions have had a huge impact on supply chains. "Everyone is painfully aware of the disruptions caused by the pandemic, but we have also had trade differences, hurricanes, and ships stuck in the Suez Canal," he added.
"A lot of things disrupt supply chains. We have to predict what the impact will be on operations and take action to minimize it."
Bart Coppelmans explained that bringing disparate data sets together with location technology can help generate the kinds of insights that lead to better decisions, especially when it comes to responding to this kind of disruption.
"Real-time visibility to us means being able to identify disruptions and respond to them, get multimodal ETAs, make decisions and correlate that to real-world events," he said.
For example, if you can identify whether a particular shipment will meet its delivery slot or will have to go on the next-day delivery schedule, you can alert customers with time-of-arrival notifications. Overall, visibility can help companies to optimize their entire transportation process.
HERE can help organizations to connect these different data sets and add the context of location to create value-added insights.
Benefits of predictive supply chains
Precision
Optimizing transportation planning, predicting events during the execution of multimodal shipment ETAs and post-trip analyses
Resilience
Enabling proactive workflow and decision support during disruptions and events
Sustainability
Unlocking a complete picture of your transportation footprint and enabling you to optimize accordingly
Orchestration
Providing the insights necessary to optimize workflows across multiple stakeholders in the transportation chain while also improving stakeholder communication and collaboration
Data integration
Unifying shipment, carrier, telematics and logistics business data with rich and accurate contextual data
Data quality/science
Delivering the highest quality of information through machine learning (ML) location-based analytics

Read the full eBook: The predictive supply chain evolution
Sign up for our newsletter
Why sign up:
Latest offers and discounts
Tailored content delivered weekly
Exclusive events
One click to unsubscribe