AI, EVs, supply chains and self-driving: highlights from Directions 2023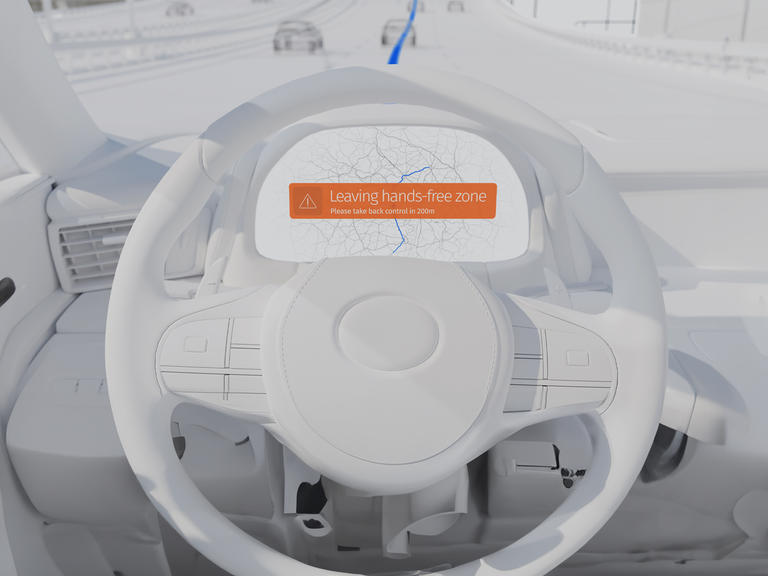 Gino Ferru, Senior Vice President and General Manager EMEA at HERE, shares his take on the challenges and opportunities for location technology showcased at our annual event.
The future is not a done deal. This is true for the companies from various industries that attended Directions this year, and we had some exciting conversations about how to rise to the challenges ahead and prepare for the next chapter.
In the automotive sector, we are seeing a significant orientation around the digital cockpit experience. The Lotus Eletre, showcased at Directions, is an example of one of the important themes of the event: EV range and predictive routing in the digital cockpit.
Autonomous driving capabilities up to L3 is another, along with Advanced Driver Assistance Systems (ADAS) and New Car Assessment Programs (NCAP). And it is not just the automotive world. Location technology is transforming many industries, from trucking to urban mobility, and partnerships are key to developing new use cases and moving our businesses forward.
Being face-to-face at the Cubex Centre in Prague [on November 1 and 2] meant we were able to get into the next level of detail, kicking off projects and initiatives, brainstorming, exchanging ideas and exploring opportunities.
New maps for a new world
The new option of being able to conflate client data with our data into one Map-Object-Model and optimize the user experience drew a lot of interest. What customers really want is a fresher map that is high quality, the ability to extend the object model and use their own data.
Directions was an opportunity to look at what we can achieve together with this kind of real-time mapping intelligence.
Free range
Range anxiety remains a challenge for electric vehicles (EVs), although there is still huge geographic disparity. For example, in the Netherlands, there is good coverage, but problems start if you want to drive to Austria or Italy. Short, routine journeys do not typically present difficulties but once you add high or low temperatures, rainy conditions or extra baggage in the vehicle, especially on longer trips, these variables can deplete the battery very quickly.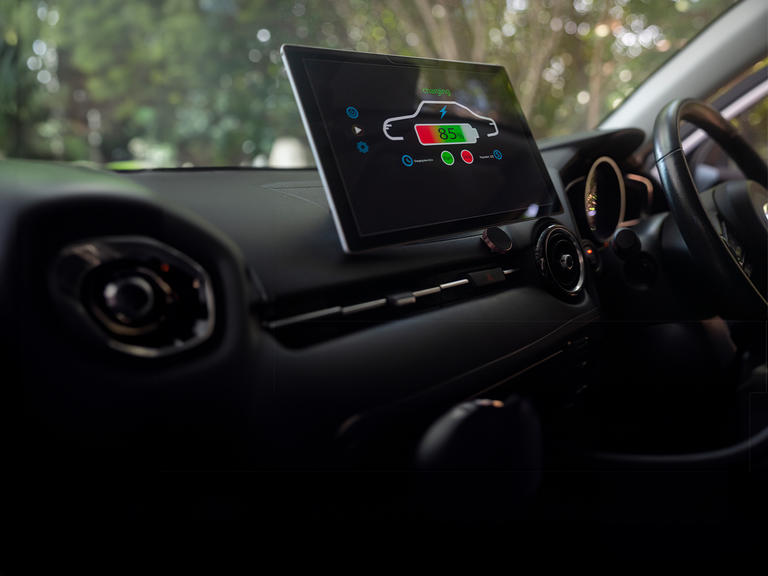 Suddenly, it is a whole different ballgame for the driver. Range decreases dramatically, perhaps by 20-30%, and then they find they are directed to the same charge points as other drivers, meaning long delays to their journey. We heard examples of people waiting for 10 hours to charge their vehicle. Consumer acceptance of EVs has been hit directly as a result.
One solution is to take these factors into consideration when calculating range. As more data becomes available, we can use artificial intelligence (AI) to predict range more accurately. Other datasets including adjacent services at charge points can be included, to minimize delays and reduce drivers' concerns and discomfort. In the future, the cockpit will recommend routes that consume less power, and the industry is improving battery configuration so that range increases.
Mobility matters
Changing habits of drivers in general were another big topic at Directions. Younger generations are now increasingly subscribing to mobility services rather than buying their own vehicle. They can use an app to rent the car, bike or scooter they need for a few hours, pay through the app and continue their journey on a different mode of transportation after dropping it off.
We are seeing micro-mobility services such as electric scooters, ebikes and electric motors gradually make a bigger impact in cities as people no longer want to be concerned with vehicle parking, maintenance, tax and insurance. Location technology can play a role here in offering multi-modal routes and providing precise positioning for the vehicles to support fleet management.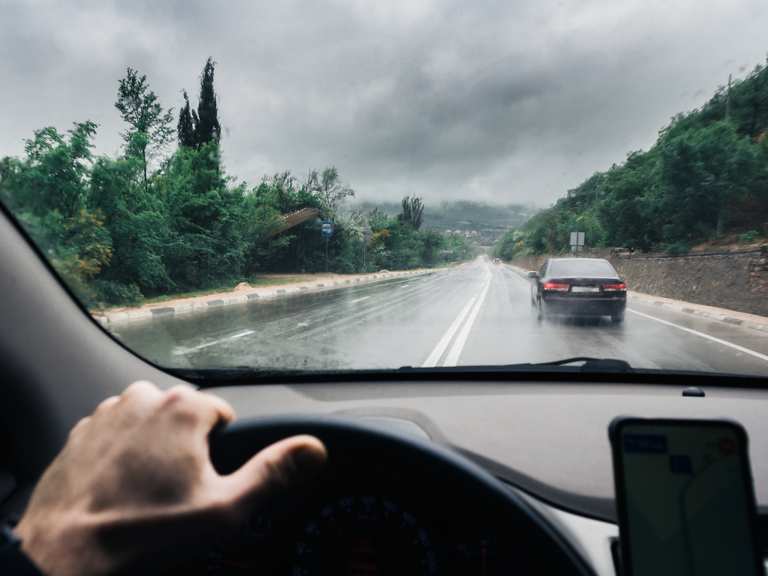 If you look at the customer segments as a pyramid, there will probably be a group of clients that will have their own vehicle, and combine it with subscribing to mobility services, using the entire spectrum. But once you go a little bit down the pyramid, considering economical affordability, there will be fewer sales and many more mobility services subscriptions.
High-volume car manufacturers must put a big transformational program in place. They need to focus on building software into their vehicles and then translate that software into a mobility subscription-based model.
Adding value
Our partner Eurowag, a Directions sponsor, is a good example of how we can work together to offer value-added location services to the digital cockpit. They offer services such as prepaid parking, toll and fuel payments.
The industry must use the whole ecosystem as we move to this new subscription model: we are going to see more entertainment and infotainment apps in the vehicle. For example, streaming TV or music apps, along with services that offer discounts and deals on hotels, fast food, EV charge points and other nearby amenities. Subject to privacy regulations and driver preferences, this can be another revenue stream for the Original Equipment Manufacturers (OEMs).
Automated driving: the road ahead
There are several scenarios on the table for autonomous vehicles. Some predict that we will not need a map at all as we rise up the levels of autonomy, that the entire stack will be made up of cameras, radars and sensors, and these will project their own map into the cloud. This will be supplemented by the information being sent into the cloud by other vehicles, and refined by AI, deep learning and image recognition.
However, not only are cameras expensive, but they are also unproven. Many automakers would prefer to choose each layer themselves, rather than be tied into a technology stack they have no control over. The alternative is for the HD map to be the base of autonomous driving, with the cameras providing supplementary information. An in-between consensus might emerge, depending on how important the role of AI and image recognition will turn out to be.
What we heard at Directions is that trucks are one of the most promising use cases of autonomous vehicles. In the US, it is predicted that there will be a truck driver shortage of 160,000 by the year 2030. The vehicle will probably drive autonomously in designated zones such as highways, and a driver will step in once it reaches the urban environment. The savings will be significant.
We can also expect a high level of adoption for L3+ in the mass market, though how fast this uptake will be depends on regulation and the economic realities of each respective market. There is still some work to be done building consumer trust in autonomous vehicles, as well as some who remain attached to the hands-on driving experience.
Sustainability, supply chains and CO₂
Technology can help organizations reduce CO₂ emissions and therefore their carbon footprint. At Directions, we heard how route optimization, asset tracking and more efficient fleet management can contribute to that.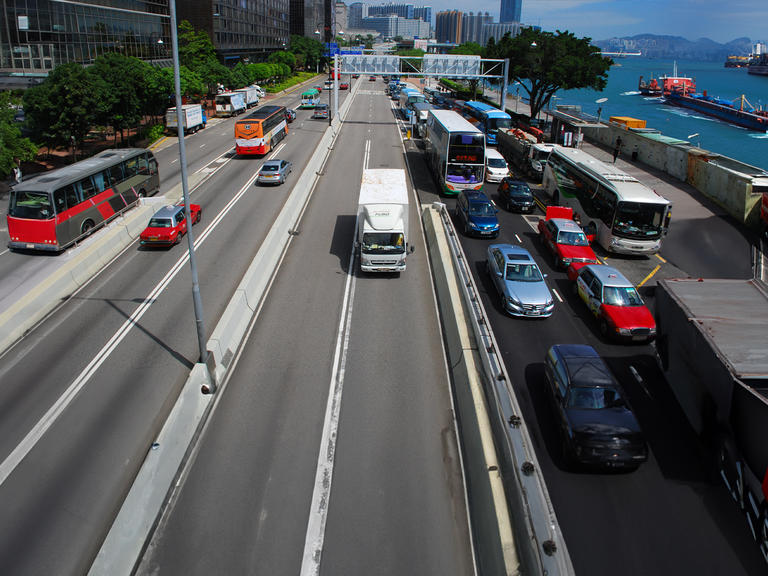 One future possibility for more efficient logistics is the deployment of real-time control towers with a high level of integration of third-party and fourth-party organizations that play a role in the supply chain. This enables everyone to track and trace all the movements of assets, containers, goods and fees across the entire process.
Companies will have to decide how much data they share and how much they keep to themselves for competitive advantage. HERE offers ETA calculation, positioning and routing solutions to help companies achieve this goal of end-to-end supply chain visibility.
Future focus
When we think about this near future, where does HERE fit in? We can achieve more together than alone and have at least five different kinds of partners, which were highlighted at Directions through our Partner Awards.
Probably the most important are the technology/software partners. When we collaborate with these partners, they can include our technology as a part of their chipset. Customers get a best-in-class, one-stop-shop experience that is already integrated. This will be important in the coming years.
There is an overall awareness in many industries of the importance of location technology. We are now sharply focused on those sectors and use cases where it can make a real difference.
Sign up for our newsletter
Why sign up:
Latest offers and discounts
Tailored content delivered weekly
Exclusive events
One click to unsubscribe