Debate worth having: can AI-powered robotaxis be the first truly autonomous vehicles?

Will the "ridiculously hard" problem of liability hold autonomous taxis back, or will public demand bring them into the mainstream regardless?
Jack McCauley is a bit of a legend in gaming and engineering circles. He designed the guitars and drums in Guitar Hero, the popular video game franchise, and worked at Oculus VR, later sold to Facebook for US$2bn. He also drives an electric vehicle [EV].
"Electric vehicles have made my life easier," he told an audience at the AI Summit in London recently. "There is no maintenance at all, there is a regenerative braking system. Excluding the battery, some EVs can last for 300,000 miles."
His experience has made him an enthusiastic backer of the concept of self-driving, electric taxis. "A huge number of vehicles in China are electric," he observed. "That wasn't predicted. There is a market for a car you can hail, use and then it goes away."
Perhaps it is not insignificant that McCauley lives in California, where he founded the Jacobs Institute for Design Innovation along with Paul Jacobs and others. The Institute has a course on Reimagining Mobility, where students can tackle the challenges of autonomous driving. Californians are more familiar with the sight of autonomous taxis than most. In San Francisco, Google's Waymo and General Motors' Cruise both offer rides 24 hours per day.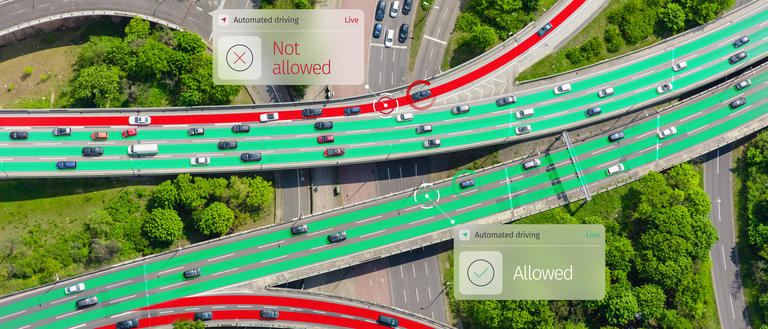 Yet many have pointed out the obstacles to more widespread uptake. In the AI Summit session AI in Autonomous Mobility, McCauley was joined by the Chief of Advanced Technology at Ocado Alex Harvey. Harvey laid out the delivery company's roadmap for automating part of its delivery service, with the first public trial starting early next year.
For Harvey, the truth about autonomous vehicles is obvious: the "ridiculously hard" problem of liability for self-driving vehicles — who will be blamed if something goes wrong — means they must operate in more controlled conditions.
"There are much greater opportunities for autonomous vehicles in logistics because the operational design domain [ODD] can be tightly controlled," he said. "The greatest challenge is finding the right use cases to develop the technology in an incremental manner."
Harvey said the concept of a car that can drive us home and then drive away is "somewhat flawed" due to the technical and regulatory challenges it still poses. The public also needs to learn to accept autonomous vehicles in their midst, which will take time.
However, McCauley said that these vehicles are "arguably safer than human-driven vehicles." Motorcycles, he said, can also be dangerous, but both consumers and authorities have come to accept them and figure out the legal implications in case of a collision or accident.
In his view, we can do the same for robotaxis if the demand is there.
Delivering the goods
Harvey said that the ODD for autonomous delivery vehicles can gradually be increased over time. What really matters is that they save money.
"Facilities such as warehouses and logistics are two of our biggest operating costs," he explained. "We have to find a way of delivering an autonomous vehicle solution that is economically viable, otherwise it is just an R&D project."
There are still issues that must be resolved. For instance, Harvey said, how customers will get their items from a delivery van if there is no one driving it or manning it. A typical Ocado vehicle will make between 20-22 drops daily and holds 40 ambient containers and 40 chilled ones. Adding numerous sensors also increases the weight, and lidar technology to power self-driving can see the cost shoot up.
However, drastically reducing the cost of delivering goods could ultimately make it cheaper to have them delivered than to go into a store to buy them. To start with, autonomous vehicles can go to homes in urban areas, traveling at a safer slow speed.
"This is the next step," he said. "It's the stepping stone to the dream of the robotaxi. AI can play a big role in a dynamic environment so the vehicles can get from A to B in the most efficient way."
Rich, precise and detailed maps such as HERE HD Live Map can support automated driving within a defined ODD.
Sign up for our newsletter
Why sign up:
Latest offers and discounts
Tailored content delivered weekly
Exclusive events
One click to unsubscribe