Our investors share our vision of enabling an autonomous world for everyone
We partner with industry leaders to shape the future of location technology
2021 Sustainability Report
Discover more about how we leverage our technology and talents to deliver sustainable solutions that address societal needs in our 2021 Sustainability Report.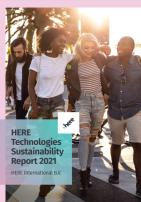 HERE Technologies is the world's leading location data and technology platform
We believe organizations should have easy and flexible access to location datasets, products, services and solutions. That is why we offer an open platform to leverage assets, develop applications and generate insights.
Omdia
HERE has retained its crown, pulling even further ahead of rivals. HERE has been ahead of Google in the completeness of its offering for some time and, [...] has closed the gap with Google in terms of reach.
Strategy Analytics
HERE demonstrates strength and leadership across most attributes, followed by Google and TomTom, then Mapbox.
Counterpoint
HERE has thus transformed its traditional mapping business into an industry-first, innovative open location platform married with a unique business model.
Investor resources
Learn more about HERE Technologies and what we stand for.
2021 Sustainability Report
Get started for free
Accelerate your business by creating custom maps, location services and applications.