Autonomous vehicles are already making a difference in these three ways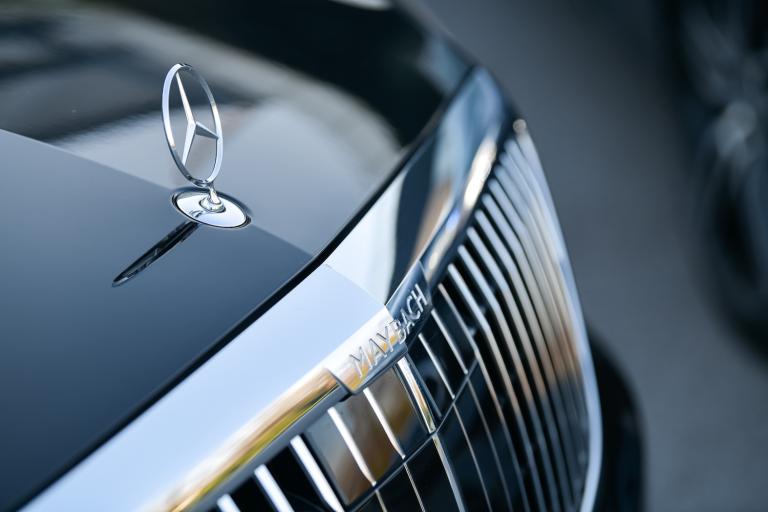 Self-driving cars might not be commonplace on our roads just yet, but automated vehicles are already transforming these three critical industries today.
Lying back while our car drives itself to its destination isn't our current reality. However, there are various industries in which automated vehicles are already fully operational and quietly making a huge difference.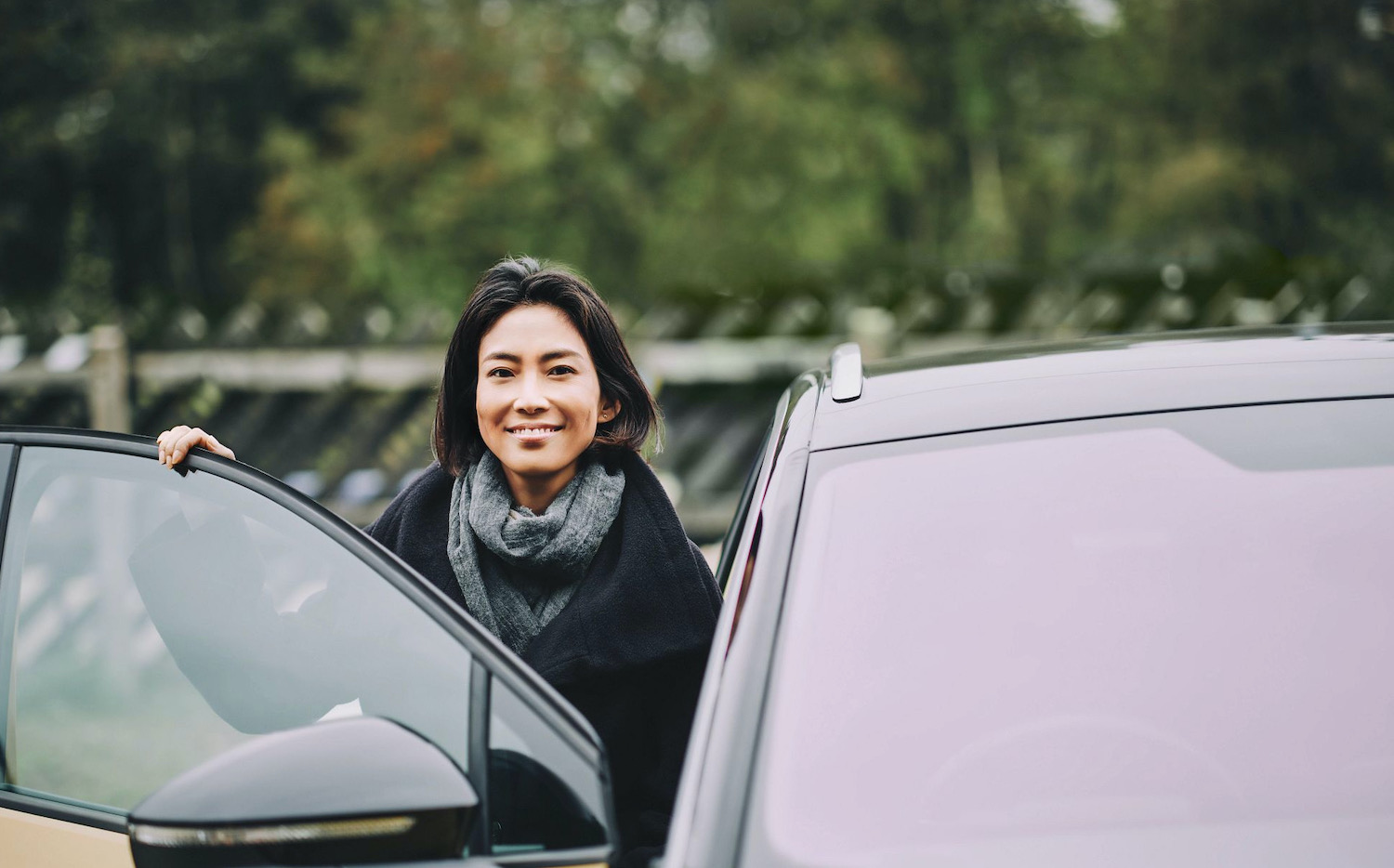 Read more: The road to hands-free: automated driving trends for 2022
Supply chains are benefiting from the deployment of autonomous trucks to meet a driver shortage in many locations, while autonomous fleets are alleviating congestion in international shipping ports. Elsewhere, the number of automated deliveries is projected to climb at an annual growth rate of 170%, from 7 million this year to an incredible 51 billion by 2030. Companies operating in this space include Doordash, NURO and Starship — and that's just for the last mile.
Automated guided vehicles are operating successfully in small, confined areas, such as harbors, warehouses and factories, airports and mines. Robotaxi firms such as Cruise have already started commercial operations in selected urban areas. Meanwhile, companies such as Navya and Easymile are running shuttles around the globe on specific routes. Even part of the journey of new passenger cars can be automated right now. Automated valet parking, traffic-jam pilot and highway pilot are all good examples.
"An increasing number of commercial launches are happening by around 2024," said Tim Wouda, Senior Manager, Product Management, Automated Driving Solutions at HERE. "There was an over-promise for autonomous passenger cars, with some people expecting them to drive us door-to-door by now. We are starting to move beyond these inflated expectations, however.
"Automated driving has progressed for specific so-called Operational Design Domains (areas and conditions the vehicle is allowed to drive in autonomously). Limiting the scope of operations has strongly reduced complexity, allowing earlier market entry."
He said there is momentum for companies that seek to invest in technology that can help with safety, efficiency and cost savings. Perhaps the most significant area this is happening is in the world of trucking.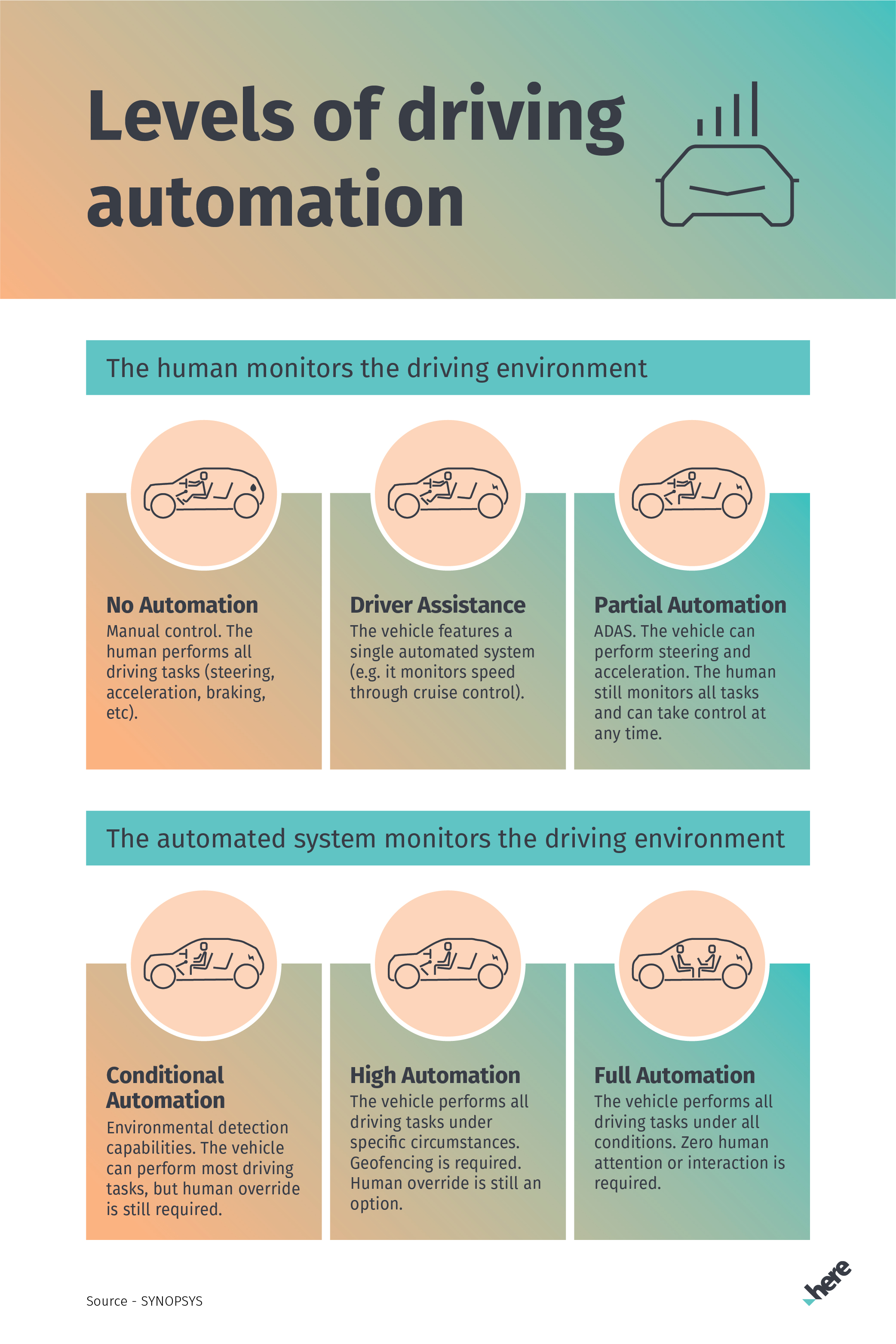 Higher levels of automation, as defined by SAE International, are now possible.
Keep on trucking
A Deloitte report recently found that autonomous trucks are increasingly taking to public roads not only as demonstrations but as fully commercialized operations with paying shippers. Even though many of these — chiefly but not exclusively in the US — are operating with safety drivers on board, for now, their proliferation shows market confidence in autonomous vehicles. The global autonomous truck market is predicted to grow from US$528 million in 2023 to US$166.8 billion in 2035.
Wouda said highways are a more predictable, controlled environment than urban centers, for instance. They are easier to map and continuously update than urban streets with complicated road rules and multiple, vulnerable road users. What's more, with a shortage of 80,000 truck drivers in the US alone, there is a strong business incentive to move to driverless trucks. Trucks that can operate 24/7 with no need for rest stops can quickly pay for themselves. Since drivers account for about 40% of the cost of the freight move, the savings are significant. New entrants such as TuSimple, Embark and Einride all arrived with the disruptive approach of operating without drivers from the start.
But how can autonomous trucks become a fully viable and safe alternative to those driven by a human?
One answer for the near term is transfer hubs. A human drives a truck from a distribution center to the transfer hub, where they switch the trailer to an autonomous truck. The autonomous truck goes from hub to highway to make the journey, before exiting to a transfer hub at its destination, where the trailer is switched back to a human-driven rig. The human then does the last-mile delivery and is not bothered with long-haul transportation at inconvenient times.
Roland Berger estimates that this business model could save between 22% and 40% compared with traditional trucking.
And autonomous trucks are already making headway, particularly in US states such as Arizona and Texas where difficult weather conditions such as snow and fog are less common, highways are not too crowded, and regulation is favorable.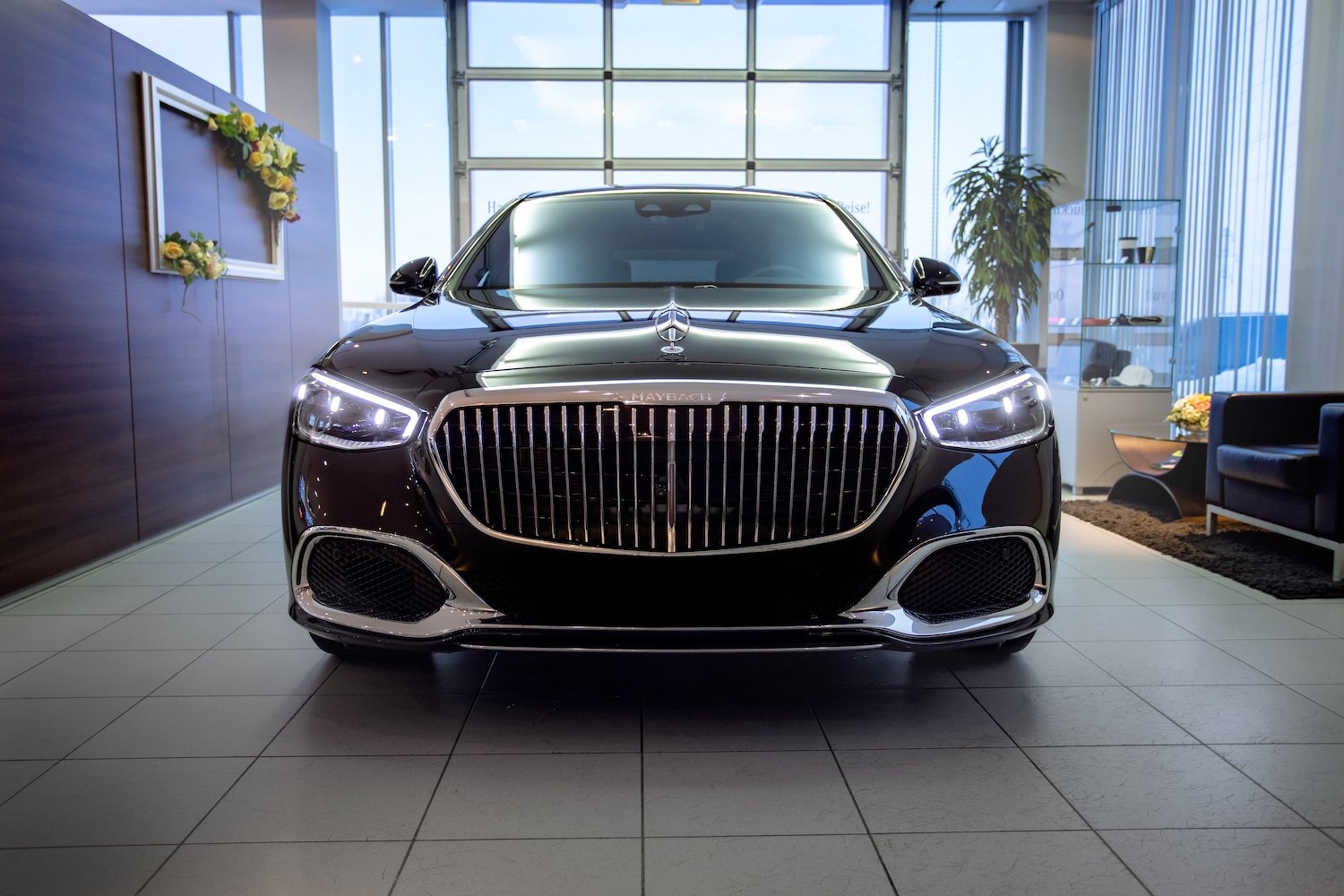 The Mercedes-Benz S-Class is powered by DRIVE PILOT, featuring HERE HD Live Map.
Powered by location technology
Highly automated driving requires the vehicle to be able to sense, plan and act, all without human intervention. That requires various technologies working together to ensure a safe and smooth ride.
Routing and navigation tools for trucks specifically must have truck attributes included. For instance, there are some roads you cannot park or turn into as a truck. If there is a diversion, smaller vehicles can take side roads to continue their journey, but some of these might not be suitable for trucks or permissible for automated vehicles.
HERE HD Live Map includes precise HD map data for any level of autonomous driving. Dynamic content, which includes traffic and weather data along with information about connectivity on the route, can be added to build an accurate and up-to-date picture of what is happening on the roads. It includes the operational design domain, which is information about where autonomous vehicles are allowed to drive. That can include certain road conditions as well as the streets themselves.
Another way HERE can support highly automated driving is at the simulation stage. "Before the vehicle sets onto the road, it has already driven millions of miles, mostly in simulation," Wouda said. "We offer content for real-world scenarios because we have the high-definition maps and data such as traffic data."
Testing these scenarios and simulating conditions that are as close to reality as possible is essential to teach automated pilots to drive safely in all circumstances, before the vehicle hits the highway.
"There is every confidence that highly automated vehicles will be a much safer driving experience in the domains they are designed for," Wouda said.
And while that safer, smoother, more cost-effective future is still a work in progress in some areas, it is already arriving in others.
Helping automated driving systems be more reliable, safe and comfortable across all levels of automation.
Sign up for our newsletter
Why sign up:
Latest offers and discounts
Tailored content delivered weekly
Exclusive events
One click to unsubscribe