More than people, hyperloops can transport shipping containers and reduce CO2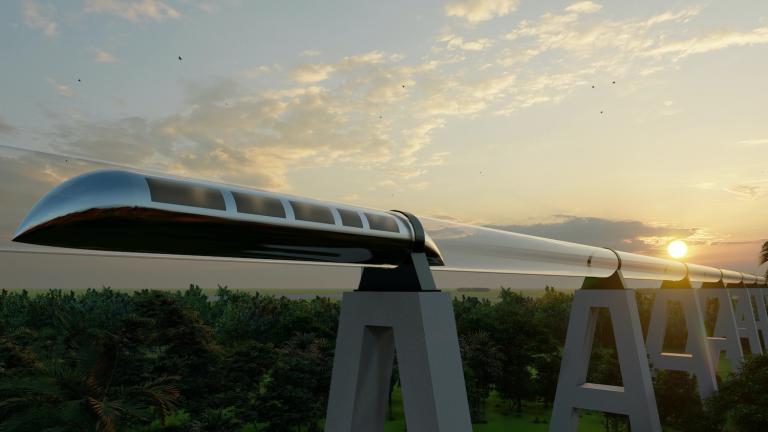 Did you know that hyperloops aren't just for commuters? They can move shipping containers as fast as a 30-lane highway.
In an interview with Reuters, Josh Giegel, CEO and Co-Founder of Virgin Hyperloop , said that hyperloop travel can solve many of our transportation problems: "A hyperloop would move as many people and goods as a 30-lane highway."
So, what's a hyperloop? It's pretty much exactly as it sounds. Giegel described Virgin's Hyperloop as a tube (made of up "pods") that is immune to weather conditions and designed to avoid situations that cause road accidents including crossings and intersections. Because the air is removed, and magnetic levitation technology powers its drive, a hyperloop can move at incredibly high speeds while maintaining low energy consumption. It is silent, contactless, and can move twenty to thirty passengers per pod.
The Virgin Hyperloop differs from other designs in that passengers will sit in a "pod" separate from other "pods", allowing for individual capsules to move through secondary tubes.
Hyperloops will increase the speed at which people can travel across and between cities, allowing many to leave dense urban centers without having to sacrifice their jobs in those locations. In the same time that it currently takes to cross Manhattan (approximately forty minutes), "hyperloopers" can go from New York City to Washington D.C.
While this sounds exciting, it might also sound like a futuristic pipedream. But Giegel told the Indian Express otherwise: "This is not 10 or 20 years away... We are probably looking at a timeframe of 2025-27".
If hyperloops can help streamline urban mobility and commuting, then they can also improve the supply chain and help reduce the amount of CO2 the logistics industry contributes each year. Not just for people, hyperloops can transport shipping containers, helping to relieve congested roads and rail lines while reducing air pollution. As HERE logistics expert, Dobrina Laleva points out: "This technology will be a game-changer... making supply chains greener, even more, efficient and resilient."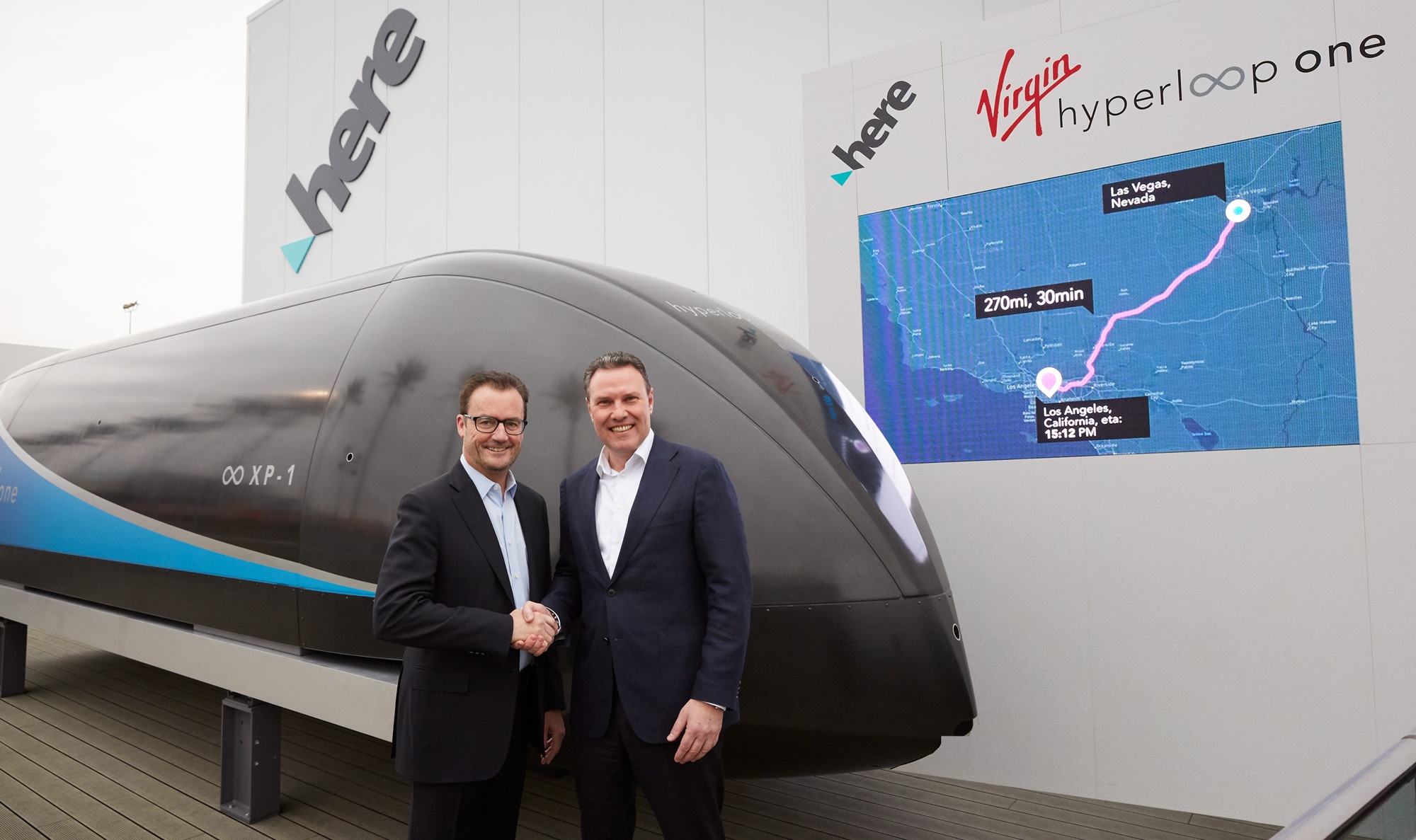 Standing in front of Virgin Hyperloop One at CES 2018, HERE CEO Edzard Overbeek helped unveil a demonstration of the app — built in partnership with HERE — customers will use to plan and pay for their hyperloop trips.
Taking the fast track
Introduced by Robert H. Goddard (known as the father of modern rocketry) almost a century ago, and made popular by Tesla's Elon Musk in 2013, the high-tech hyperloop is being constructed by several companies including LA-based Hyperloop Transportation Technologies (HyperloopTT), which have signed a contract with the Hamburg port operator, Hamburger Hafen und Logistik.
Together they are working to develop and test seaport and inland shipping container operations using hyperloops. Beginning in 2018, they built a transfer station, freight pod and a loading dock at a Hamburg container terminal with a 100-meter cargo route.
The consortia want to prepare the market for further hyperloop functions including the possibility of hyperloops traveling via pipes to logistics hubs outside of ports, reducing the pressure on road transport and rail lines.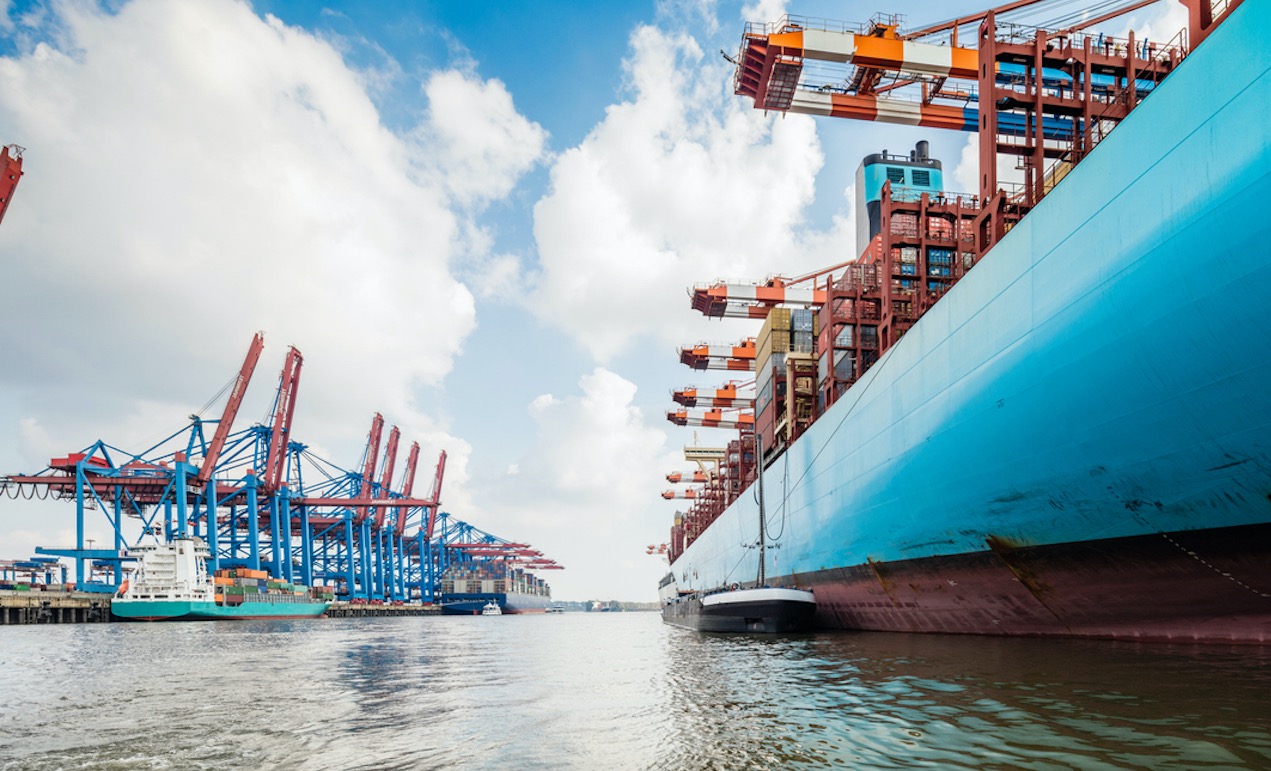 According to Germany's Handelsblatt, "In the late 1990s, Hamburg was first to introduce GPS and automated port operations. In 2001, it was one of the first terminal operators to use self-driving vehicles; ports around the world emulated it."
While hyperloops will certainly transform the logistics industry, with the potential to make the shipping industry faster and greener than ever before, HERE's Dobrina Laleva suggests that the need for multimodal visibility will remain crucial.
Supply chains are complex operations with multiple loading points, pick-ups, and drop-offs, in addition to various transportation modalities such as road, rail, air and sea.
"You'll still need to have visibility tools to know where your shipments are in real-time," Laleva told HERE360.
Keeping track of shipments whether they're on a boat, train, or in a hyperloop is integral to creating accurate ETAs for customers and supply partners. HERE Shipment Visibility offers end-to-end tracking of the location and the condition of valuable shipments across multi-modal supply lines. This service is available while in transit but also during delivery to the final location ie, the shop room floor.
Turning what is currently a three-hour trip into a ten-minute transfer, hyperloops are set to revolutionize the logistics industry.
With the onset of high-speed hyperloops, the transport sector can implement more frequent departures which could lead to on-demand cargo transport. Hector Sunol, writing for Cyzerg back in 2016, suggested the capsules could leave as often as every other minute.
Back in 2013, HyperloopTT made deals to build hyperloop lines around the world in the year 2019, including test lines in Nevada, Toulouse and Abu Dhabi. They also conducted a feasibility study to explore the possibility of linking the Slovakian capital of Bratislava with Brno in the Czech Republic, 130kms, or 80miles, away. In 2021, a hyperloop model was installed on the Lausanne campus in Switzerland to study new engine technology and the possibility of mass transportation.
Cargo was used first to test the usefulness of hyperloops, an experiment that didn't risk the safety of human beings. And so it only stands to reason that we'll be receiving iPhones, bread makers, Pelotons, pasta and toilet paper via hyperloop logistics before we step foot in one.
See what HERE Shipment Visibility can do for your supply chain.
Sign up for our newsletter
Why sign up:
Latest offers and discounts
Tailored content delivered weekly
Exclusive events
One click to unsubscribe