Park like a scooter, commute like a (sub)urbanite: meet the Squad Solar City Car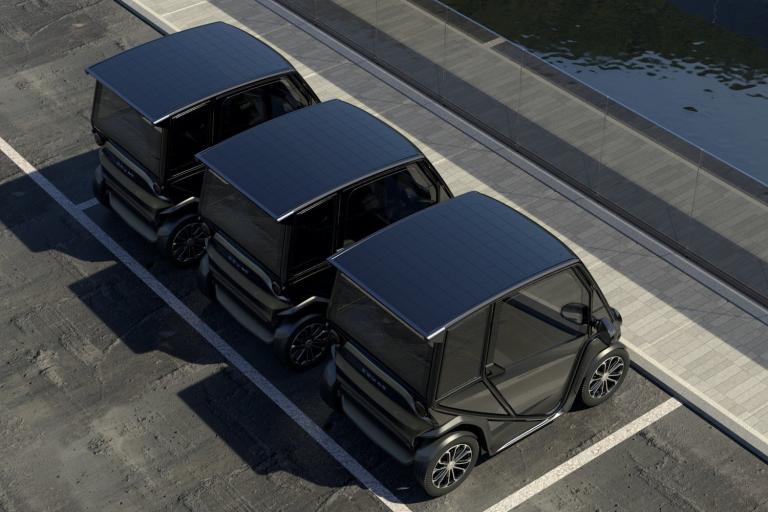 What happens when you put a full solar panel on four wheels? You give commuters and cities an affordable, green-energy mobility solution.
"We both loved the idea of a solar charging car, it made a lot of sense," Robert Hoevers, CEO of Squad Mobility responded when asked why he and Chris Klok, Squad's Chief of Design, were motivated to make a self-charging solar vehicle. "We both felt it was a shame that solar vehicle technology was developed for a luxury segment... when a solar PV [panel] is actually very affordable nowadays."
While the world charges forth (pun intended) with electric vehicles (EVs), Dutch startup Squad Mobility, is working on a new, very compact, solar car that can charge itself as it drives, or when it's parked. The Squad Solar City Car and has two seats, four wheels, full crash structure, roll cage and belts, and automatically charges in sunlight, or the shade.
"It's very sensible and you can save on batteries when you use a solar PV. It's an opportunity to make mobility more affordable while decreasing the hassling of charging," described Hoevers.
But now that everyone's working from home, why focus on making urban mobility cheaper? In a recent Wall Street Journal article, analysts from Zillow found that commute length is no longer as important for home buyers, as many workers expect to travel to offices less in the future. According to Findstack, 16% of companies in the world are 100% remote and 77% of workers are more productive out-of-office.
"Homebuyers are placing less of a premium on a short commute thanks to the rise of remote work," says Zillow economic data analyst Nicole Bachaud. "In expensive, dense markets, that usually means a home farther out from the downtown core, which is more palatable when you don't need to commute every day, if at all. In more sprawling metros, buyers are flocking to less expensive downtown cores, bringing a renewed interest to these city centers."
But, at the same time, sustainable urban mobility is a key priority for cities as they work to meet zero emissions. In addition, even remote workers head to the office for meetings – not everyone is able to work from home – and suburbanites need more reliable and accessible transit options. Can Squad's forthcoming, self-charging solar car help meet the needs of commuters and cities alike?
Urban mobility solutions in 1m2
As cities work to meet environmental targets, solving urban mobility challenges such as lack of accessibility, efficiency, underserved public transit zones ("transit deserts"), parking and CO2 and emissions reduction have become main concerns.
While EVs are quickly becoming the standard for American and European brands, EVs remain unaffordable for many individuals and smaller companies in addition to other issues. "We saw a great opportunity in the urban mobility market rather than the luxury market, specifically in micro-cars, the European L6 and L7 categories, because electric cars are still on average, big vehicles. They're not affordable for a lot of people. Most of the people I know that drive electric cars get them from their work with lease options. There are very few people that actually buy electric cars using their own money, especially a new one," explained Hoevers. "And we're not even talking about other problems like lack of [charging] infrastructure in many cities, parking, congestion, and air quality."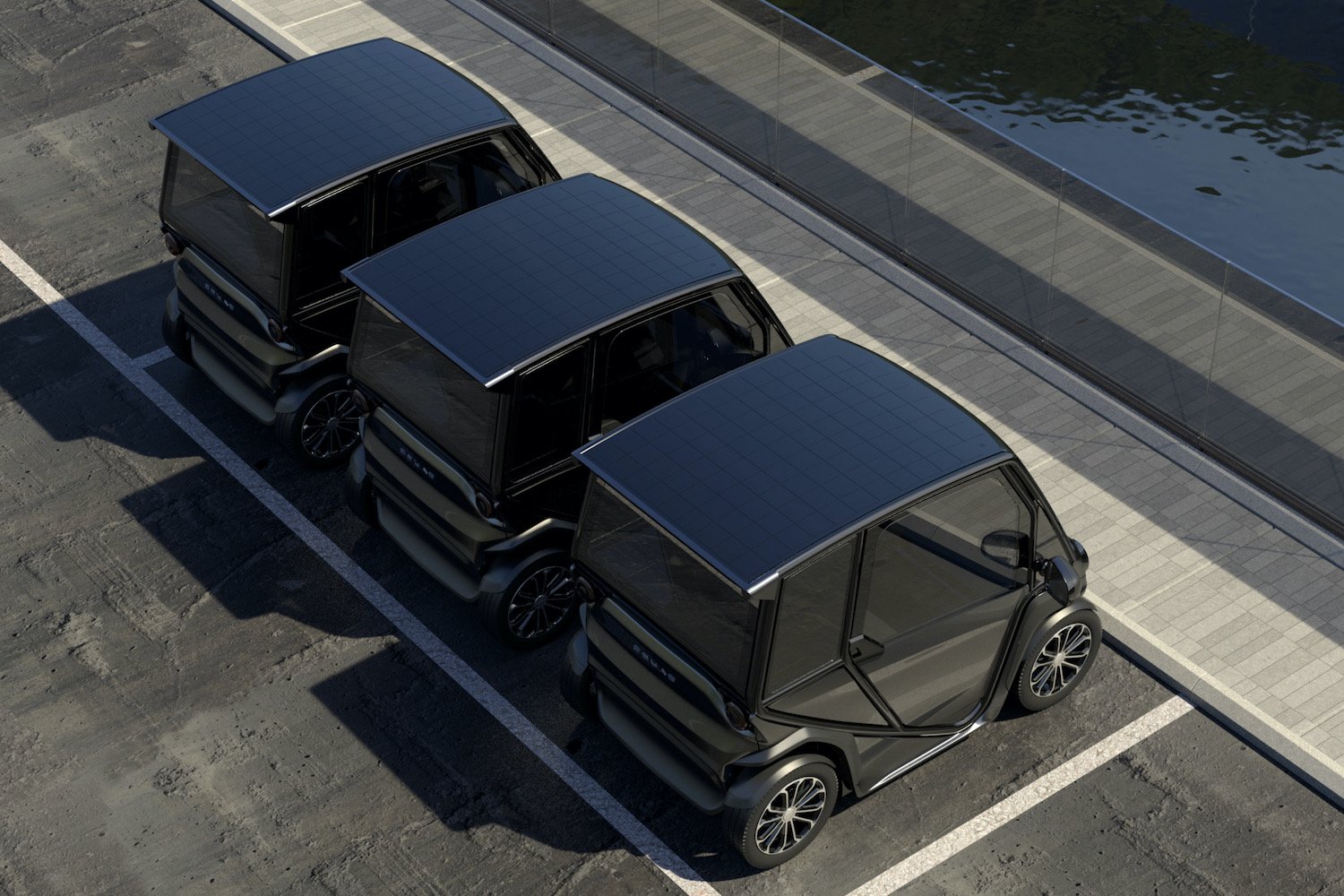 Squad Mobility's new vehicle has an ultra-small footprint. Three Squad Solar City Cars fit into a single parking space, reducing the need for extra parking lots or larger roads. Image credit: Squad Mobility.
Simultaneously, work-from-home rulings initiated by COVID-19 shifted people's attitudes toward the dreaded commute. Now, a 90-minute ride is worth a reduction of up to 500k on a house.
And, now that people aren't commuting as often, when people do head to the office for meetings or other errands, they will be more likely to use a combination of public transit and car-sharing options rather than struggle with parking their own vehicle.
And this is where the Squad Solar CIty Car comes in, which is designed with shared mobility in mind.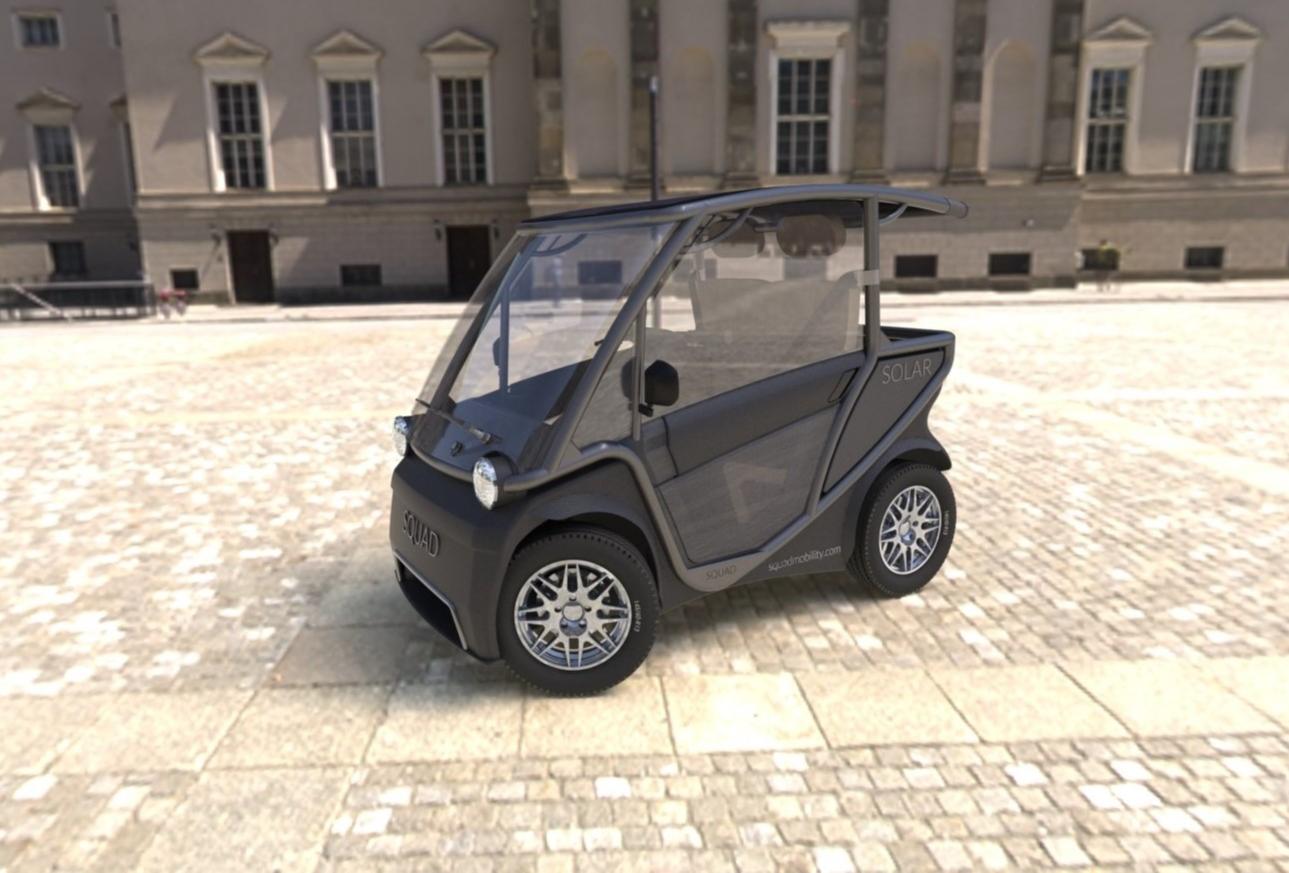 Squad Mobility says that the average person drives 12km per day, making the car's automatic solar charge of 20kms more than enough to last a workday, short commute or compliment multimodal transit. Notably, there is also the option of 100km of range via 4 swappable batteries. Image credit: Squad Mobility.
Energy generation, storage and usage in one
"We've designed the Squad Solar City Car for two markets – fleets and private use. Some [buyers] want to have one for commuting, and little trips like taking kids to school, shopping, groceries, etc. But regardless of the trip, it always involves parking and perhaps wasting time in traffic, all the little hassles of mobility. So, we're seeing a lot of pre-orders there.
"The other big market is B2B, mainly sharing platforms for cities. For example, firms that are currently operating bikes, mopeds, scooters or cars. And this is where I see the biggest benefit for people. 90% of people in cities don't actually live in the center, they live in the suburbs. And if they want to go into the city, then the Squad car makes a lot of sense. If you live an hour outside of the city, it makes sense to travel by train or to take a car and park it and jump on shared mobility. This [car] is our last-mile solution," concluded Hoevers.
"Has there been a car that uses solar energy for the drive train?... This is a big leap in terms of having a vehicle that's entirely powered by solar energy, not for the luxury market, for the affordable segment." — Robert Hoevers, CEO, Squad Mobility
"They are really big in African countries where they are looking to 'leapfrog' the grid," added Hoevers. Squad is also receiving interest from holiday destinations, resorts and gated communities, some with more than 1000 residents.
In addition, transportation and logistics companies with large warehouses can use Squad's solar cars in the yard, for repair crews, or across large company terrains. "We get a lot of orders from food delivery businesses," elaborated Hoevers.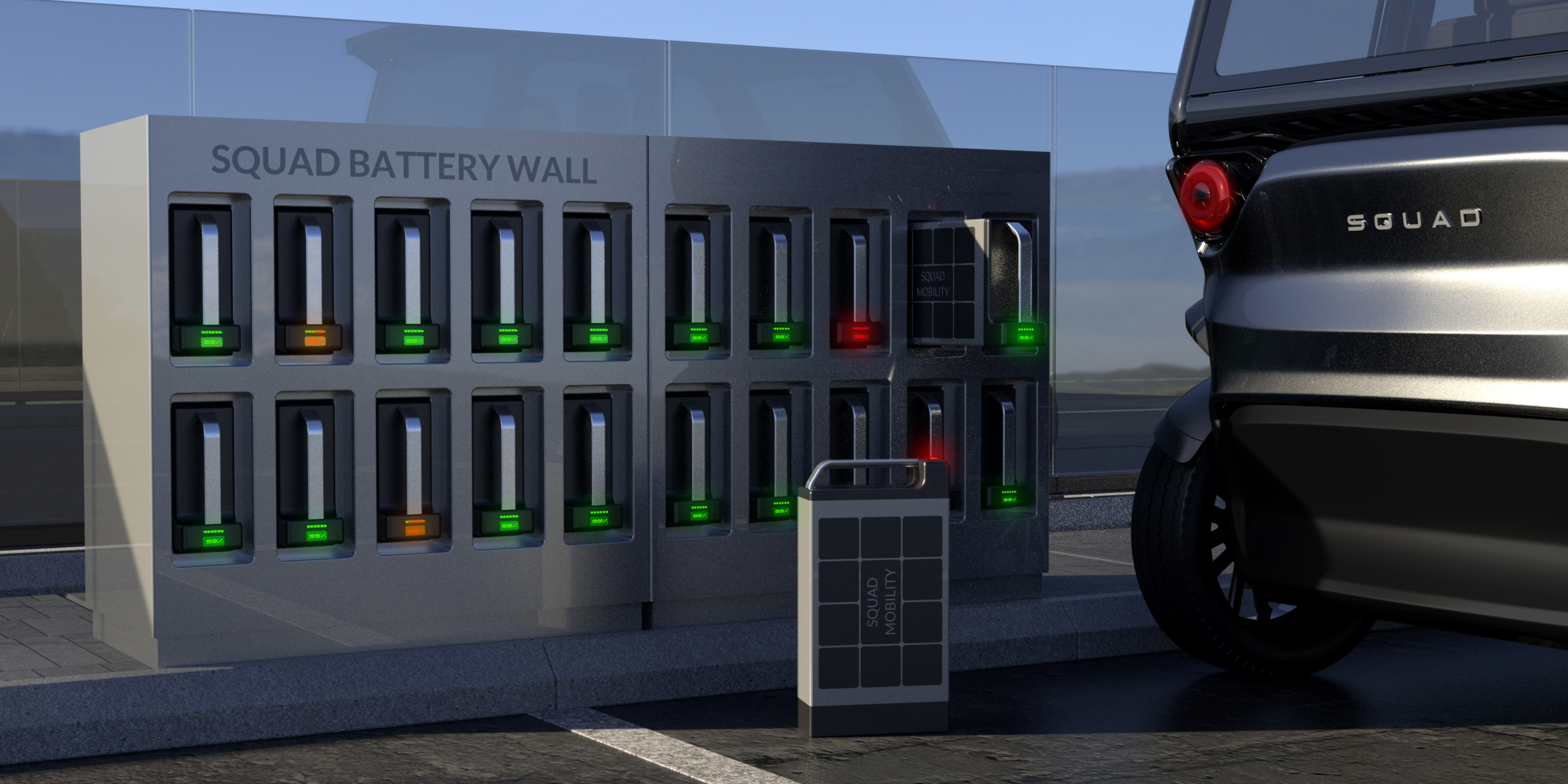 The Squad Solar City Car doesn't require special charging infrastructure. When extra range is needed, portable batteries can be charged directly from a normal power socket. Image credit: Squad Mobility.

Squad's vehicle is specifically designed for sharing and MaaS (Mobility-as-a-Service) platforms. Engineering is focused on safety, low maintenance and durability with maximum use of recycled materials. No driver's license or helmet is required.
And, because of the vehicle's modest size, there are no parking fees, congestion charges or road tax in most cities. With its one-meter width and speed of 45 km/h, quick and easy maneuvering means delivery and other services drivers can easily avoid traffic and roadblocks.
When employed as a shared fleet, real-time data and connectivity allow fleet managers to view their fleet at all times and access optimized routes. "In the future, we will deploy all kinds of smart technologies such as remote diagnostic, remote maintenance and charge status," proposed Hoevers. "We also want to offer remote control. Say when one of the cars is locked, blocking a road, [fleet operators] could remotely move it out of the way.
In our long-term vision, we will integrate some autonomy in the vehicles to offer smart distribution of the shared vehicles over the city depending on demand. For example, during the week when people finish work, cars will move near offices or in the morning towards people's homes."
The Squad Solar City Car is a two-person person, L6 solution with storage in the back. Optional seats for small children will be available in future L7 versions. Squad will have a modular design with options for young parents, seniors and disabled people. Retail price starts at only €5750 plus tax, or through a monthly subscription.
The Squad Solar City Car is set for delivery in 2023 and is available for pre-order.
Mobility solutions come in all shapes and sizes – find out more with HERE Last Mile.
Sign up for our newsletter
Why sign up:
Latest offers and discounts
Tailored content delivered weekly
Exclusive events
One click to unsubscribe