How HERE is working toward a sustainable future for customers, partners and the planet

Location can help when it comes to building resilient infrastructure, reducing emissions and switching to greener forms of transportation.
This year marks a critical halfway point in the United Nations (UN) Sustainability Development Goals and Agenda 2030. However, the COVID-19 pandemic set these ambitions back by several years in some regions. Location technology can play a crucial role in helping fleets, cities, businesses and governments have a positive effect on the environment.
Using location data provides valuable insights into environmental conditions and transportation patterns and can inform more effective and sustainable development practices. In the 2022 Sustainability Report, HERE demonstrates how we help organizations and authorities close the sustainability gap.
There are three UN Sustainable Development Goals (SDG) in particular where location can play a key role:
SDG 9: Build resilient infrastructure, promote inclusive and sustainable industrialization and foster innovation
SDG 11: Make cities and human settlements inclusive, safe, resilient, and sustainable
SDG 13: Take urgent action to combat climate change and its impacts
Let's explore some of the ways HERE is helping to address these challenges.
Charging ahead
Most regions have targets to increase the electrification of commercial and public sector fleets and individual vehicles. Electric vehicles (EVs) have been proven to emit fewer emissions than internal combustion engine (ICE) cars, even taking into account the energy needed to manufacture and power them.
However, uncertainty over a vehicle's range and how easy it will be to charge can still put some consumers off.
HERE EV Charge Points and HERE EV Routing, used by customers including Scania, Lotus and smart, mitigate this. With coverage in 102 countries and over 350,000 charge points, including data on over 1 million connectors globally, this data helps make driving EVs more convenient and predictable. Ultimately, it will be an important factor in driving EV adoption and helping nations to phase out ICE vehicles and their high emissions.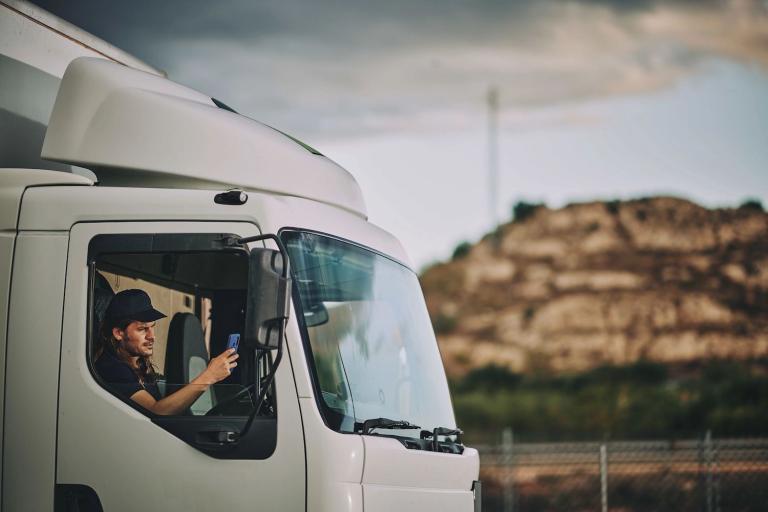 A fleeting chance
Efficient transportation systems are a critical tool in addressing climate change since organizations' supply chains account for up to approximately 92% of an organization's total GHG emissions.
"HERE Tour Planning is helping fleets around the world run more efficiently from warehouse to front door," said HERE CEO Edzard Overbeek in his introduction to the 2022 Sustainability Report.
By reducing emissions and fuel, and calculating efficient routes that help cut the amount of time vehicles spend idling or on unnecessary journeys, a significant improvement can be made to the impact of our supply chains on the environment.
A good example is Traxen's iQ-Cruise tool. An adaptive cruise control system that automates the longitudinal speed of trucks and helps drivers reduce fuel consumption, it uses a fusion of location data from HERE, truck telematics and machine learning.
CO2 Insights, a product developed in partnership with Migros, enables organizations to calculate the emissions they produce, based on real-world modeling.
Location data can also be used nationwide. In India, Citility is integrating location technology into its mobile platform to provide city authorities in Surat, Kolkata and Bangalore with comprehensive real-time data via a central dashboard. The dashboard gives them insights into road safety, traffic efficiency and air pollution within cities, allowing them to make better decisions about how people and goods move around.
Safety, privacy and equality
Safety is another important focus of the UN goals, and location technology is being used to improve it everywhere. For example, the European Union's Intelligent Speed Assistance (ISA) regulation, which requires automakers to provide information that helps drivers stay within the maximum regulated speed limits, could potentially reduce serious accidents by up to 30%.
Starting from July 2022, ISA became mandatory in Europe on all new-model cars, vans, trucks and buses. HERE ISA Map is the chosen technology by most automakers to comply with the regulation. It overcomes many of the limitations of relying on onboard cameras, including recognizing the correct speed limit even when there are no road signs in view.
HERE has also taken a number of measures to protect individuals' data. Our Information Security and Privacy Information Management System has achieved and remains in strict compliance with various certifications. 
Recently HERE Location Services – Indoor Map to support Indoor Positioning, Geocoding and Routing Services has earned Certified status for information security Risk-based, 2-year (r2) by HITRUST.
The company has also announced a pledge to reach a net-zero target by 2035.
Sign up for our newsletter
Why sign up:
Latest offers and discounts
Tailored content delivered weekly
Exclusive events
One click to unsubscribe