EVs that deliver: going electric, and other ways to boost fleet sustainability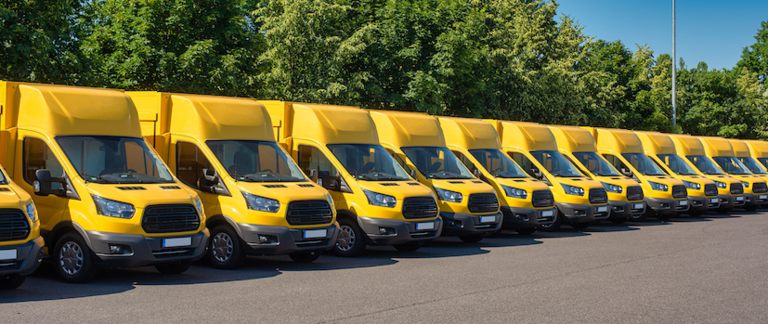 An uptake in EVs in the fleet sector is a sign that sustainability is high on the agenda. What are some of the best ways to reduce emissions and boost green credentials?
Every fleet is unique. Yet while that may be true, cities, countries and companies have emissions targets to reach, regardless of individual needs and challenges.
Using less fuel, reducing the amount of traffic on the streets, and choosing the best vehicles are all on the agenda for logistics firms.
Every gallon of fuel burned delivering packages creates 19.4 pounds of CO­2. That makes it challenging for companies looking to gain efficiencies and boost sustainability in what is already a tight-margin business.
HERE360 looks at the four ways fleets can reduce their environmental impact. The good news is that these measures can also help you reduce costs.
Electric avenue
A recent UK survey found that the majority of fleets will transition to electric vehicles in the next two years. It is unsurprising when you consider savings on maintenance and other advantages, such as being able to drive these quieter machines at off-peak times in residential areas.
With bans on gas and diesel cars on the horizon, many are simply addressing the inevitable. However, with a greater variety of EVs now available than before, a vehicle that serves your fleet's particular requirements is probably already on the market.
Key takeaway: Last-mile delivery is especially well-served by some of the EVs on the market now.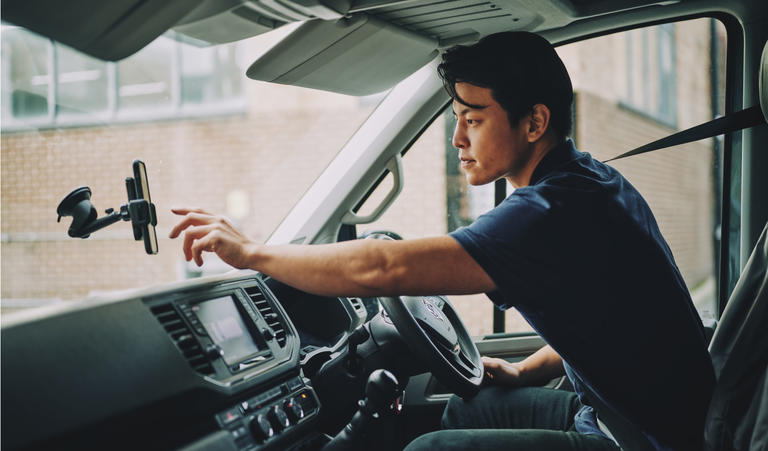 The route of the issue
Dynamic route optimization reduces emissions and improves fleet sustainability. When you consider that 57% of trucks idle for between one to four hours per day, the case for smart routing becomes clear. One of the things that is appealing about it for fleets looking to cut costs is that you can implement routing tools without needing to replace your fleet or invest in expensive equipment.
Efficient fleet routing can help you minimize fuel costs and help you select the right vehicle for the right part of the journey. That includes routing for EVs, which includes information about charge points nearby and their availability.
Hubs of activity
There is a simple way to cut the amount of delivery traffic on the roads: bring goods closer to people. Because consumers generally get small packages delivered on an individual basis when compared with B2B delivery, it can be inefficient. Smaller hubs are now cropping up in cities to address this.
A scheme in Hamburg, Germany, is a good example. Four locations in the city serve as mini distribution centers for UPS. At the start of each day, a truck drops off a storage container that serves as a hub. The deliveries are then made by cargo bike, tricycle or on foot.
Meanwhile, in the US, a spate of fulfillment centers have been opening in Missouri. Its central location makes it attractive as a hub to reach other parts of the country, and increased transportation costs make even high rents seem less daunting than they did before the fuel price hike.
This is a trend that looks set to continue globally.
Returns to sender
Returned goods increased in the US by 6% in 2021 from 2020, according to the National Retail Federation. The upshot of all those returned packages is not just extra cost to retailers.
Patagonia in the US tackles this problem by reselling returned products on its Worn Wear marketplace, meaning they do not have to be discarded. This makes those items more sustainable, but it does not meet the challenge of transporting them.
One method is to charge customers to pick up packages they want to send back. This could discourage shoppers from returning things unnecessarily. Soon, augmented reality could be used so that customers can try on clothing virtually, reducing the number of returns required.
Sign up for our newsletter
Why sign up:
Latest offers and discounts
Tailored content delivered weekly
Exclusive events
One click to unsubscribe