How location technology has helped to reimagine insurance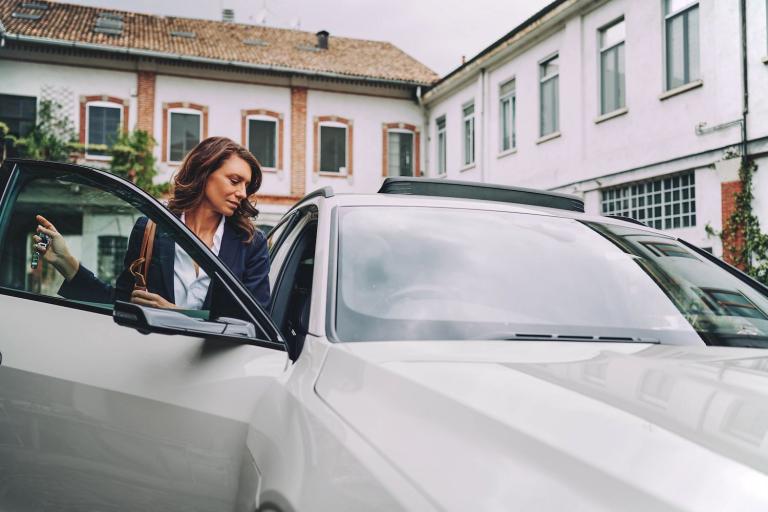 Since the advent of insurance, premiums have been decided based on general risk, which can be arbitrary and unfair. Now forward-thinking companies are challenging the norm.
When the Santa Clara set sail from Genoa on her way to Majorca in 1347, little did she know she had launched an entire industry that would still be going strong nearly 800 years later.
The ship was the first to have her own insurance contract, should something happen to her load, which gradually became standard in the maritime world.
From there it branched out into the multi-billion dollar industry we know today, first by offering life insurance, then extending to everything from homes to cars and even pets.
And ever since that fateful voyage in 1347, premiums have been calculated the same way: on presupposed risk.
At first, it was done intuitively but more recently firms have used complicated algorithms to determine how much people should pay.
What's your age, sex, address, driving history? All can push your premiums up or down.
Live in an area that's had a lot of burglaries recently? Then you'll pay more — even if your home's security resembles Fort Knox.
So it's fair to say that premiums are often unfair on consumers. But equally, they don't always work for the companies that provide them because if you can't accurately predict risk, then the unexpected pay-outs can be enormous.
Take the climate crisis, for example. In 2019, Australian bushfires destroyed 5,900 buildings with claims reaching A$700m. In the US over the past decade, losses from wildfires have totaled more than US$5 billion.
Then there was COVID. It's staggering to imagine the panic of the industry when the pandemic began and events around the globe had to be canceled last year… or the sigh of relief when the Tokyo 2020 Summer Olympics finally went ahead — the insurers would face a bill of US$2-3 billion if they didn't.
So for some time, the market has needed a massive overhaul. Now companies are waking up to the need for change, for more personalization and individuality… and its potential benefits for them.
Here are just a few companies disrupting the norm: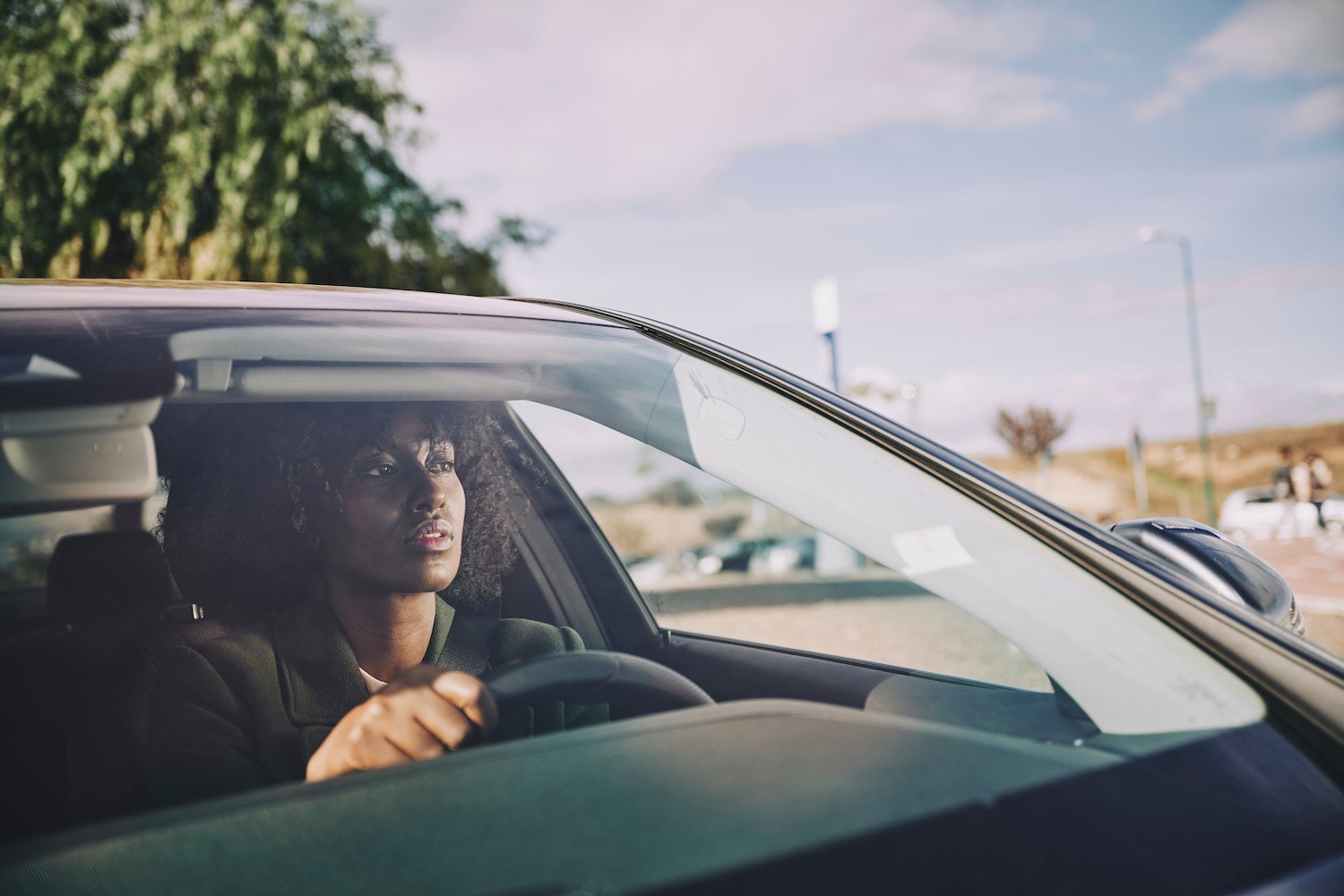 Driving is a solo activity — and increasingly insurance companies are realizing premiums need to be calculated individually too.
Mapping discrimination on ground level
In the US, car insurance in African American zip codes costs 70 percent more than in white neighborhoods - US$1,060 as opposed to just US$622 a year.
While it has its roots in the racism of the past when people of the global majority (PGM) were denied mortgages and other financial services, firms defend the current status quo by claiming a higher possibility of crashes in certain districts.
However, a study by ProPublica found that the difference in prices between PGM and white neighborhoods "are larger than risk can evidence."
But now predictive-modeling company Ometry has launched a new data-as-service car insurance tool that helps minority groups and traditionally underserved communities with insurance rates based on roads, not zip codes.
Ometry offers a solution based on geo-data to help qualify people for more accurately priced and affordable insurance.
Measuring risk at the street level means Ometry can assess how often drivers are on unsafe roads and how well they perform on them. This results in fairer prices for consumers and profitable outcomes for insurance carriers.
"The old models [of how risk is calculated] don't work well for black people, poor people and immigrants, and they don't work well for women either because they were established by and for the traveling white salesman," says Ometry founder and CEO Carey Anne Nadeau.
"The advocacy built into our technology elevates these voices with more data that promotes fair insurance and gets everyone home safely. We know, for auto insurers, this is the right thing to do."
Ometry uses HERE Maps and attributes along with external information from users to analyze road safety and insurance rates. Companies and fleet managers can send in the GPS coordinates of the individual routes from their clients and drivers. Ometry then determines if they are driving on unsafe roads. This information is fed back to the clients allowing them the opportunity to alter their route planning and get better pricing on their insurance.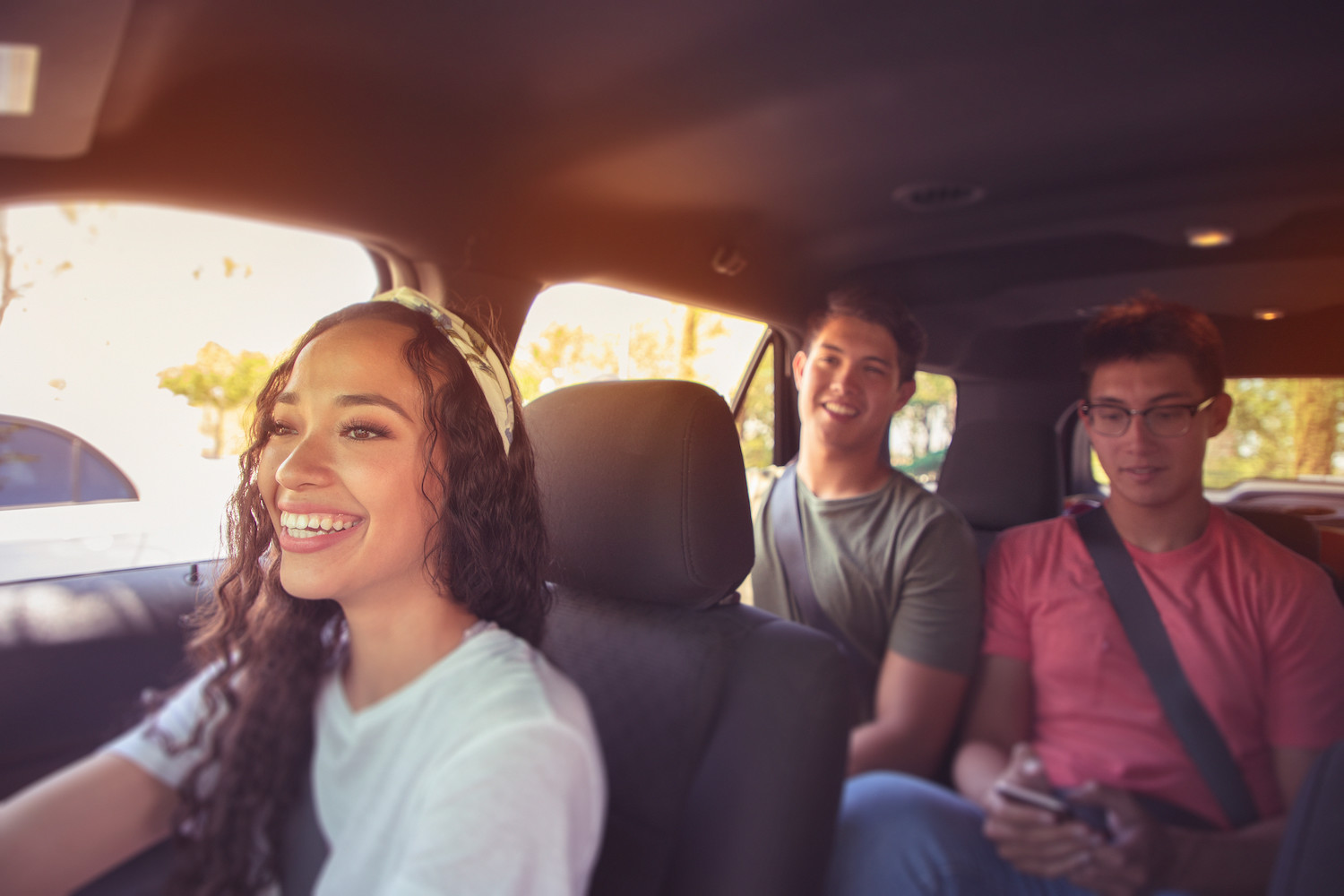 Newly qualified drivers face far higher insurance costs than the experienced but is it really justified?
Uncovering the truth about youth
New drivers also endure one-size-fits-all insurance premiums and often have to pay more than a car is worth each year to drive safely.
Again, in one way it makes sense: they account for 18 percent of all road crashes despite only driving five percent of the total miles.
Until recently the only way to reduce insurance was to have a "black box" fitted to your car. It analyzes your driving style and the safer you are, the more your premium goes down.
But now there's an alternative. Dreyev is a new driver app that uses HERE Live Sense SDK to warn drivers of hidden danger on the road. The system is designed to mitigate distracted and drowsy driving and warn the driver of other vehicles, pedestrians and cyclists within their vicinity, as well as hazards such as potholes and constructions sites.
It will also train drivers, acting like a virtual driving instructor that helps provide remote training and monitoring on the fly.
And it can be used on any car, regardless of its age. All the driver needs is a smartphone or other device that has a front and rear-facing camera with adequate processing capabilities.
CEO and co-founder Dr. Maggie Styś explains: "With new drivers, you can evaluate them, as they undergo training. After that, you essentially hope that everything goes well since you don't really have a way of checking how they are doing.
"Having the real-time data we generate is definitely going to be useful to insurers to realize their growth potential. Loss prevention is, as we like to say, the big elephant in the room. It is definitely something that would also help insurance companies lower their risk."
Moving beyond the black box
While the black box, which monitors driving habits such as speed, braking, mileage, steering and cornering, is a relative newcomer to the insurance game, it's merely providing a basic blueprint for companies such as msg global solutions to build on.
Using end-to-end functionality, they've developed msg.IoTA. Using data from UBIs, dongles, apps, and vehicles, it can help customers improve their driving habits leading to better premiums and safer roads.
Other benefits include more eco-friendly driving and prolonging the life of a fleet. "More behavioral data means you can be assessed more individually," says Michelle Gruner, Head of PM Mobility at Swiss insurer La Mobilière.
"It doesn't remove the community protection, but it means you will be compared to someone who drives similarly to you; if you are speeding, it's not the same as just having an accident happen to you. You weren't just unlucky."
Timing is everything
Another Swiss company, kasko2go, is using HERE Map data to figure out which roads, driven at which times and under which conditions, have the most risk.
They started out just using acceleration, speeding and braking data but soon discovered it wasn't nearly sophisticated enough.
Instead, they now focus on the roads the driver is using with HERE's accurate and detailed traffic data helping create a highly accurate accident predictions of where crashes will be, based on the history of those areas.
"Let's say a driver is driving at 7am, as opposed to a driver driving through the same area at nine in the evening," says kasko2go CTO Oleg Korol. "Do they take the same amount of risk? And the answer is, in most cases, no. Because in the morning, the risk that the driver takes is much bigger than in the same area at night."
So now HERE Real-Time Traffic, combined with existing data sources, forms the cornerstone of kasko2go's entire system.
They receive high-quality and accurate traffic data from over three million kilometers of road in the DACH region [Germany, Austria and Switzerland], updated every five minutes.
The accuracy means insurance companies and their customers will benefit with more attractive premiums and safer roads.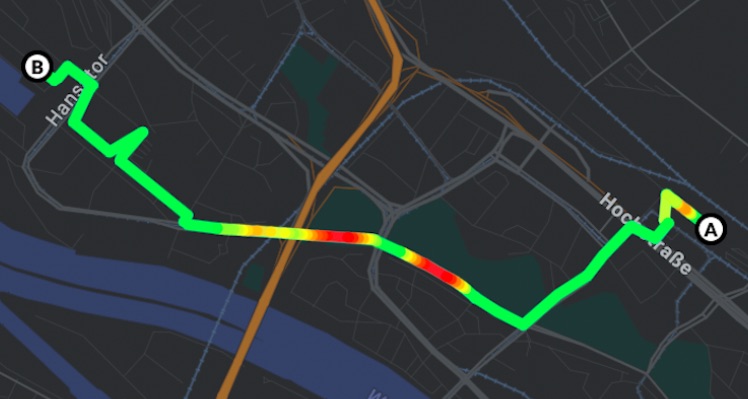 The Coloride app uses HERE Speed Limit data to determine the pace of the vehicle. It then colors the trip path: a speed that is under the limit is displayed as green while anything over is shown in varying degrees from orange to red. Image credit: Movingdots.
Making roads safer
kasko2go aren't the only ones hoping new insurance models make the roads safer. Germany-based company Movingdots are also hoping to be able to reduce the number of crashes.
A subsidiary of leading insurance and reinsurance company Swiss Re, Movingdots has enhanced their Coloride app with HERE data and map data to provide individual drivers with insurance based on specific user performance and position.
This includes the location of the driver and the associated road type (countryside or town) and speed limit, or even urban regulations such as schools or pedestrian crossings.
"These are [some of] the basic features," elaborated Kelemen. "When you are driving we also use information about the direction of the road to find out if someone took a U-turn, and then the map feature [tells us] if you were allowed to do a U-turn."
By gathering this information, drivers can choose to adjust their behaviors, insurers can offer better premiums and governments have the chance to improve specific road hazards or dangerous intersections highlighted by the data.
Working out risk, per property
Home insurance is notoriously difficult to create and apply, with large premiums forcing many to go without.
Now Zesty.ai is helping companies move beyond their outdated models by using artificial intelligence (AI) to create disaster risk assessments.
Its climate risk models are underpinned by more than 130 billion data points — including 100 years of fire event data and flood losses data — to provide property-specific scores to assist more accurate risk assessment and pricing.
Increasingly accurate weather forecasts
Around 25-30 percent of vehicle crashes happen in bad weather so, for insurers, the cost of a harsh winter can be high.
Now more accurate weather prediction can help organizations avoid delays and road incidents. That's one of the reasons why the Global Weather Corporation (GWC) has joined the HERE Marketplace.
GWC provides data on road surface conditions and specialized information - such as pavement surface temperature and on-road water depth - for customers who want to create location-centric solutions for insurance.
How HERE can help
HERE is helping revolutionize the insurance industry with its innovative range of location technology.
HERE Map data allows companies to build their own world view, picking the format they need and layering their own data on top of HERE's highly accurate information to provide a location-based app.
Dynamic map content optimizes the driving experience for both fleet and private vehicles by delivering the information drivers need about the road ahead including traffic and hazard and fuel and parking options.
Meanwhile HERE Geocoder provides high precision matching of coordinates and addresses including support for addresses ranges and fuzzy searches.
Make the most of the world's #1 location data platform.
Sign up for our newsletter
Why sign up:
Latest offers and discounts
Tailored content delivered weekly
Exclusive events
One click to unsubscribe