The world's largest warehouse for humanitarian aid is (almost) fully automated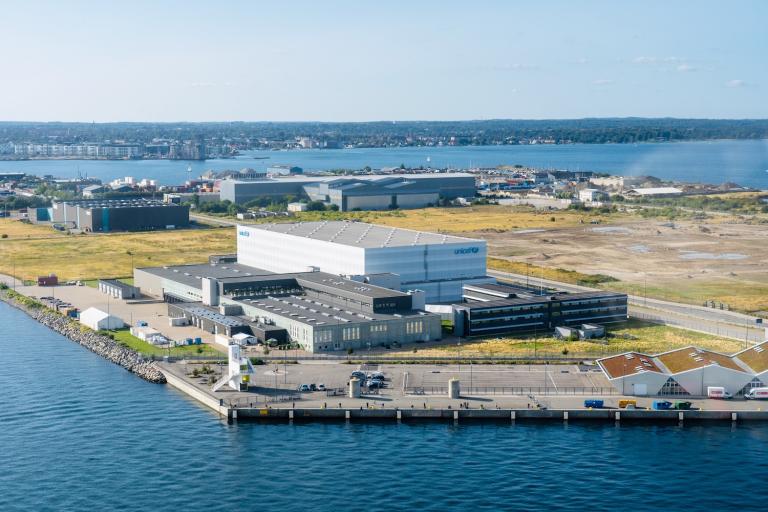 In an emergency, people need help immediately. UNICEF's humanitarian warehouse can pack 120 emergency kits per hour with the help of automated cranes, conveyor belts and electric forklifts.
On the outskirts of Copenhagen stands the world's largest warehouse for humanitarian aid. Operated by UNICEF Supply Division, part of the United Nations Children's Fund, the massive storage facility is conveniently located in the Danish port, and was gifted by the government of Denmark to the international charity to better distribute emergency supplies.
It spans more than 20,000 sqm (215,278 sqft, or four football fields) and can store up to 36,000 pallets of goods. On the BBC News podcast, The Documentary, journalists described traversing the building as a "15-minute jog" adding "roller-skates would be useful."
In this short video, created by UNICEF, you get a glimpse of the technology, design, and organizational structure of the world's largest, automated warehouse.
The logistics hub stores emergency aid from all over the world. UNICEF uses the supplies to create emergency health kits that are sent to people during crises, upheaval or conflicts. They also make customized kits for specific missions. Their goal is to "reach every child in the world" in less than seventy-two hours after a tragedy strikes.
Logistics Chief for UNICEF Supply Division, Elena Trajkovska, told WION News, "We store everything, apart from vaccines and food products... but we do store pharmaceuticals and all the logistics supplies for children's education, water, sanitation, health and so on."
A school kid's box, for example, referred to as "School in a Box", contains everything a child needs to study.

Turning to technology

During COVID-19, UNICEF started planning for the global vaccine distribution program. Having gained wisdom from past experiences when pallets were stolen, hijacked off the tarmac or traded on the black market, UNICEF have invested in technology to reduce shortages and maintain efficiency. They created an almost fully automated warehouse, including automated cranes, conveyor belts and monorail, in addition to investing in electric forklifts and sensors to track supplies and monitor temperature. When speed means the difference between life and death, automation is one of the best ways to create shipment visibility, warehouse and yard efficiency, and ensure that aid is delivered to those that need it most.
Reimagining your warehouse
With 
HERE Supply Chain
, logistics managers can track the movement, location and quantity of goods in even the biggest of warehouses. Our end-to-end solutions include:
HERE Yards: Improve efficiency by mapping warehouses, factories, distribution centers, yards and ports, while reducing dwell time, missed slots and costs.
HERE Shipment Visibility: visualize goods in transit across multimodal transportation, receive real-time ETAs and alerts, from end-to-end.
HERE Asset Tracking: reduce loss and misplacement of goods and equipment with real-time visibility of location, status, and movement, both indoor and outdoor.
Human lives in the hands of robots
As pallets arrive at the UNICEF warehouse, they're scanned into a computer system, which uses barcodes to track journeys from end-to-end. They're then stored and retrieved from a colossal room called "the high bay". Three times larger than London's Royal Albert Hall, the high bay can hold up to 36,000 pallets. Eight autonomous and connected robotic cranes do all the picking from this space. They "know" exactly where to place each item for maximum efficiency, and guarantee quality using a "First-In/First-Out" rotation system.
In a warehouse dedicated to the survival of humankind, it's only fitting that the robots have names. "We make them very human. We have Robert, and in the back... is Roberta. She's more delicate, she's for smaller packages," Trajkovska explained to BBC News. In Denmark, robots are frequently called "roberts".
Check out the difference automation makes: this video features a manual-labor UNICEF warehouse from 2012.
Supplies are stacked to the ceiling on giant shelving. In fact, the high bay's shelves are the internal walls, functioning as both storage and structure. Due to safety concerns, the robots are the only "people" allowed in, it's a completely human-free zone observable from a catwalk or through windows.
To stay safe in the rest of the warehouse, people walk on designated paths or risk being in the way of electric forklifts that whizz around in every direction. Not to mention the computer-operated monorail which is in constant motion moving goods in a T-shaped loop, to various locations in the warehouse. This logistics hub is in perpetual motion. "When I'm tired of being behind my desk... I go to the warehouse and look at the goods moving by themselves... it's a beautiful warehouse. But it's an exception, this is basically a piece of art," Jonsadik Muse, Chief of Global Transport Center in Copenhagen, commented on The Documentary.
What does the UNICEF warehouse look like from the viewpoint of a child? Watch this short video to get a closer look at "Robert" the automated crane.
The beating heart of a global supply chain
Warehouses have a reputation for being difficult places to work (physical labor, chaotic and noisy) but packing boxes at the UNICEF Supply Division is different. Because much of the labor is automated (vacuum lifts, palletizer robots and shrink wrappers) the heavy work is light and silent, and many of the employees have a direct connection to the locations and people who receive the packages. There are twenty-six different countries represented in the staff.
"Our role as the global transportation center is to find the best solution to ship in the shortest time possible," Muse told BBC News. He's accustomed to high-pressure environments. He was once in charge of logistics for Formula One car races, Michael Jackson and Prince concerts. "This is kind of the same... but with a difference in purpose... You organize [other warehouses] according to commodities and purpose. Here all the goods are scattered all over to maximize the handling capacity. If we need to load eight containers... we need to have all of our equipment, all our robots, all our [human] power able to work simultaneously. If we had all of the emergency [supplies] in one stack, there would be congestion."
At the end of 2021, UNICEF managed 212 warehouses, in 268 different countries, with the Copenhagen location as its nexus. With the help of automated logistics technology and shipping telematics, UNICEF Supply Division is now a key player in the new global ACT Accelerator program, working to provide COVID-19 diagnostics, therapeutics and vaccines to those in need, and is also working with the WHO to obtain auto-disabled syringes making it easier to vaccinate people in low-income countries.
Get ahead of demand with HERE Supply Chain
Sign up for our newsletter
Why sign up:
Latest offers and discounts
Tailored content delivered weekly
Exclusive events
One click to unsubscribe