This thousand-year-old market is pivoting to home delivery using 21st-century tech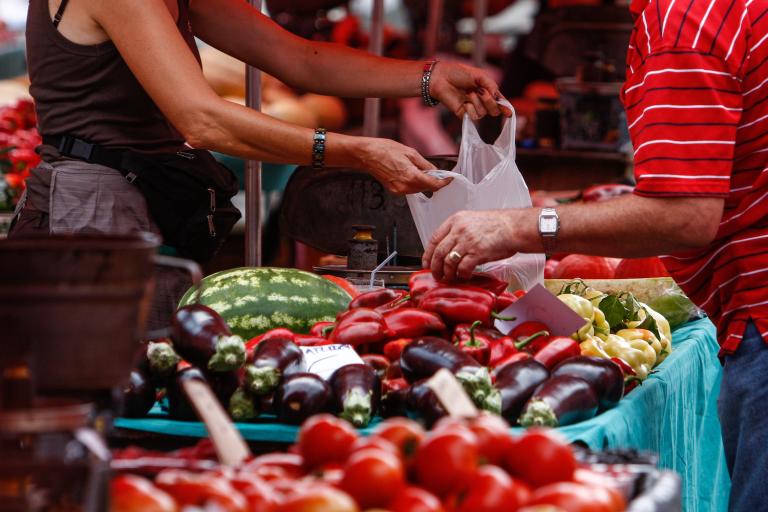 Shopping at a market is a community tradition but COVID-19 has even the oldest of markets shifting to an on-demand delivery service.
With COVID-19 came the notion of "essential services"; businesses that offered items or amenities deemed fundamental to the survival of society.
The market, the most traditional of community shopping centers with individual vendors proffering dairy, produce, meat and handicrafts, was included in this category as it provides our basic necessities.
But what happens when an "essential service" also positions hundreds of consumers together at once, in close proximity, breaking social-distancing policies?
The market redesigns itself; and creates a home delivery service to continue to support its community, reduce the potential for waste and stay afloat.
Rungis Market in Paris and Choco Market in Berlin are just two examples of how people are working to bring the singular experience of market shopping directly to your door.
I spoke with Califrais, Rungis Market's delivery partner, to find out exactly how one pivots a market with roots dating back to the 12th-century.
"[Califrais] is one of the only companies able to source and deliver all types of fresh produce (meat, fish, fruit and vegetables…) to restaurants and [now] retail customers," said Califrais Marketing and Communication Director, Julie Spinazzé. Image source: Califrais
From Les Halles to "Les Hallway"
In partnership with Califrais, Rungis Market is selling directly to consumers for the first time since King Philippe Auguste set up the 234 hectare location, then called Les Halles, in the 1100's.
Rungis is among the fewer than twenty Parisian markets deemed critical. Connecting with 5-year-old start-up, Califrais, previously specializing in bringing Rungis's fresh food to restaurants, resulted in the launch of business-to-consumer web platform called Rungis Livre Chez Vous (or "Rungis Delivered to Your Home" in English).
The market normally feeds approximately eighteen million people through wholesale food distribution but with COVID-19 closures, they are reaching over 6000 households per week.
Curious about how the relationship between Califrais and Rungis was established, I asked Julie Spinazzé, Califrais' Marketing and Communications Director*, about the partnership. "Initially, Califrais was a service dedicated to professionals with a desire to launch a retail service. After the announcement of markets and restaurants closing, the market of Rungis launched a delivery service in partnership for people living in the-Île de-France region. Califrais was the only business able to quickly pivot and develop the technology and logistics to deliver... in such a short space of time."
Shifting to include new consumer services while uniting with a large-scale operation like Rungis isn't easy, especially amidst increasingly intense demand. Spinazzé credits technology to their success. "First, Califrais had to adapt to the retail business by overcoming the technical challenge of launching a new online platform able to support heavy traffic [and] exploding demand! Thanks to scalable, computerised and optimised processes, Califrais' B2C venture is a success."
The company also called back all of its furloughed workers, turning them into skilled employee drivers, and began carrying out an average of 1,200 daily home deliveries, Califrais co-founder Simon Bussy told Bloomberg.
Right now, Califrais offers a variety of Rungis' foodstuffs including fruit and vegetables, spices, charcuterie and cheese, fish and "equipment" i.e. paper towels. Spinazzé shared:
 Our goal is to increase our product offering whilst maintaining the highest level of service, in order to get new customers, and keep happy ones coming back. We are right on track!
The market as ecosystem
In Berlin, Choco Market is helping wholesalers stay in business via an automated digital platform that simplifies communication between suppliers and consumers. During COVID-19, Chocos connects fruit and vegetable purveyors directly with individuals, making getting fresh food easier while reducing the risk of edible produce hitting the bin.
According to shifted.com, new direct-to-consumer start-ups like Chocos are experiencing unprecedented demand. Mindful Chef, for instance, is experiencing a 425% increase in orders for recipe boxes in the UK.
Designed specifically by HERE employees to help their communities overcome COVID-19 challenges and optimize the delivery of goods and services, HERE's newest route planning tool, HEREWeGo Deliver, can help these start-ups like Choco Market better serve their communities.
HEREWeGo Deliver offers three key features that make getting food on doorsteps easier:
HERE WeGo Deliver Features
Driver optimization: organize high volumes of online orders, plan ahead and make the most of your existing vehicle fleet while redeploying your employees for driver capacity
Route Calculation: sync your delivery routes with HERE WeGo, HERE's navigation app, and receive turn-by-turn, voice navigation to help drivers locate each stop, avoid traffic blockages and meet ETA's with efficiency
The best part?
To help small businesses better respond to the ongoing COVID-19 situation, HERE is offering the tool cost-free until the end of 2020.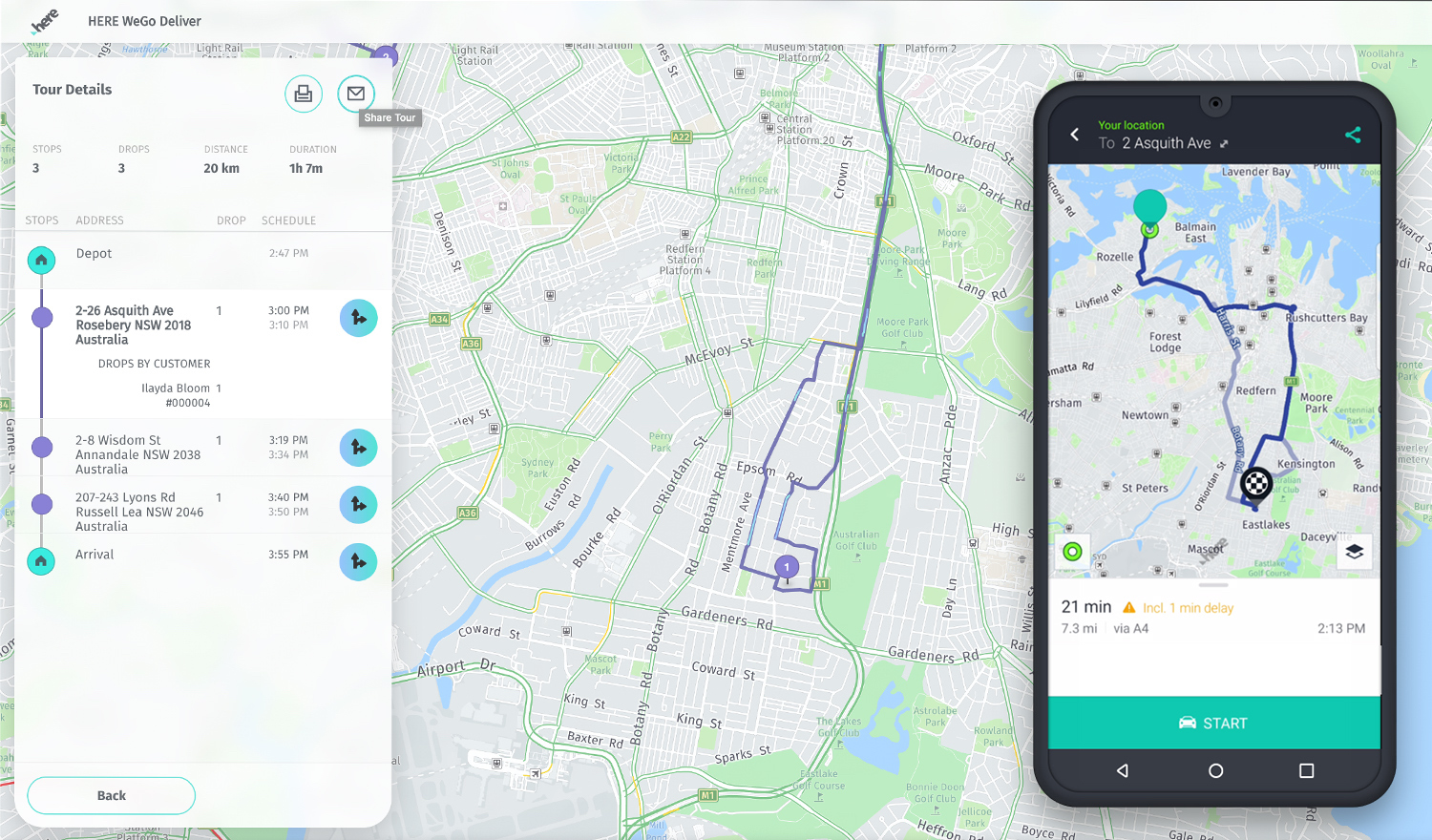 With HERE WeGo Deliver, plan your delivery routes and send them directly to your drivers using the HERE WeGo navigation app for seamless navigation.
Markets are more than just places to get recipe ingredients, they're an ecosystem, providing our communities with fundamental experiences connected to wellbeing, sustenance, logistics and heritage.
When markets need to serve customers where they are, HERE's location-based tools can help streamline shifts in service and keep our community spirit in-tact. Help serve your community with the power of HERE's location services.
*Julie Spinazzé was interviewed May 29th, 2020.
Sign up for our newsletter
Why sign up:
Latest offers and discounts
Tailored content delivered weekly
Exclusive events
One click to unsubscribe