DIY cooking? The secret sauce keeping restaurants afloat post-COVID-19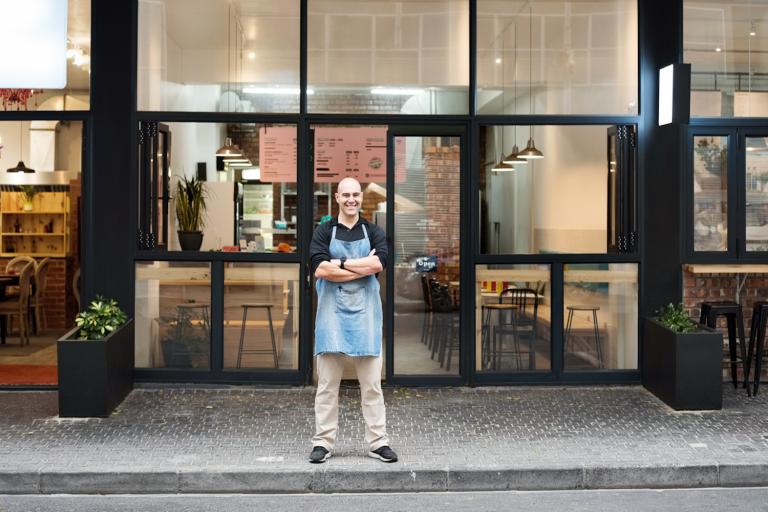 A new trend sweeping across the restaurant scene could help owners get back in business during COVID-19. And delivery is driving it.
"Food that travels is the future," says Professor H.G. Parsa of the University of Denver, an expert in restaurant retail. And he should know. He's the author of the esteemed paper "Why restaurants fail".
Parsa believes restaurants that pivot to offering takeouts will be able to ride out the current problems in the industry and dine out on a new business model that could change the very fabric of their businesses.
But this is not takeout as you or I know it. He sees a "half-DIY, half-delivery" model as the way for restaurants to increase their margins and break even faster. This is because, as he says, "some food travels well, others doesn't".
His idea is simple. You order something from a restaurant, have it delivered, and finish it off at home. As Parsa explains: "Sauce-based food doesn't travel well. You bring it home and after an hour or two it becomes really soggy. Restaurants can make a burrito, for example, but leave out the sauce and deliver it with the food. When the customer gets it they can finish it off at home by putting the sauce on it, bake it in the oven and you're done."
Papa Murphy's is a popular take-and-bake pizza chain. And Parsa is a big fan.
"Ask them to assemble a pizza for you. Take it home and bake it. Today, tomorrow. All you have to do is put it in the oven. And it tastes so much better because you can make it fresh whenever you want to. It lasts three or four days. And for the restaurant, they can make these pizzas in advance. You order online, the pizzas are ready in the cooler."
A major factor driving this trend isn't just COVID-19. In fact, this idea of DIY takeout has been around since 2008 due to rising restaurant costs, but it hasn't really taken off until now. "Rent is killing the restaurant business" says Parsa. "Landlords are raising the rent at the same rate as retail. Just above inflation. I've looked at restaurant menus since 1972. Menu prices don't go up more than 2-4%. Right now, it's barely 2%. Menu prices are getting lower, rents are going higher and there's a gap."
Tom Colicchio, American celebrity chef and founder of Crafted Hospitality, believes restaurants are going to have to change - and do so quickly - if they want to survive the crisis. He foresees many of them going out of business. In an interview with The Atlantic, he said: "The fast-food restaurants and drive-thrus are doing quite well. Some restaurants that do takeout are doing well too, but a lot of them will have to close because the delivery business is going to get spread out very quickly. I think the bigger problem is that delivery services are charging 30% fees [for processing, delivery, and commissions]. That's just not sustainable for most restaurants."
And it's a problem that Parsa raises, too. He says that delivery services are moving towards dynamic pricing that favors volume, but there is a way around it. "If I own a chain restaurant that's country wide, they might do it for 10%. But for an independent restaurateur they might charge 20% or 30%. Pretty soon the restaurants will figure this out: I've got staff in my building. They can deliver."
This is the sweet spot for restaurants, in Parsa's view. They can reduce their overheads by "smart-sizing" their restaurant; reducing the number of tables, pivoting to offer DIY-takeout and bolt on a delivery service that makes use of their existing waiting staff. He believes this could bring as much as 20% additional revenue to food businesses.
There's another trend that's also taking the restaurant scene by storm and could produce even bigger profits: alcohol sales. "I've spoken to lots of restaurants who say that alcohol delivery has saved their company," adds Parsa. "Currently, some wine companies are making their wine by the glass, already sealed. There's no labor. No risk of leftover wine. In inventory terms, it costs a lot less. Just imagine ordering a pasta, sauce on the side, wine by the glass. I get a gourmet, fresh meal at home."
HERE WeGo Deliver is a new no-cost delivery planning tool that allows business owners to easily operate their own delivery service with existing employees. Ready to get started? Find out more about HERE WeGo Deliver.
Sign up for our newsletter
Why sign up:
Latest offers and discounts
Tailored content delivered weekly
Exclusive events
One click to unsubscribe