Life after COVID-19: what supermarkets will have to consider post-pandemic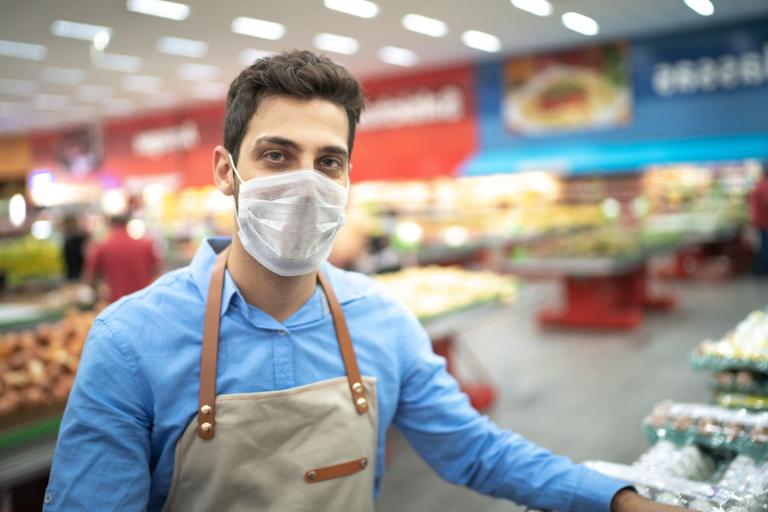 While it's certainly impressive, the spike in online grocery doesn't mean the end of supermarkets, it might actually cement them as a pillar of our community.
Coronavirus has changed the way we buy food and experience supermarkets.
The amount of American households using an online grocery service is up 30% in the last month according to a recent Brick Meets Click's survey.
But the rise in delivery does not equal a decrease in real-life shopping. Actually, the opposite is true. The need for in-store shopping remains, partially due to limited online availability. For example, items obtainable in April won't ship until May and other products aren't accessible at all.
And, while districts beginning to emerge from COVID-19 lockdowns can enjoy some regular-life activities (drive-in theaters are back), anything close to normal shopping habits will likely not be possible for some time.
Meaning, grocers and supermarkets will need to dig deeper to maintain perseverance as more post-COVID protocols are established.
Some brands, like Amazon, are ahead of the game with new contactless supermarket options, while shops in Austria make shopping carts and mouth masks mandatory to control social distancing and track store capacity.
But Esri, the world leader in spatial analytics and strategic HERE partner, is taking a "knowledge is power" approach with their grocery store map, helping to inform the public about the stock levels of cherished supplies, adherence to regulations and more.
Regardless of the method used to tackle coronavirus challenges, grocery shopping may never be the same again. Gary Sankary*, Esri's Retail Industry Solutions Expert says:
"Contact-free fulfilment options have become a differentiation in retail strategy as customers look for ways to interact with the brands they love and feel safe at the same time. For retailers, these services add costs to their fulfilment options. Indoor mapping helps to optimize the delivery of these services by making the picking process more efficient in the store. This can mean efficient routing to reduce multiple trips to the same aisle... to "tracking" customer arrival... ensuring the right orders are ready at the right time for each customer."
Grocery shopping: it's personal
Last year, online grocery sales made up just 6.3% of total grocery-related spending in the USA; a tiny fraction of the 5.75 trillion spent each year on foodstuffs.
If you've ever ventured online to peruse food, you'll know why.
Online stores can't accurately indicate what's in stock; what looks fresh might not be; what consumers want and what other options exist are also difficult to represent. Walmart, for example, is a $350 billion company with e-options for almost everything but that doesn't help them decipher if their customer would prefer the mesh bag of avocados from Peru, or individual ones from Mexico.
Plus delivery companies, like Instacart, allow their "personal shoppers" to make substitutions if something is not available: printer paper for toilet paper, say.
At a certain point, it's just simpler to go to the store.
Except, when it's not.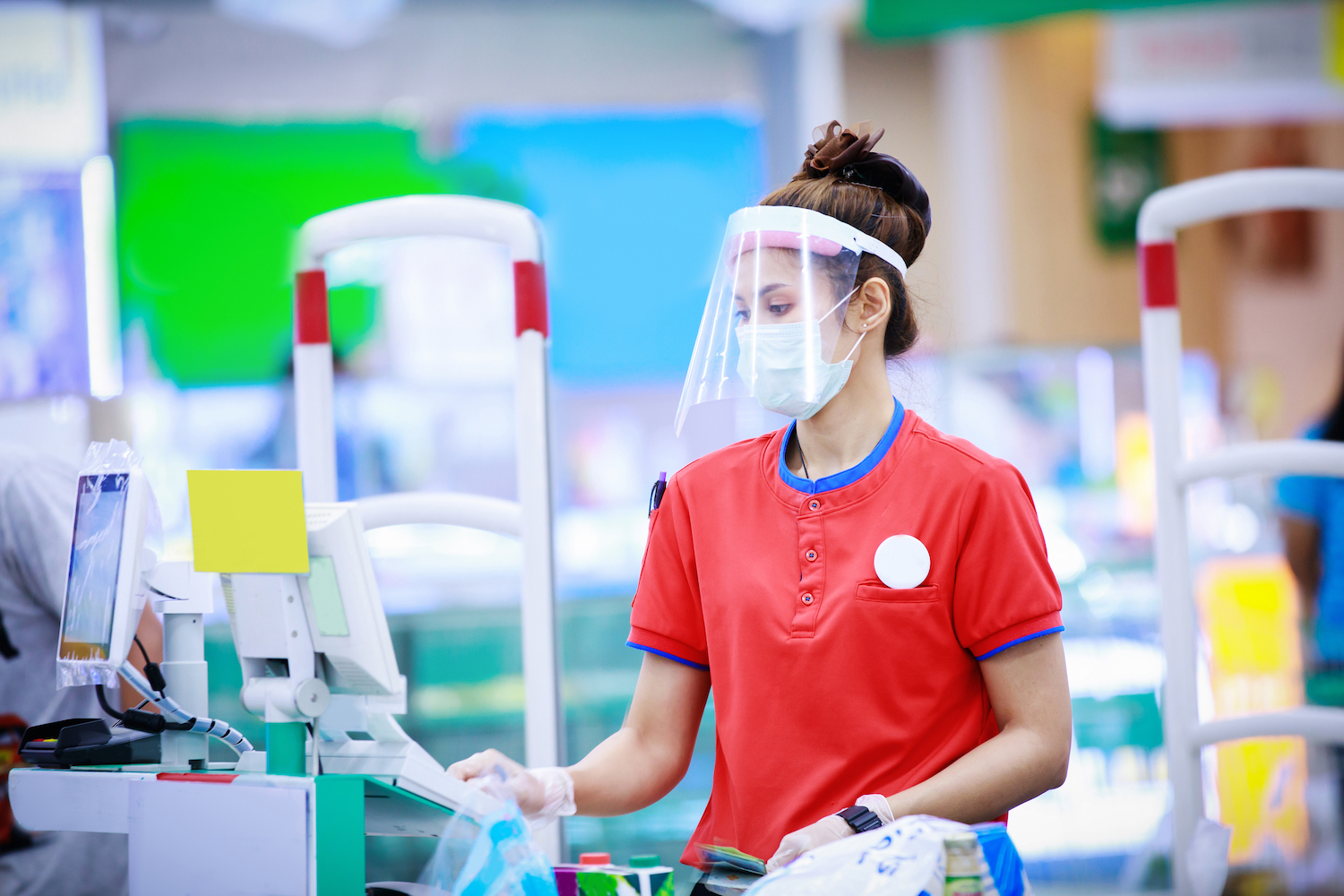 Supermarkets looking to ride the tide of the pandemic will need to follow safety and healthy regulations.
COVID-19 health regulations don't make online shopping any more comfortable or accessible. McKinsey reports that of those who can afford multiple delivery fees, many don't like the restriction in selection, keeping trips to the grocery store necessary.
Furthermore, the current surge in delivery and online buying doesn't directly translate to the end of supermarkets; it might actually cement them as pillars of support in our communities.
And with that consumers and businesses alike will be looking for post-COVID tools to help them navigate an ever-changing landscape.
"Know before you go"
For more than a decade, Esri and HERE Technologies have been providing end-to-end mapping solutions for desktop, server, mobile, and cloud platforms. HERE Map Content powers mapping, geocoding, routing, spatial analysis and geomarketing capabilities in ArcGIS.
Recently, the GIS Service Pledge Program in partnership with Esri and GISCorps, created a map of grocery stores around the world to support their communities during COVID-19.
They use crowdsourced data gathered from an online survey to collect information from regular consumers. Then volunteers from GISCorps map the data to inform the public if items like toilet paper, disinfectant wipes or carb-rich staples are in stock.
This saves people a potentially risky trip out-of-doors and reduces the number of stores visited.
GISCorps volunteer, Holly Torpey** explains, "The Interactive Map uses ArcGIS Online, Operations Dashboard, and Survey123. Members of the public are able to anonymously submit a grocery store report from a smartphone or computer. They can easily create location information... by using their device location or by entering the name of the store in the search box in the interactive map embedded in the form..."
So while Amazon's contactless supermarket (now operating in Seattle) features sensor-based tracking technology, permitting customers to "Just Walk Out" without any cashier interaction, they can't ensure that other shoppers will keep a safe 1.5 meter distance. Or help regulate numbers.
Esri's map can.
Using Esri's grocery map to choose a store following official protocols, is a safer bet for those at risk and those trying to create new post-COVID shopping routines.
"People can zoom in on their own neighborhoods to see which stores have the products they need and what precautions each store has; I hope this helps people make informed choices about where and when to shop to minimize their potential for exposure to COVID-19," says Torpey.
HERE supports the Esri cloud platform (ArcGIS Online) and other Esri software products, including StreetMap Premium. It's a ready-to-use street data set that works with ArcGIS software to provide geocoding, routing and high-quality cartographic display for the entire United States, Canada, Mexico and Europe.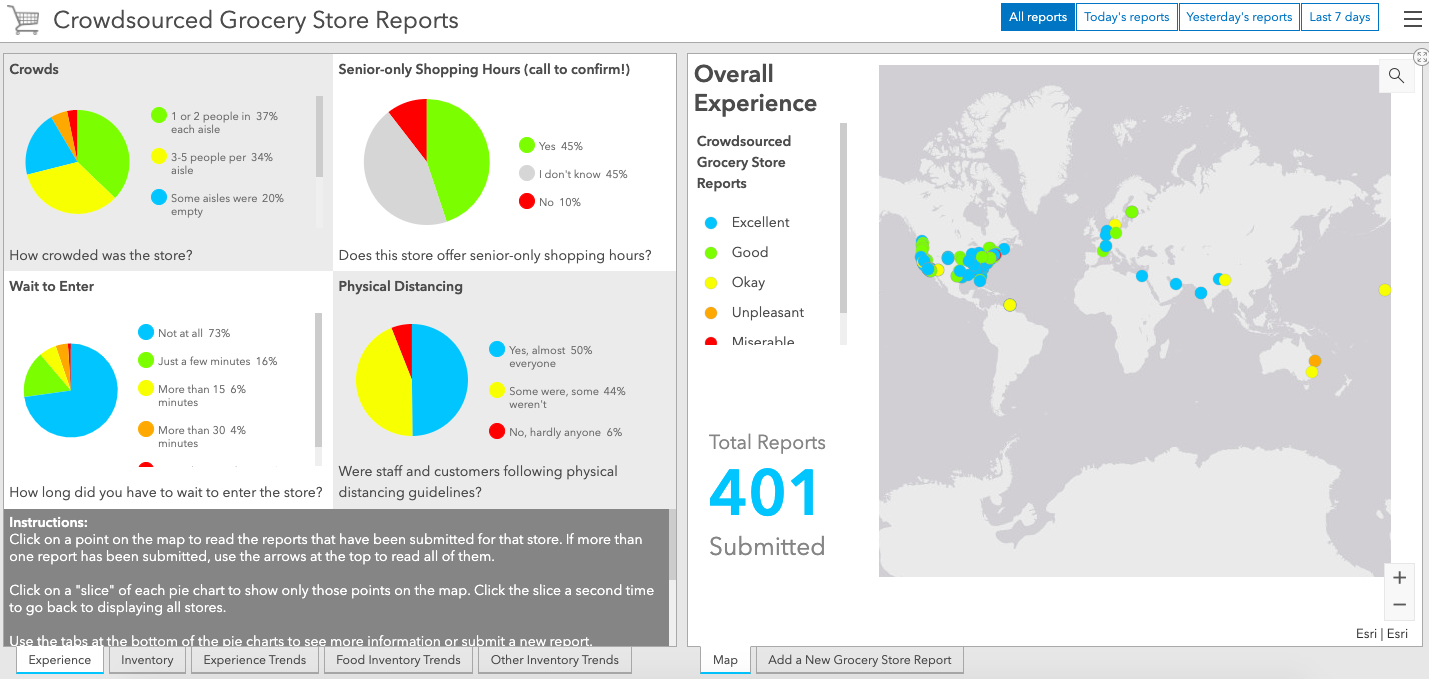 "As soon as a person submits a report, the point becomes available on the public dashboard...and displays trends in shopper experience, store precautions, and product availability over time," details GISCorps volunteer, Holly Torpey.
The urban supermarket is the new public square; amalgamating butcher, farmer, baker and fishmonger into one. And as such, online shopping won't end grocery stores. Especially since many won't give up their right to squeeze the produce or meander for recipe ideas.
But what is likely to change post-COVID is our attitude and approach to food shopping, including a new and appropriate sense of caution.
The best outcome of increased online food purchases will come in the form of companies being able to better protect customers' safety through new schedules, layout or equipment, increased compensation for their workers and consumers returning to smaller local markets where produce is selected by a skilled produce "technician". (Look at the traditional French market.)
In this case and with the right shift in perspective, internet "personal shoppers" might transcend the boundaries of "menial laborer" and become dedicated skilled employees with specialized knowledge, helping to meet our dietary needs via informed food selections.
And with this, grocery stores might return once again to a place of trust and comfort.
*Gary Sankey was interviewed May 15th, 2020
**Holly Torpey was interviewed April 20th, 2020
Move your business from storefront to delivery with our route planning tool.
Sign up for our newsletter
Why sign up:
Latest offers and discounts
Tailored content delivered weekly
Exclusive events
One click to unsubscribe