The great supply chain reset: understanding sustainability, risk and cost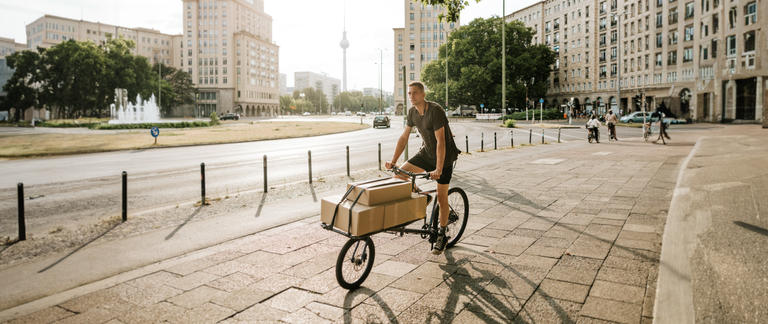 Supply chains are becoming more agile and resilient while sustainability is increasingly high on the agenda. How can enterprises balance these needs?
If we are to cut industrial emissions by half by 2030, we must make some serious changes to our supply chains.
This will have to go beyond so-called "greenwashing" exercises into a radical rethink of how we move, store and track goods and assets.
At the same time, most logistics firms are operating on slim margins during a time of uncertainty. Customer demand for faster deliveries and more accurate ETAs — in both the consumer and business spaces — can make environmental goals seem further and further out of reach.
However, better insight into your operations, collaboration with suppliers and responding to customer pressure can be good for the bottom line as well as the planet.
Collaborate, set targets — and measure
For any organization looking to improve sustainability, first, you need to understand what you have. Measuring tools such as CO2 Insights, created by HERE in partnership with Migros, can help build a picture of your current emissions and where you can make changes.
These can include changes to modes of transportation (see below), internal measures such as switching to LED lighting in warehouses, or smart routing to reduce fuel consumption and emissions.
It is important to set benchmark expectations with suppliers as well as address internal practices. There is no point in having ambitious net-zero goals if suppliers have a poor approach to safety, emissions or waste management. Consider setting a code of conduct, and only buying from those vendors who can comply with it.
Case study: Hermes and cargo bikes
At the recent transport logistics event in Munich, HERE360 spoke to delivery giant Hermes about its ambitious plans to reduce emissions.
Alexander Reddehasse, Head of Last Mile Development, said customer demand for manufacturing and delivering goods sustainably had increased.
"We are noticing that there is an increasing demand from our clients for climate protection and investment in sustainability. We also see a much stronger awareness from our customers," he said.
The company has been tackling the issue of how to run its operations, particularly in inner cities and conurbations, in a sustainable way, for several years. Hermes has been testing the use of cargo bikes instead of Sprinter vans in built-up areas – and the results are encouraging.
The main advantage is in locations with a high traffic density," Reddehasse said. "In cities such as Munich and Berlin, we have such dense traffic that the average speeds are simply too slow in a conventional car. There are also traffic-calming measures in some roads which mean a conventional vehicle can't drive there at all."
Partnerships with manufacturers have allowed Hermes to develop the right cargo bike over time. The bike Hermes uses is slightly larger than many on the market, and battery-powered. Weather extremes of hot or cold can affect range, and Reddehasse said the company is still working on improving performance, as well as rolling out the program to other cities.
However, the cargo bikes have been received positively by customers – and one other important group as well.
"Drivers enjoy riding them so much, it could open up the possibility of us recruiting new drivers," he explained.
This experience suggests finding new modes of transportation that are more enjoyable to drive could help address a shortage of drivers in many regions.
And the innovation is set to continue. Reddehasse said Hermes is also looking at alternative sources of fuel and how to address the thorny issue of long-haul transportation, which has historically been trickier to electrify.
Sign up for our newsletter
Why sign up:
Latest offers and discounts
Tailored content delivered weekly
Exclusive events
One click to unsubscribe