Chain reaction: will snarled supply chains force companies to manufacture closer to home?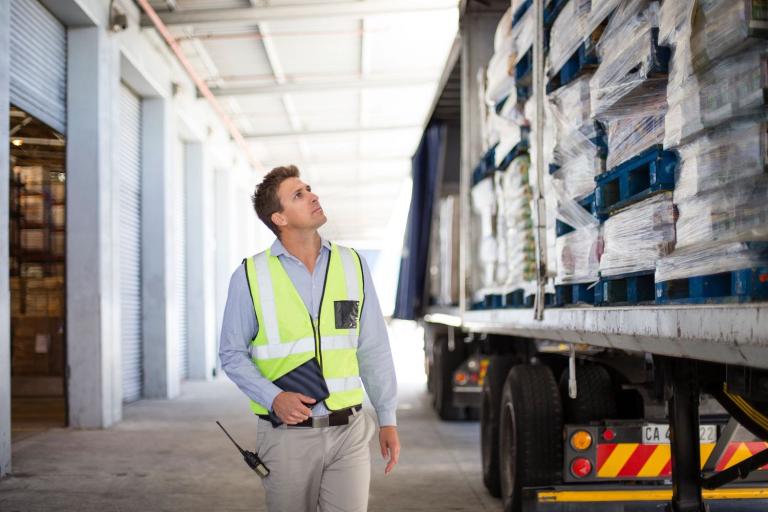 With a steady rise in nearshoring, more businesses are moving from "just in time" to "just in case". 
Back in 2018, Rachael Waring, the director of UK-based Warings Furniture, was sourcing her stock predominantly from Asia, as well as Europe. But post-pandemic, this is all changing, and the company is now beginning to manufacture and ship some of its goods much closer to home — in the Mediterranean.
Nearshoring — that is, producing items closer to home — has seen an uptick due to the supply chain delays caused by the pandemic, including the recent lockdowns in Shanghai.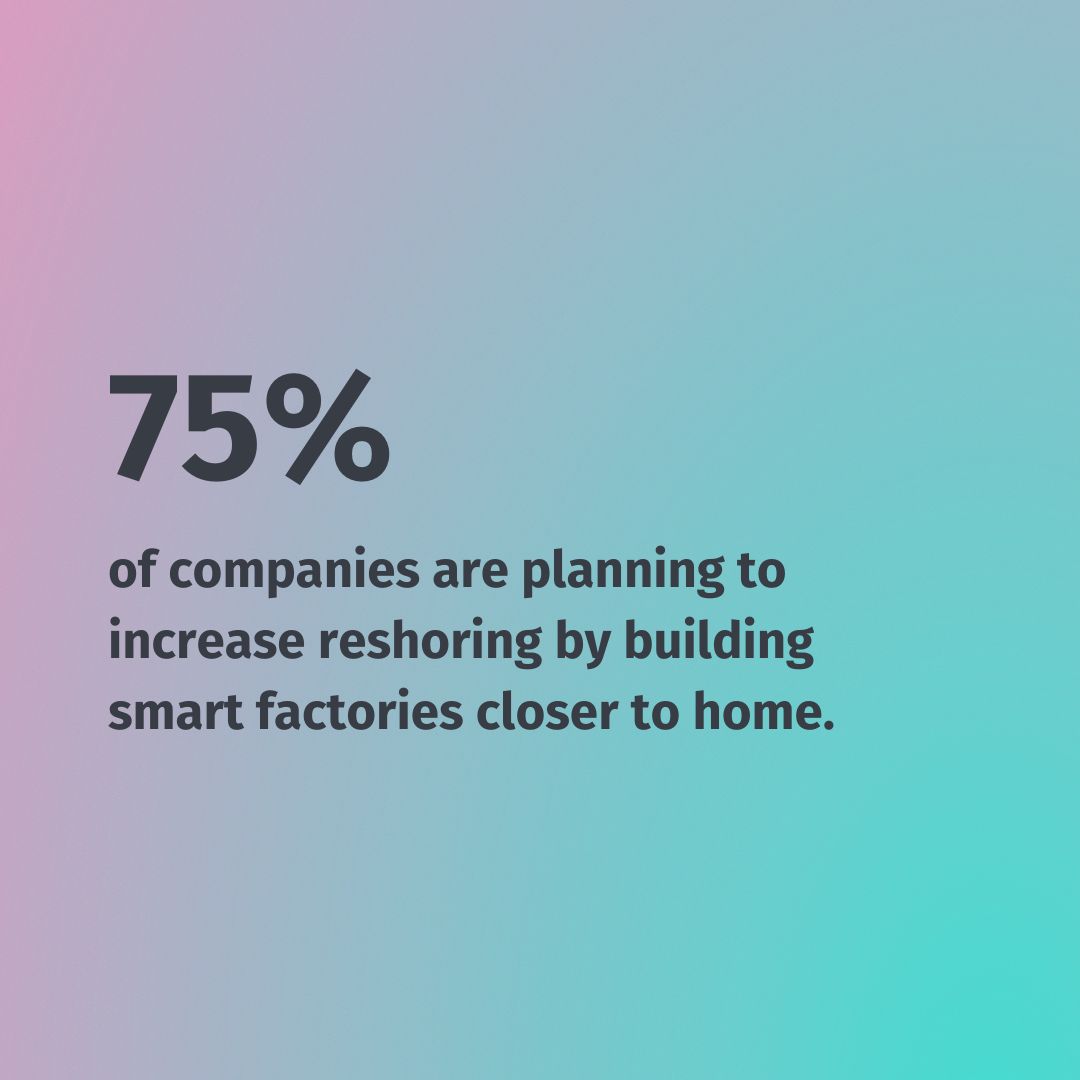 Analysts from McKinsey have predicted that by 2025, up to 26% of global production will be relocated via reshoring — manufacturing within a company's home nation — or nearshoring. Meanwhile, research by the Bank of America has found that 75% of companies are now planning to reshore by building factories closer to home, as a result of the pandemic.
In the past, many companies ran on the "just in time" business model, keeping inventories of stock to a minimum and ordering as and when demand was high, on short-term contracts. This worked well before the delays caused by COVID-19 and beyond, but this last-minute tactic is now being replaced by a "just in case" mindset. Precisely the opposite of "just in time", "just in case" has businesses ordering stock to keep "just in case" supply chain issues bite yet again.
UK-based Warings Furniture has been running since 1986 and is a manufacturer, importer and supplier of furniture for the hospitality industry. Rachael tells HERE360 that with supply chains being as snarled as they currently are: "All options are open when it comes to getting the products delivered that the business needs. We're keeping an open mind about where our products will come from."
Though Rachael says that a lot of the stock she buys from Asia is still competitively priced, rising inflation has seen the prices of shipping containers being hiked up by what Rachael says is "almost 10 times their true value", which has a knock-on effect on the business.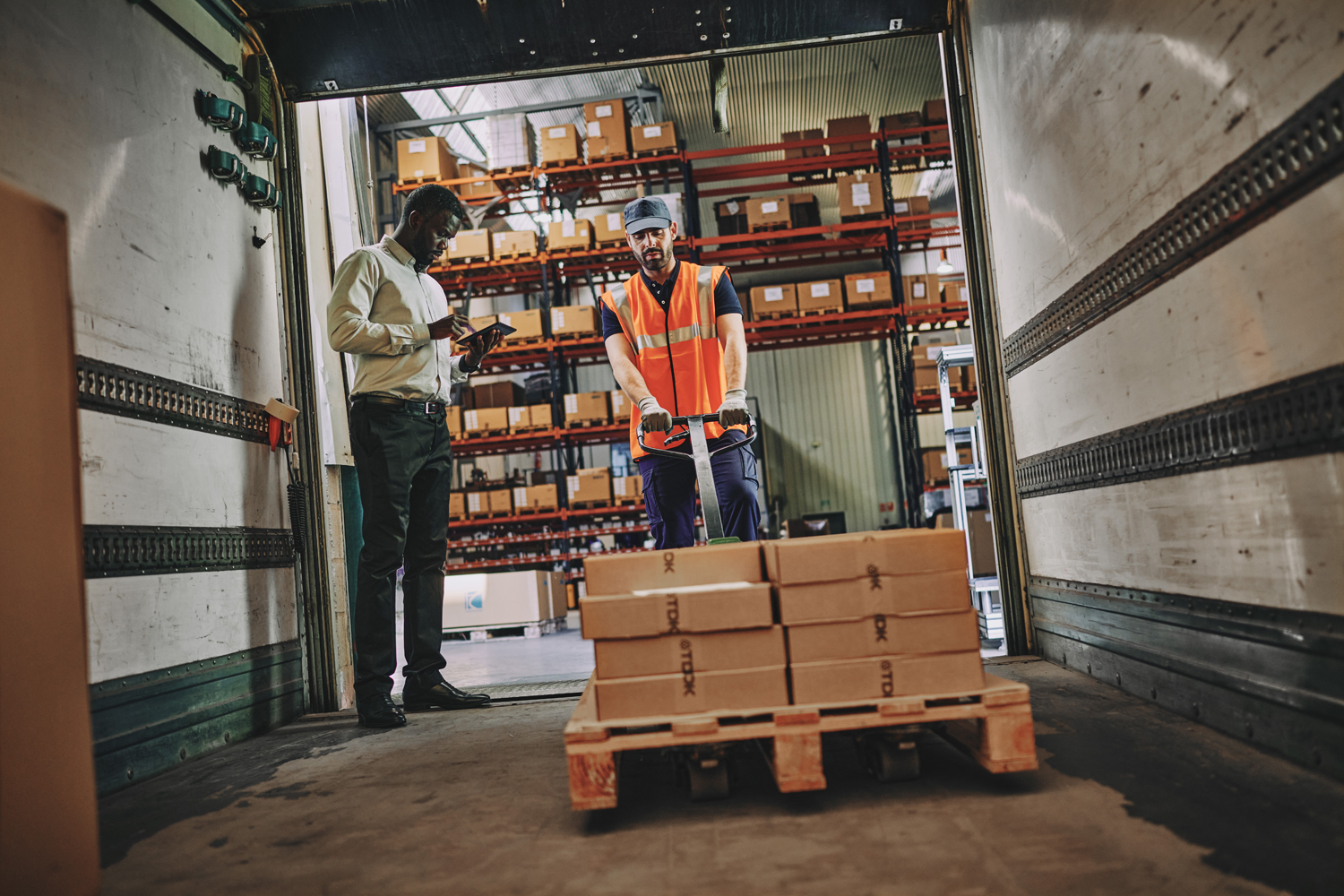 Read more: How to digitally transform your warehouse
"We aim to give our customers the best value price that we can, so we are competitively tendering all the time," Rachael says. "At the moment, the ports in Shanghai aren't open, and we really don't know how long this current delay will last. The products we'd get in Shanghai, we're currently getting from the Med, instead. The issue is that prices in the Mediterranean aren't as competitive as in Asia, and factories there also can't produce the same volumes as they can in Asia."
Companies worldwide are having to reassess where they manufacture, bringing production closer to home, including US Barbie toymaker Mattel. Its goods are traditionally manufactured in Asia, but in March this year, Mattel announced that it would be spending US$50million expanding its plant in Monterrey, Mexico, far closer to its Dallas-Fort Worth distribution center. The factory will become Mattel's biggest mega-factory at 2.25 million square feet — with nearly 3,500 workers. The new site comes after Mattel shut down two of its Asian factories.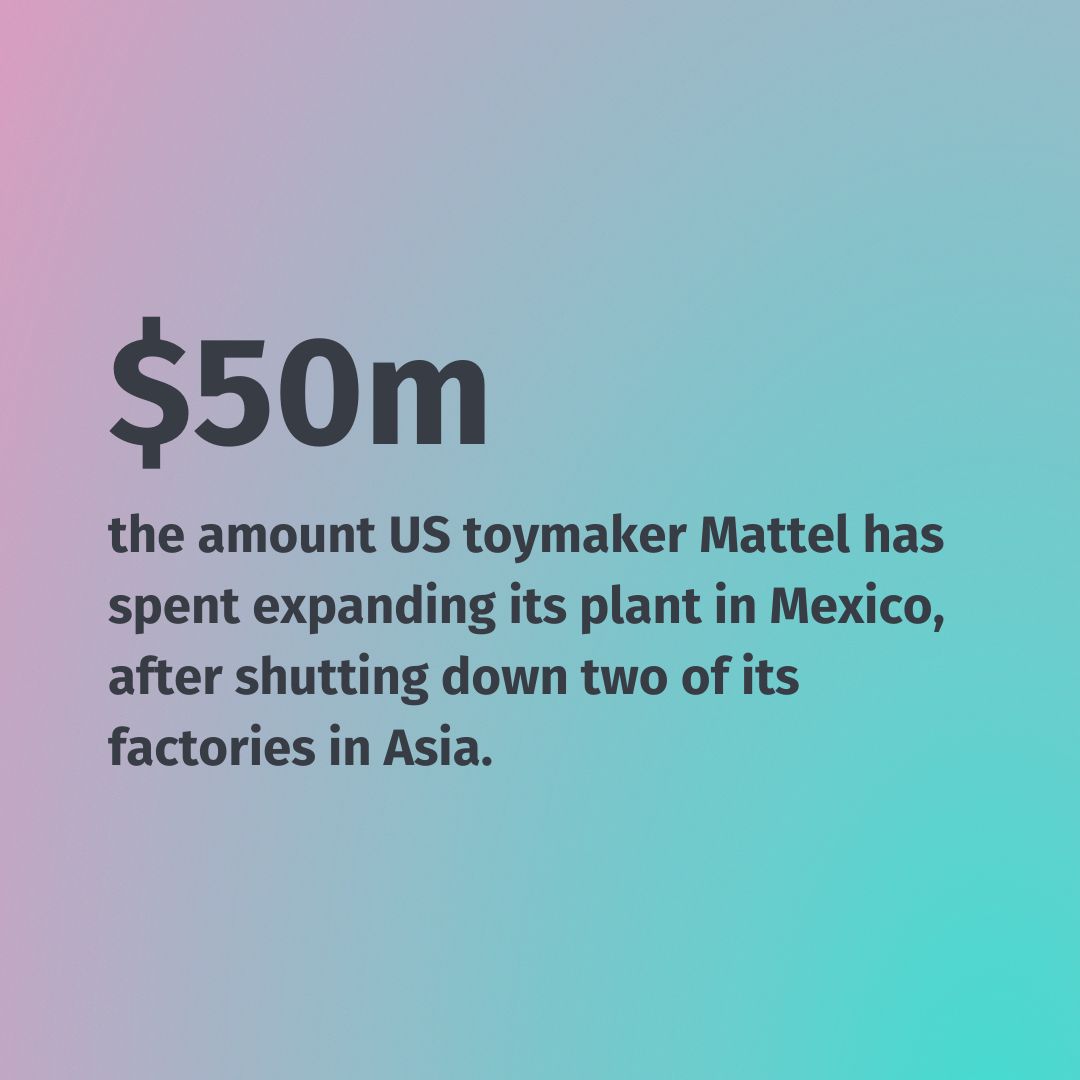 Mexico is the big winner here, with Gabriel Galvan, Mattel's Latin America managing director telling Reuters, "Being able to have product close to your consumer and not transport it from Asia, there's going to be more profitable and more competitive when you take costs into account". 
Indeed, data from Tradeshift shows that the invoice traffic from Mexican suppliers grew at 4.1 times the global average in the past year, while they fell in China, the US and Europe, showing that Mexican production is already thriving from the nearshoring trend.
Bharat Ahir is CEO of end-to-end supply chain management firm TwoEightOne, a company that works with brands such as Superdry and Office Depot on their sourcing strategy, operations and logistics. 
"What we are seeing is a rebalancing within the supply chain," Bharat says. "Companies are looking to reduce the amount that is produced in the Far East, due to the delays there, by bringing their manufacturing closer to home. TwoEightOne has seen a boom in products being produced in Turkey, as opposed to the Far East. While that's still relatively far from the UK, it's still a reduction of thousands of miles, which has the added benefit of cutting carbon emissions. Turkey is seeing exponential growth in this way."
Speaking about the "just in time" model, Bharat explains: "When 'just in time' works, it's great, but right now there are a lot of risk factors to it. There's a disruption to the factory supply base due to COVID-19, as well as less available space on shipping vessels. So what we're seeing is a move to less reliance on countries where shipping is the main mode of transportation, which is why it's been a great opportunity for Turkey."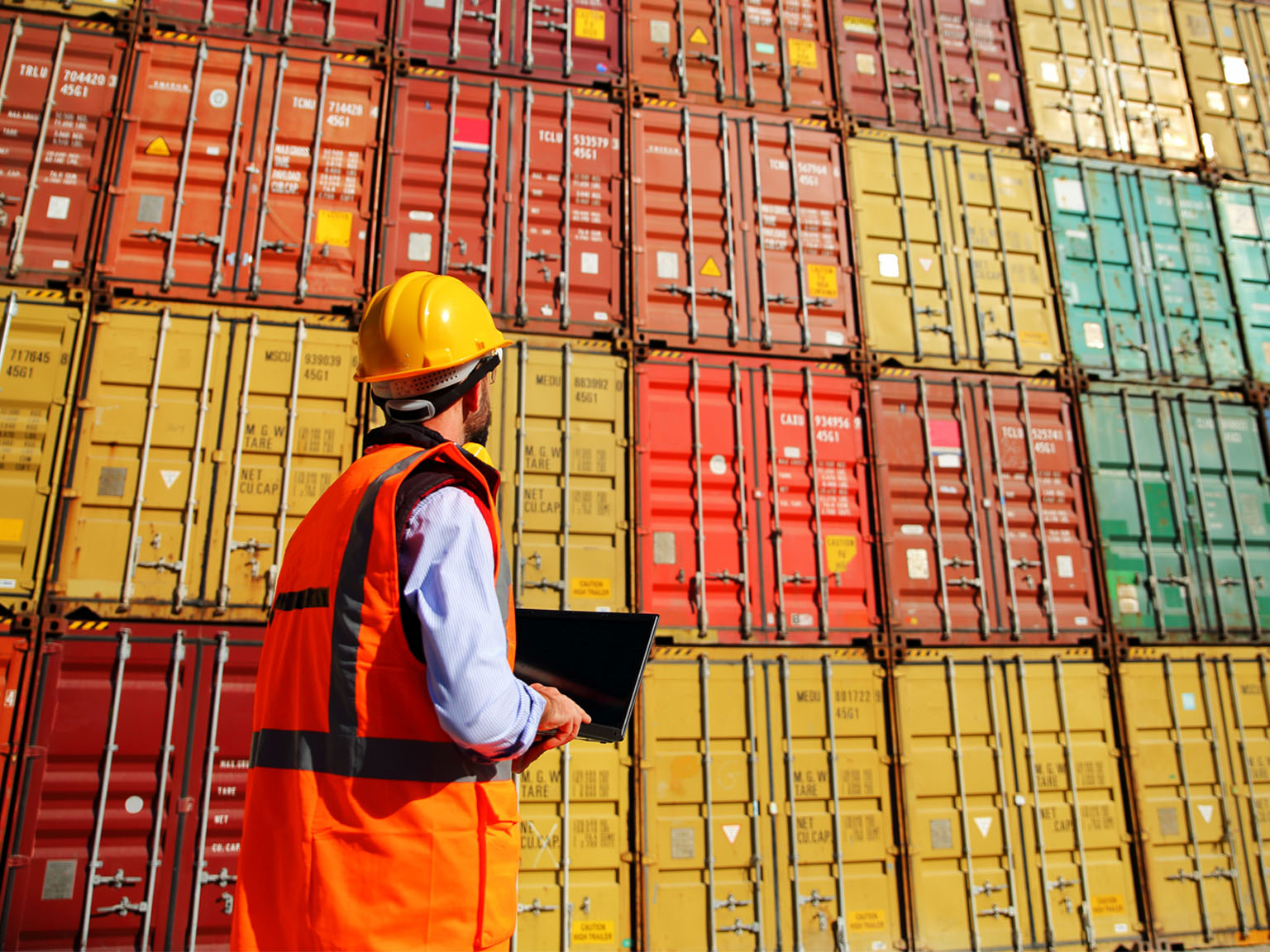 Read more: Supply chain disruption is far from over
Whether companies will be able to reshore completely in the future is up in the air, Bharat says, and depends on government initiatives and investment. "If the right schemes were in place to encourage businesses to reinvest in manufacturing at home again, then it would make sense with, for example, the automotive industry in the UK to focus on manufacturing there again. But there's much to consider, and I think it's a longer-term thing, with a lot of investment required. But I think it's great that we're having this conversation again and that businesses are looking into reshoring. In terms of the increase in nearshoring, I think it'll be happening for the short to medium term, at least for the next five years. And who can really predict what will happen next after that?"
Rachael is in agreement with Bharat that she cannot predict the next snag in the global supply chain, but that near- and reshoring are options her business will continue to look at. "As to supply chain issues coming up in the future — well, it's anybody's guess. I don't have a crystal ball. I imagine there will be more COVID-19 lockdowns this autumn and winter, to start with. Our preference is always to manufacture in the UK itself, and that would be our absolute aim if money was no option, however, for now, it is often much cheaper to produce our goods overseas," she says. 
"What might actually be the straw that breaks the camel's back in terms is the issue of transportation. If we see diesel prices become super-inflated, it'll simply cost us too much to transport goods from Europe, which may, in turn, force us to manufacture in the UK, where haulage will be much cheaper for us. We are constantly analyzing as a business what will be the cheapest way to sell goods to our customers, and we are open-minded to near and reshoring in the future."
Sign up for our newsletter
Why sign up:
Latest offers and discounts
Tailored content delivered weekly
Exclusive events
One click to unsubscribe