Half of America's largest importers still use spreadsheets - when they don't have to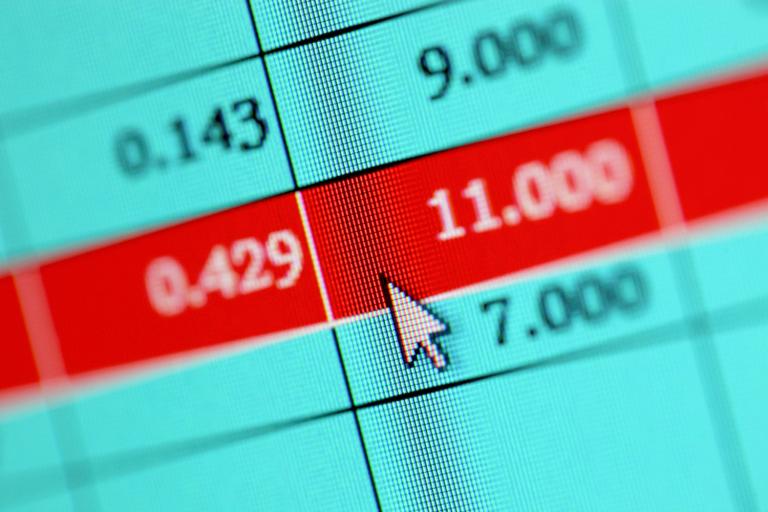 Relying on paper trails to manage complex supply lines is like putting down peanuts to find your way home. There's a better, location-enabled way.
"...Location information is key. You have to digitize all your locations. You have to know where your truck is. You have to know where your customers are located. You have to know where your own assets are, like your stores or your warehouses... – PTV Group, Traffic and Logistics, Software and Technology
You know what it's like to send out multiple packages to various addresses all at once. Multiply that by a few hundred thousand, think about keeping track of each one, and you'll begin to know the work of a logistics provider.
That complexity is why carriage and warehousing companies are always looking for ways to increase efficiency and reduce costs; staying on schedule is key.
So, while they've certainly made improvements in the past decade, a recent report by McKinsey states: "A high number of breakpoints, complex pricing rules, intuition-based decision making, and little data standardization present significant challenges... 50% of the US's largest importers still use spreadsheets to manage complex supply chains."
The analysis lists many reasons why big logistic firms might be hesitant to switch from manual processes to a digital platform including, but not only, not having enough financial resources: "...Low profitability has made it difficult for the industry to experiment with fundamentally new solutions – it's hard to reinvent yourself when you're struggling to maintain profits quarter after quarter," the McKinsey report states.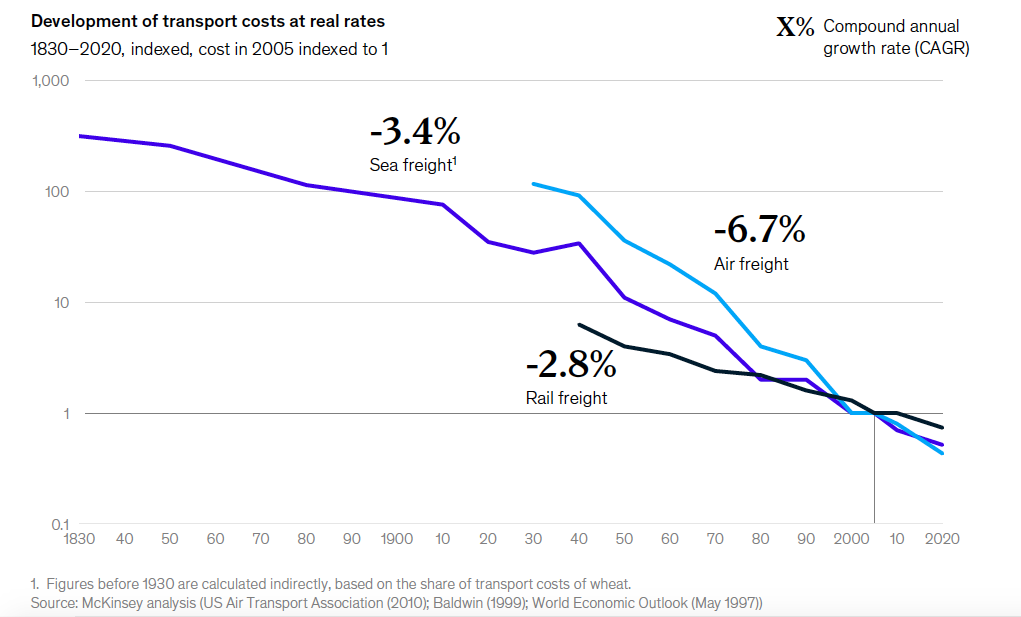 "The industry is undeniably under constant pressure to lower costs," reports McKinsey
Image credit: McKinsey
Using spreadsheets and analogue tools to administer complicated supply lines is precarious: paper trails are anything but transparent. It can take weeks to track a glitch, costing companies thousands per year in labor and delays. QLS solution group says: "15% of an organization's revenues are spent creating, managing and distributing documents."
Automated supply chain systems have benefits beyond just being able to track shipments from point A to B; the technology can provide detailed insight into areas of inefficiency, saving already frugal companies time and money.
And now there's even more to be gained: McKinsey's report reveals that logistic start-ups using automated supply chain tech receive greater amounts of investor funding.
HERE360 digs a little deeper into location intelligence to get a better understanding of how automated platforms can help logistic companies make informed decisions and maintain efficient operations.
"All of this has happened because of technology. Without the technology there's no way we could leverage this kind of speed and accuracy... When a delivery request is received, our platform... [and] maps API immediately targets the closest driver to the pickup location, this allows us to pick up within minutes in our major markets." - Lawrence McCord, CEO of FRAYT, Simple, On-Demand Shipping
Location intelligence: the whats, whys and hows
Keeping on top of the literal comings and goings of a supply chain is no simple matter.
"A typical door-to-door spot freight quote contains more than 20 line items... an average cross-country trade goes through more than ten parties, each of which has multiple touch points with dwell times in container yards that can exceed five days," describes McKinsey's report.
Using automated location-based tools is the best way to increase visibility into areas beyond your physical reach ie, wouldn't it be great to know exactly where a problem occurred the very minute after it happened?
This is possible with location intelligence.
HERE's Supply Chain API's do more than simply get things from A to B.
What is location intelligence?
It's the collection and evaluation of data based upon geography and space, in other words, geospatial data. This data comes from the intersection of three different areas — Business Intelligence, Artificial Intelligence and Geographic Information Systems Technology. This convergence allows carriage firms to transform location data into knowledge, solving various problems such as misplaced or damaged shipments, delays in manufacturing, missed ETAs and more.
In short, location data can provide a deeper understanding of a system, a company, a location, a demographic or a combination of those elements to help solve challenges and plan for the future.
And, how does it work?
Location intelligence, and its capacity to reveal a variety of data, can help you generate tools and solutions such as real-time maps and images that let you filter information, focusing only on what matters most. This makes it easier for fleet managers and supply chain designers to detect patterns applicable to their needs and respond with more effective strategic decisions.
"...We have 600,000 vehicles roaming the world. And the question is, how do we make the data relevant?... how do we get more intelligence and serve that data? How do we index that data? How do we discover the needles in a haystack?" - Lytx, Video Telematics and Fleet Management Solutions
So, why is it important?
Having pertinent information displayed in an efficient and easy way means that you can take action quickly, without having to dig through paper files and lists of data. For example: What kind of information would you need if you decided to move to a more local supplier?
Using advanced location technology makes analyzing big data less overwhelming. It works to reveal important hidden facts, and details about the environment in which you work.
Improving your business strategies with location data, also called geoenrichment, is fundamental to targeting your market and improving performance.
HERE spoke with Freighthub's CTO Erik Muttersbach and product manager Philip Braun
about how they put location data to work for their company.
Old problems, new tools
Tech-focused startups are resolving age-old transport and logistic issues with location-based solutions and getting the support to do it. "...More money is being invested in startups working on last mile and freight platforms...This holds especially true for platforms that focus primarily on road transportation, which have received about USD 6 billion in funding," McKinsey reports.
The technology in question are tools like HERE Supply Chain Optimization, which can help speed the movement of goods from warehouse, to shop floor, to customers, provide real-time ETAs and improve the overall customer experience. HERE Supply Chain API's:
Boost Efficiency: Minimize the impact of unexpected delays, increase inventory turnover and provide accurate ETAs.
Reduce Costs: Avoid surprises and streamline the flow of products to reduce waste, misplacements and delays
Optimize in Real-Time: Better align cargo connections and monitor supplier patterns for optimal lead times and inventory surplus.
The operating model of transporting goods has been the same since the 1970s, which doesn't at all reflect the needs or demands of customers in 2020. Speed, accuracy, cost-effectiveness and environmental awareness are top priorities for consumers.
In the digital era, companies need to establish a competitive edge. The Amazon Effect, created by the online, e-commerce or digital marketplace shows no sign of reversing, consumer bases keep growing and older analogue methods of data storage are outdated, along with the human mistakes that accompany them.
Location-enabled supply chain management is a like a gold-mine of data, efficiency and accuracy waiting to be mined.
As McKinsey says: "Put your money where your mouth is and digitize."
Find out what location intelligence can do for you with HERE Supply Chain APIs.
Sign up for our newsletter
Why sign up:
Latest offers and discounts
Tailored content delivered weekly
Exclusive events
One click to unsubscribe