Our favorite moments in the afterglow of CES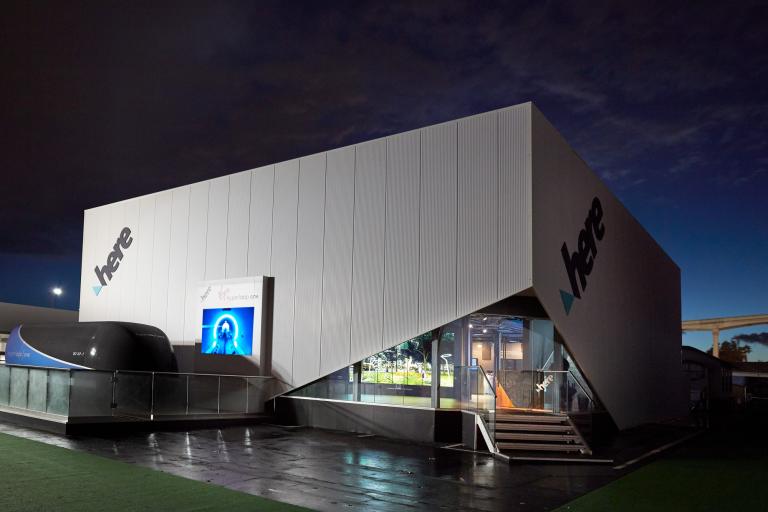 Last week, on a rainy Tuesday morning, more than 4,000 exhibitors were primed with their newest tech and innovations as the convention doors opened for CES 2018. We were there too, awaiting a flood of visitors interested in location intelligence. Las Vegas did not disappoint.
This was my first CES. I had heard that Vegas, Sin City, The Entertainment Capital of the World was a sunny, beautiful oasis in the desert. That day, however, mother nature rendered a torrential downpour that caused other tents to flood, followed by the ironic #CESblackout the next day.
Despite the conditions, the HERE building remained dry, powered, and open for business. As they day set in, the crowds came on in force. I heard German, French, Korean, Mandarin, Italian, and English voices all circling the ground floor, eager to learn more about the newest technologies we brought to share.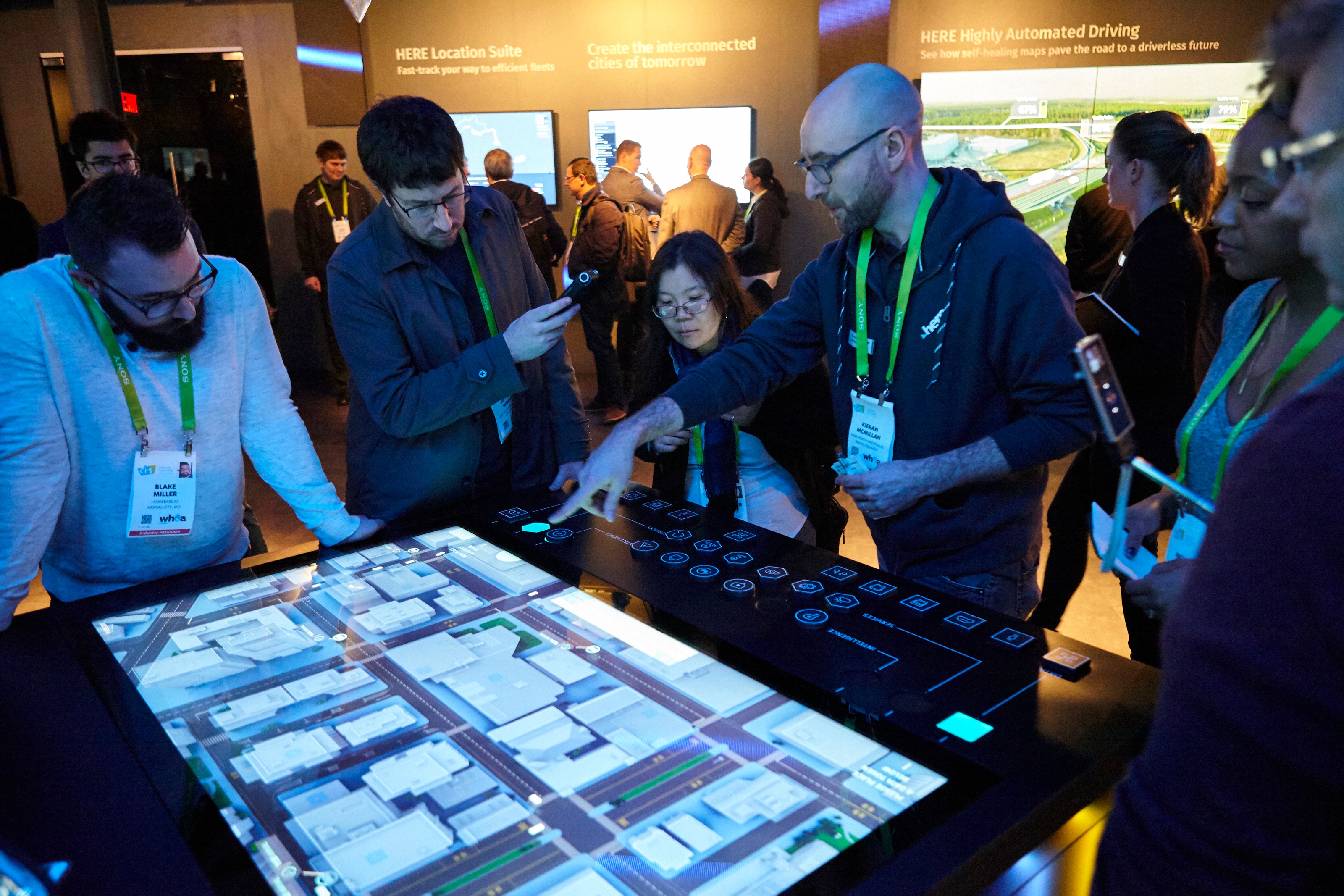 And indeed, we brought our A Game. We were pleased to announce HERE Mobility, a marketplace that enables supply and demand of mobility services for businesses and consumers.
As well, we presented the latest updates to Safety Services, which will provide cars and drivers with critical information about the roadways ahead.  We provided demonstrations of HERE Tracking & Positioning, which enables high precision indoor and outdoor tracking for everything from warehouses to public venues – emphasized with a live demo of our team tracking themselves walking around the interior of our booth.
We also presented deep-dive examples of Highly Automated Driving services, our Reality Index, and the Open Location Platform.
The biggest technology on display was the Virgin Hyperloop One pod. I mean physically, it was the biggest technology – an actual pod – from the Hyperloop testing facility just 30 minutes outside of Vegas. We were thrilled to host Ben Ellis and his team, who demonstrated the Virgin Hyperloop One app, which is powered by HERE location intelligence.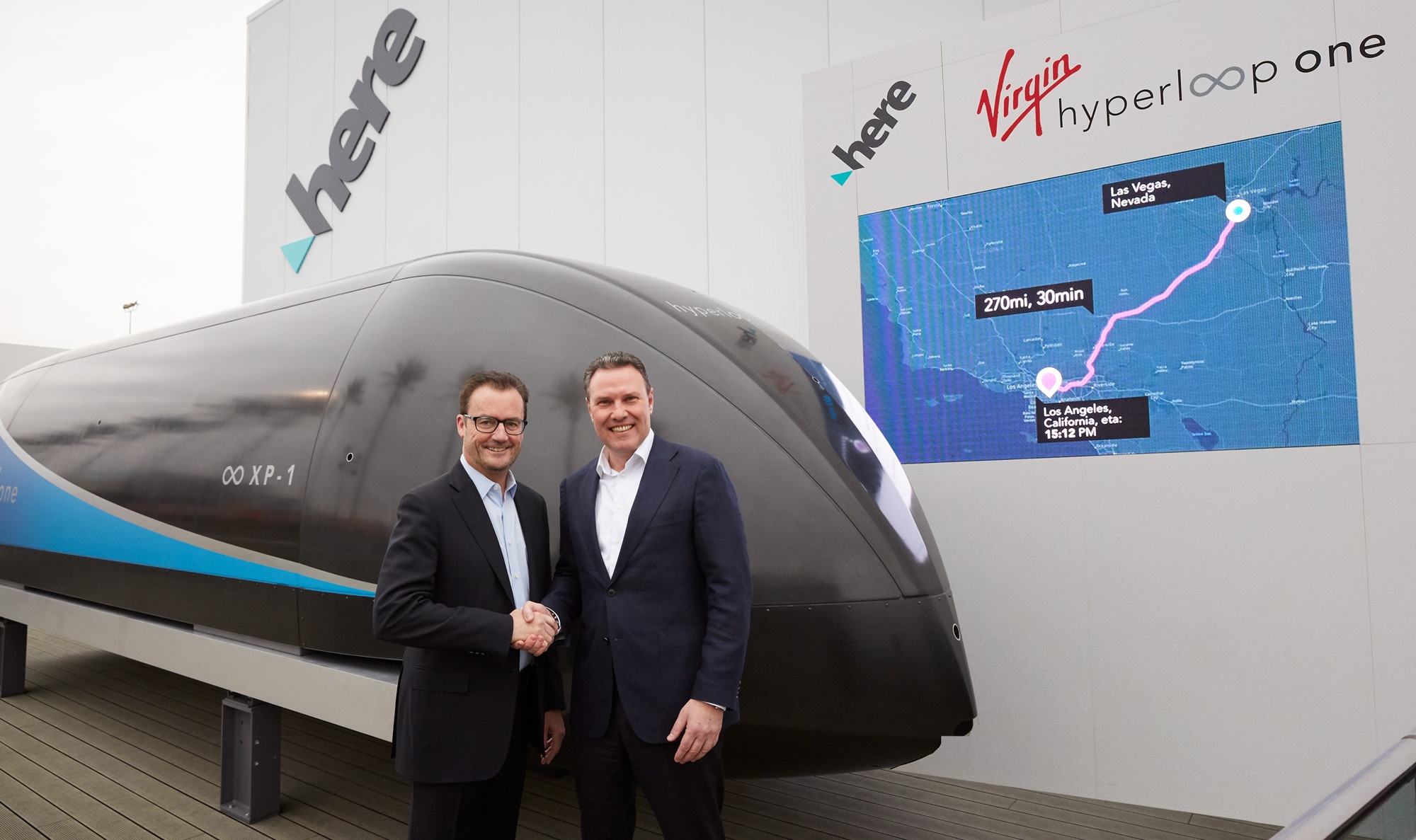 That wasn't our only new venture. Upstairs, we were busily announcing multiple new partnerships. HERE will join Unifly to map airspace so that drones and drone pilots can operate safely and efficiently over populated areas. We welcomed Bosch and Continental as our newest shareholders, further bringing our location services to a broader global market.
We'll be enabling smart cars in Korea as we join forces with SK Telecom. We'll help Chinese internet giant Baidu to create indoor maps. We announced that our tracking and positioning technology is now available to SAP developers. And, to keep on the frontier of mapping, we're testing HD Live Map on a 5G network with Vodafone Germany.
Working with this range of different companies is testament to something CEO Edzard Overbeek mentioned prior to CES. The future of the Autonomous World is all about collaboration and partnerships. No single company can do it alone.
The Autonomous World is no longer on the horizon – it's very much present, as demonstrated by the multitude of technologies that others brought to CES. Mercedes-Benz announced a new 3D user experience for in-car interfacing.  DJI was on hand to premier a new line of hand-held stabilizers for smartphones and POV cameras.  And, for college students with $16,000 to spare, there is now a robot that will fold your laundry.
We're excited to get the new year started.  What was your favorite tech at CES?

Sign up for our newsletter
Why sign up:
Latest offers and discounts
Tailored content delivered weekly
Exclusive events
One click to unsubscribe