International Women's Day 2021: female leaders at HERE discuss "what needs to change?"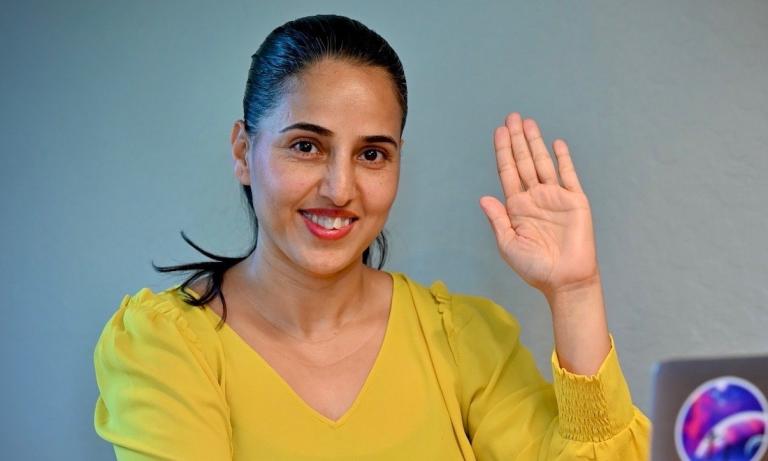 For IWD 2021, five female leaders at HERE discuss increasing the numbers of women in tech and advocating for gender parity.
In 1975, the United Nations General Assembly officially declared March 8th International Women's Day (IWD). By the year 2014, it was celebrated in more than 100 countries. Three years later, International Women's Week became recognized as Women's History Month.
But regardless of IWD's tenure and past achievements, the World Economic Forum says "none of us will see gender parity in our lifetime". In fact, if the development of gender equality continues at the current rate, the gender gap won't be closed for almost 100 years.
We're still discussing men vs. women's issues – doesn't that say something?
The "gender gap" is more than a wage imbalance, it includes unequal opportunities for women in leadership roles, lack of representation in male-dominated industries like STEM (science, tech, engineering, medicine), and uneven distribution of responsibilities in the domestic sphere.
Women made only 81 cents for every dollar earned by men in 2020, as reported by PayScale
Women accounted for only 26% of computing jobs in the USA in 2019, as calculated in a recent National Centre for Women and Information Technology report.
Women in heterosexual couples in 2020 were 50% more likely to care for children, 51% more likely to prepare meals, and 58% more likely to do the laundry, as revealed in a poll by Gallup.
In keeping with this year's IWD theme, "Choose to Challenge", HERE confronts gender bias by celebrating the voices of its female leaders, remaining committed to Paradigm for Parity (a coalition of businesses dedicated to closing the leadership gender gap in America), in addition to encouraging employees to strike the IWD pose for a multi-platform social media campaign.
And, of course, HERE360's also on board. We're celebrating female leadership via a series of articles dedicated to International Women's Day.
In this story, we feature Ioanna Renta, Maria Guerrero, Sanjeet Bali, Rae Lewis, and Alejandra Lona as they share their perspectives on the current gender gap and how HERE can work towards change.
Ioanna Renta, Director of Software, Engineer Development, HERE
"...[Gender equality] doesn't start and finish in the professional environment, it starts with all aspects of our society. It starts with the families, it starts in the schools, it starts with the way we are raising our children...This [stereotypical image] of a girl with a princess, and a boy with a Rambo...[initiates] bias in our society...It is not about gender. It is about educated, culturally [mature] people who lead or are led with professionalism and fairness.
We embrace a society that gives, values, and honors the same irrespective of gender."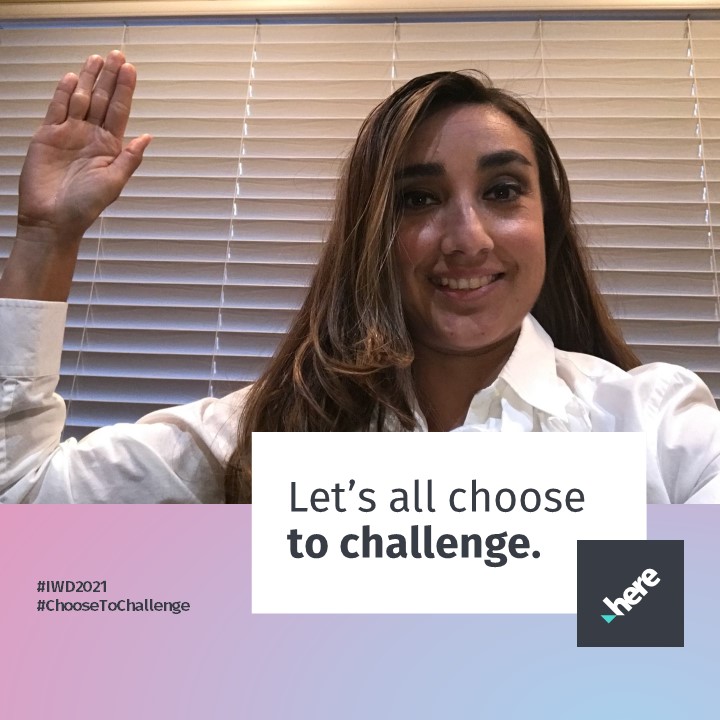 Maria Guerrero, Senior Sales Manager, HERE
"...We're not on the same, level, playing field where women are given the same opportunities with the same support and same expectations [as] male counterparts...Managers hire people that resemble their similar views, and most of the management are white males...to really drive change, management must lean in and become advocates, mentors, and sponsors..."
We need our wolfpack of women and peer allies.
Sanjeet Bali,

Senior Director, Technology Customer Services, HERE
"Women leaders leave as it continues to be exhausting to keep fighting gender battles over and over, and continually get passed over for promotions... a confident and assertive woman is more likely to get labeled bossy, aggressive, and undiplomatic. Biases need to be called out, bias strips a woman's confidence and competence..."
"...And the onus is not only on men. As women, we need to watch out for our own biases and how we perpetuate them against other women... We also need CEO-activism. With 94-95% of the world's CEOs being men, we need their clout... Women are 50% or more of the population, 60% of the graduating classes in many colleges, and we are 75% of top-grade earners... to do better we need these bright women at work."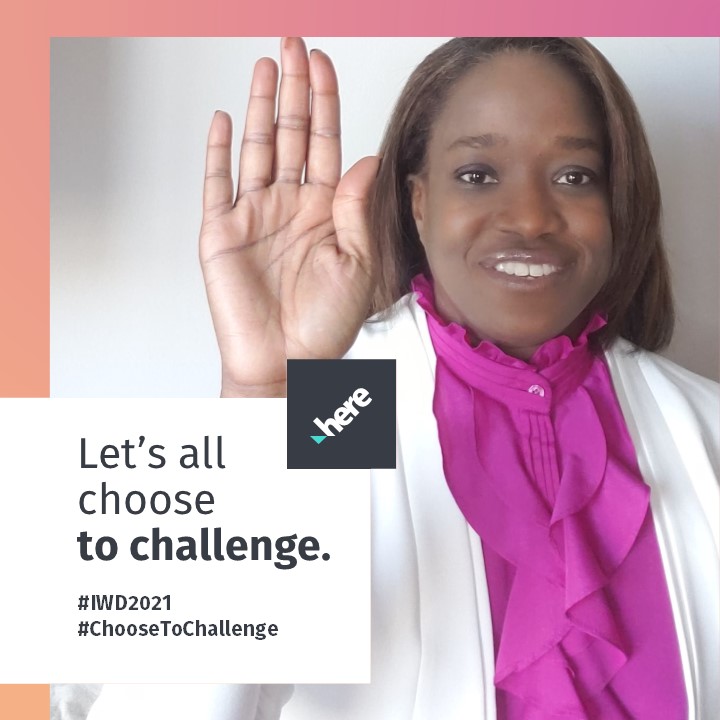 Rae Lewis, Director Business Planning, GCO Strategy and Data, HERE
"...As we look at the data, what it's really about for me is [questioning]...what am I doing on a day-to-day basis...to impact [the numbers]? It's very easy to say HERE needs to do this and that gives us a point of view that it's somebody else's responsibility but it's really [about] owning it.
This year's IWD "choose to challenge" theme means each person is responsible for initiating change. As stated on the IWD website, "a challenged world is an alert world". We can, and should, begin to move and work with increased awareness, taking responsibility at the individual and educational level, encouraging companies and their leaders to seek out female skills and leadership, and celebrating women's achievements. Most importantly, we need to raise our hands and speak our voices loudly each time when we encounter gender bias.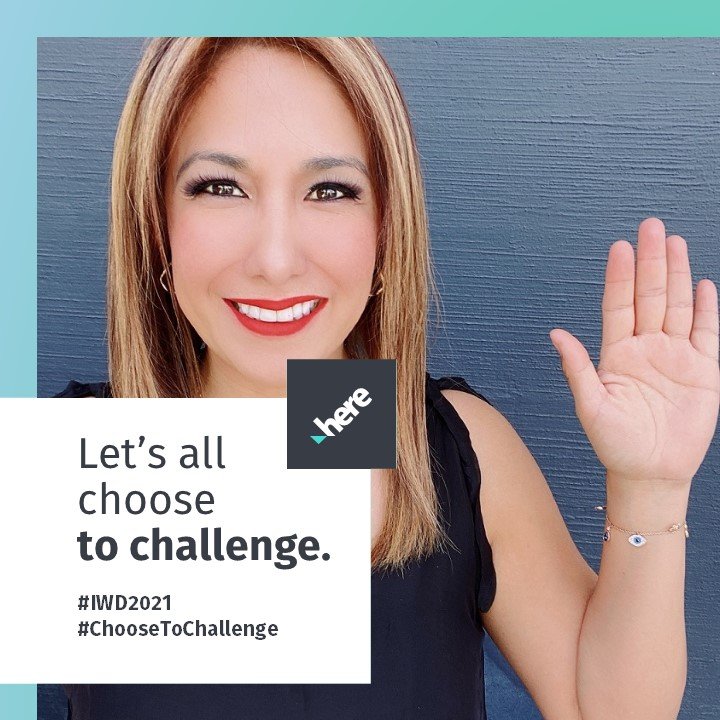 Alejandra Lona, Director of Business Operations, GCO and Data, HERE
"We can't do this alone... if we want different ideas in the room, then we want different people the room... We need to do this together...for our girls, our families, our society."
HERE's putting their hand up for women. Join us
Sign up for our newsletter
Why sign up:
Latest offers and discounts
Tailored content delivered weekly
Exclusive events
One click to unsubscribe