International Women's Day at HERE
International Women's Day is a day of celebration, but also a time to reflect on our own work to ensure a truly inclusive environment where opportunities are equal for all. Here is a glimpse into our continued efforts to achieve gender equality in the technology industry.
So many groundbreaking but utterly necessary changes have taken place since the first Women's Day 110 years ago. Today though, it's clear that we're witnessing a truly significant time in the women's movement.
For us at HERE, we aren't comfortable to just bear witness to these advancements. We take it upon ourselves to be the change we wish to see, especially in our industry. It's no secret that gender equality in technology remains a challenging issue. Despite progress, the work is far from over. Women are still drastically underrepresented across the board, especially in executive and entrepreneurial roles.
We are committed to creating a culture that embraces inclusion, diversity, and belonging for all people, and gender equality is a core goal we have set for our company. In line with the #BalanceForBetter theme of this International Women's Day, we are putting a strong focus on women's advancement in leadership roles at HERE and are committed to achieving gender parity in leadership positions by 2030 with our involvement in the Paradigm for Parity coalition.
Not only are there proven benefits of mixed gender leadership teams—i.e. higher productivity, more innovation power, longer-term business impact and workplace sustainability—but quite simply, diverse perspectives drives innovation. We cannot properly represent our partners and customers if they are not represented within our company.
With that said, it's worthwhile remembering—and this is important—that while these goals do exist and we are serious about them, we are not just reaching for a number for the mere sake of doing so. These scientists, engineers, mathematicians, software developers, analysts and tech experts who come onboard are absolute leaders, at the top of their fields, and truly deserving of every success. This is why this is such an important intention.
Our commitment runs deep
To help achieve our goals, we are working to consciously debias our recruiting and talent processes, leadership development opportunities and mentoring programs, because if we fail to cultivate a robust talent pipeline, it isn't just the tech sector that suffers – there's also a larger threat to the overall pace of innovation.
We have empowered every leader at HERE to personally drive forward gender equality, because we believe the more people within our business that are engaged in our goal, the more rapidly we'll bring about significant change. We're encouraging our male leaders to take the #HeForShe pledge as a way stand in solidarity with their female colleagues, bring more visibility to the powerful gender equality movement, and inspire other men to do the same.
One way we honor our commitment to gender equality is through pay equity. We have joined the Employers for Pay Equity consortium and taken the Equal Pay Pledge. This is to ensure that all employees are compensated fairly for equal work and experience and have the same opportunities to contribute and advance in the workplace.
Globally, we continue to find success with our Women's Initiative Network (WIN). This employee-run resource group is dedicated to inspiring every woman at HERE to think boldly about her career and actively pursue their professional goals in the technology industry.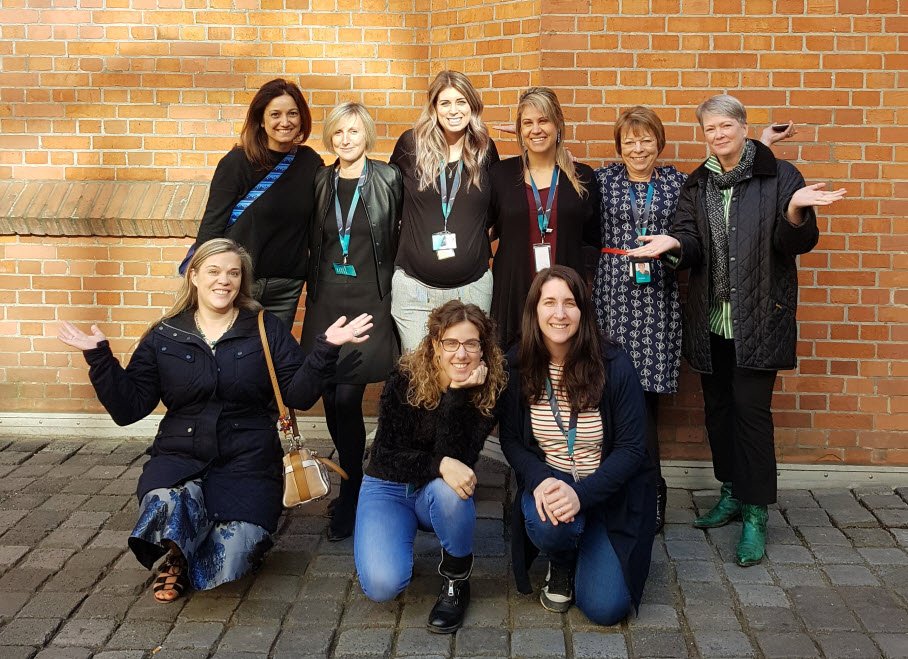 With hundreds of members across the Americas, EMEAR and APAC with a growing number of male allies as active members, WIN empowers women of HERE through activities focused on networking, professional development and programs that are relevant to their interests. Efforts cover everything from lean in circles and a "power speaker" series, to "bring your daughter to work day", internal TEDX-inspired technology forums showcasing our own talent, and cross pollination efforts stretched across our global offices through knowledge sharing, project work, allyship, sponsorship and mentorship opportunities.
Our equality efforts are stretching to our products, too. We are currently exploring and designing ways to find greater parity and representation within our mapping iconography. It is a work in progress, which you can learn more about right here on the here blog in the next few days.
Let the work continue.
At HERE, we're proud to support an inclusive workplace where everyone is equally supported and empowered to succeed. Learn more about us at: https://www.here.com/en/careers/careers-home
Sign up for our newsletter
Why sign up:
Latest offers and discounts
Tailored content delivered weekly
Exclusive events
One click to unsubscribe