Indoor positioning is getting easier, and here's how to get started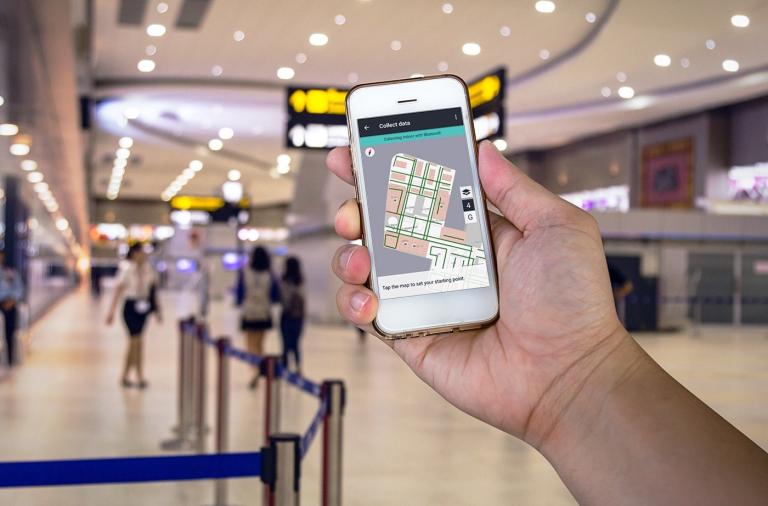 If you want to be location-aware in a public venue like an airport or stadium, or within a private area like an office, warehouse or manufacturing facility; you need the means to calibrate indoor positioning devices in vast interior spaces. Collecting geo-referenced radio data on the WiFi access points and Bluetooth beacon signal strengths inside buildings is easy when you use HERE Indoor Positioning.
Providing user-friendly maps or tracking objects inside of large spaces can be equally important as mapping the streets and avenues downtown. The challenge is, you don't have mapping cars driving through the hallways of your office.
We've got an app for that, and it is now available in Google Play.
HERE Indoor Radio Mapper is an Android-based tool for collecting geo-referenced radio data on the WiFi access points and Bluetooth beacon signal strengths inside buildings. The tool also supports collecting signal-strength data outdoors in the vicinity of your venue in case smooth indoor/outdoor transitions are required.
To use this tool, you need to have an indoor map of your venue (either a HERE Venue Map or a custom image-based indoor map of your own) and WiFi access points or Bluetooth beacons installed in your building. As soon as you have a map available, you can try out radio data collection and Indoor Positioning in the demo mode in Indoor Radio Mapper. However, if you want to use Indoor Radio Mapper in your own app, you can register for HERE Mobile SDK premium evaluation at our Developer Portal and download our example apps from GitHub.
Radio data collection with the HERE Indoor Radio Mapper is the key to giving HERE Mobile SDK applications location awareness, even inside buildings. The collected radio data is processed in the HERE Cloud to create an understanding of the radio signal behavior within the building. We call this the radiomap of the building. The radiomap is downloaded and used by the HERE Mobile SDK to locate devices running the location-aware application, and provides accuracy within a few meters -- and in full 3D.
Want to see more?
Want to do more?  Download the developer kit and get started with your own venue and facility maps for 2018.
Sign up for our newsletter
Why sign up:
Latest offers and discounts
Tailored content delivered weekly
Exclusive events
One click to unsubscribe