Four wheels and a smartphone: the future of urban mobility?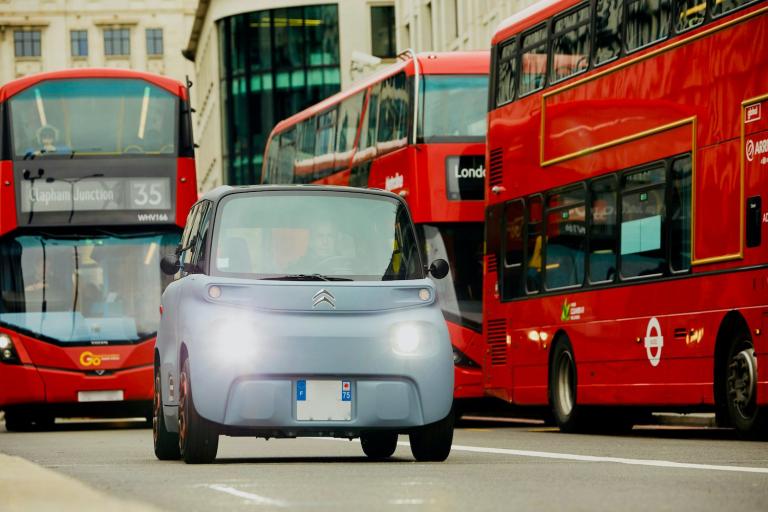 Downsizing is a major trend having an impact on many aspects of our lives. But is it also an urban mobility solution for expanding, highly populous cities?
As populations increasingly migrate to cities, leading to oversubscribed public transportation and greater congestion, something's got to give.
Thankfully, innovative urban mobility solutions are being developed, with new modes of personal transportation emerging. Micromobility is the watchword for many urban mobility start-ups, while the transition to electric vehicles (EVs) is now accelerating.
But what happens if you combine these two trends and come up with smaller electric cars?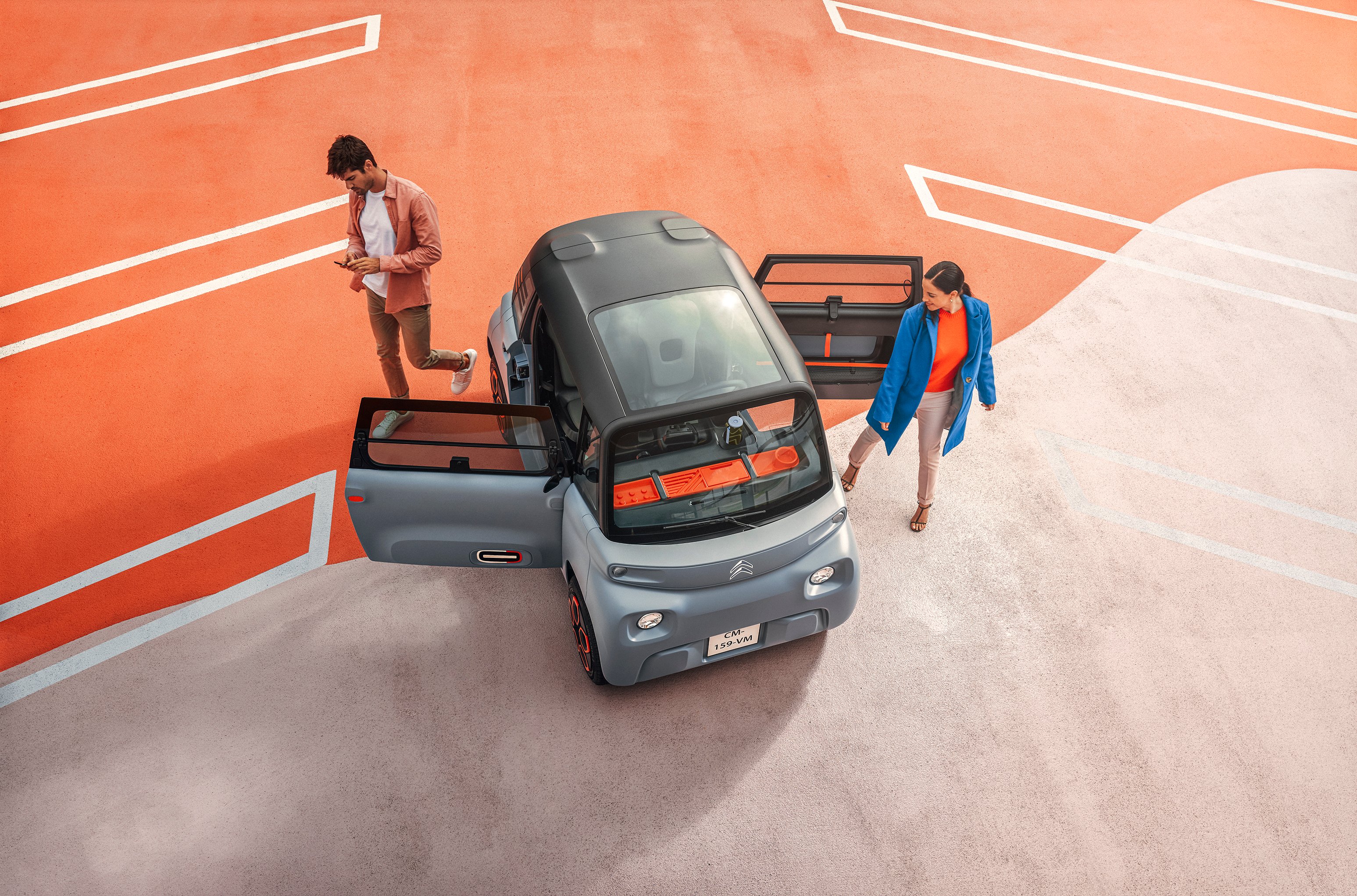 The Citroën Ami enters the UK market in 2022, with a bid for acceptance in British cities. Image credit: Citroën.

What on earth is a ZELPV?
Zero-emission light-powered vehicles (ZELPVs) could fit that bill perfectly — as we're starting to see with a new model from French carmaker Citroën, called Ami.
ZELPVs are a zero-emissions evolution of existing Powered Light Vehicles (PLVs), a category that includes two-, three- and four-wheelers. In Europe, manufacturers such as Aixam have been producing electric versions of their existing four-wheel microcars for a few years. Larger OEMs, on the other hand, haven't really ventured much below A-segment city cars for production vehicles (although Renault deserves an honorable mention for its Twizy).
But Citroën has taken around 11,000 Ami orders since its 2020 launch — a respectable start. Most Amis (7,493) have been sold in France, with 2,787 Italian buyers, while Citroën has also started selling in Spain, Portugal and Belgium recently.
Next on the launch agenda are the UK and Germany, which should be instructive for two reasons. The first is that London is Europe's biggest city, with established air pollution and congestion issues. Promisingly, over 12,000 UK drivers have already registered an interest in the Ami.
The intriguing aspect of the Ami's expansion into Germany is that it will be rebranded and launched as the Opel Rocks-e. Citroën and Opel are both owned by parent company Stellantis, along with the Peugeot, Vauxhall and Fiat marques. If you consider how central platform and badge engineering are to automotive industry product development, it's not much of a stretch to foresee Volkswagen, Seat and Škoda ZELPVs as possibilities. Indeed, Seat unveiled a Minimò four-wheeled concept in 2019 and the Spanish brand has committed to an urban mobility strategy called MÒ.
Further afield, this kind of automotive micromobility isn't a new concept in Japan. The nation's carmakers have been building kei cars since 1949, vehicles that are no bigger than 3.4m x 1.84m and powered by 660cc petrol engines. Switching to an EV powertrain could be a relatively easy win for the likes of Toyota or Honda and these ZELPVs could be viable right across Asia — a market with huge potential and home to some of the world's biggest megacities.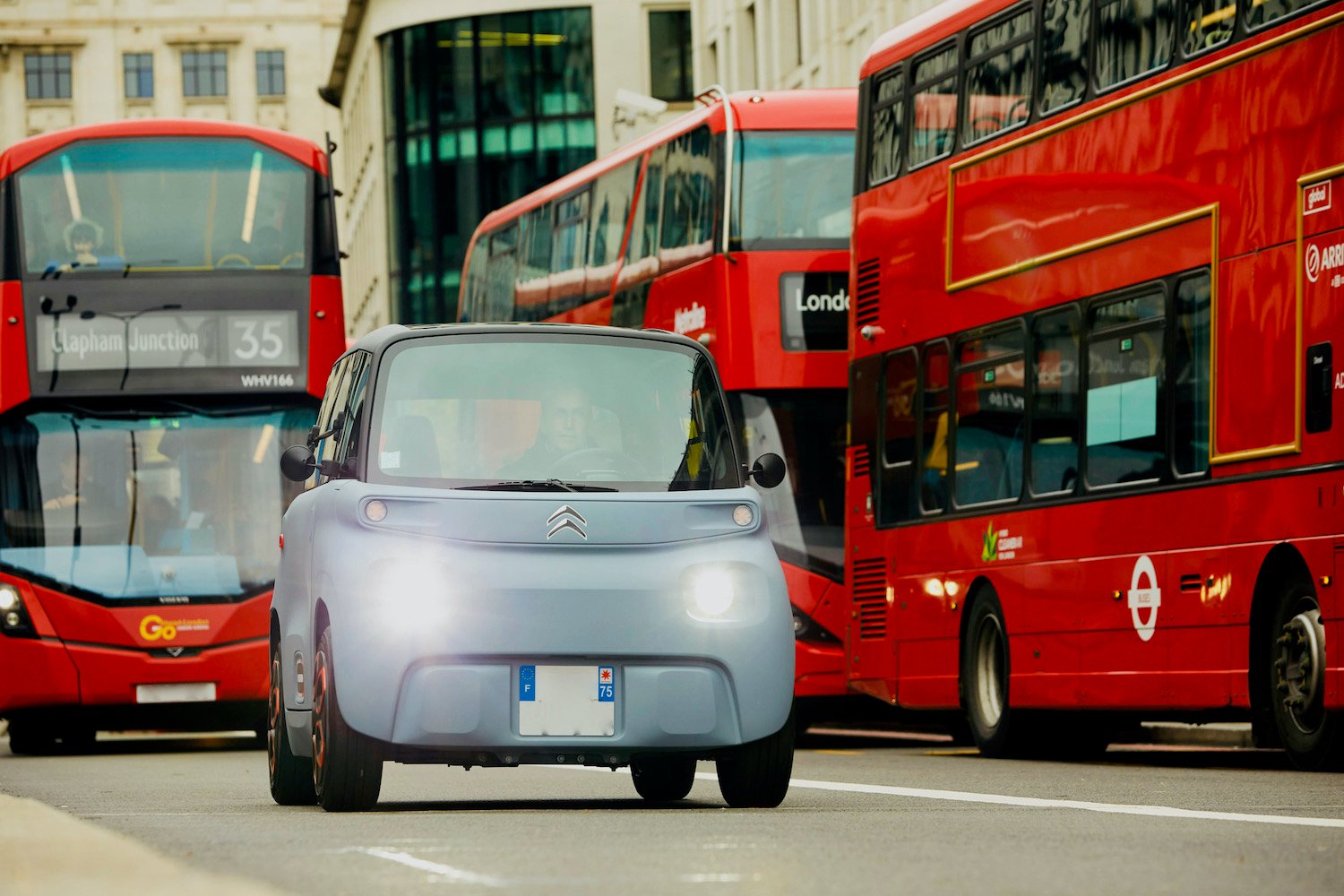 Ami is a two-seater, with plenty of space for a couple of adults. Image credit: Citroën.
Do we really need more vehicles on urban roads?
Despite our awareness of the planet's climate crisis, private car ownership is still a status symbol. Increased digitalization also has seen user- and demand-oriented mobility services such as car-sharing rise in popularity. Consequently, traffic congestion is still a problem, so do we really need more four-wheeled vehicles taking up road space?
The reality is that ZELPVs require less energy and resources for their operation than cars, and occupy less space in stationary and moving traffic. This makes them an alternative to regular EVs in urban areas.
As James McGeachie, technical and program director at Zemo Partnership — a not-for-profit, independent partnership, jointly funded by the government and members, that is accelerating the move to zero-emission mobility in the UK — told HERE360: "Just in terms of physical footprint, several ZELPVs can occupy the same space as a single car or van.
"And as smaller, lighter vehicles, they're typically less powerful as well, compared to a car or a van. Their inherent advantage is they consume less energy, either during manufacture, in use, or even in disposal. As a greenhouse gas emissions footprint, they're smaller than a car or a van."
How does an ZELPV fit with other forms of transportation?
Because ZELPVs are designed to drive at regular urban (ie, low) speeds, they're well suited to the mobility needs and traffic situations in cities, where low speeds and short trips are the norm. They can also form a link in mobility chains that would also include public transportation and active modes, such as walking and cycling.
And, as McGeachie explained: "There's also a social mobility aspect. They're lower cost, so they're more accessible to families on lower incomes, particularly if you consider the high purchase price of EVs at the moment."
Read more: Preparing our streets for the car-bike hybrid. Image credit: Citroën.
And how does it work for travelers?
ZELPVs such as the Ami have real appeal, but they're built to a budget, so nice-to-haves such as in-vehicle infotainment are not on the cards.
So how do you listen to podcasts and playlists in an ZELPV — and, more importantly, navigate to your destination, a destination that could be the location of an important appointment, meeting or date? Just as you would on other parts of your multimodal journey: by using your smartphone.
The Ami has a cradle for a smartphone next to the steering wheel, so using an app such as the recently revised HERE WeGo is simple. You can plot a journey that incorporates different modes of transportation, add waypoints for any stops you might need to make and save your trips for the next time. Plus, of course, WeGo is based on the HERE platform, so it incorporates features that urban travelers will find useful, such as EV charging to help ZELPV drivers find their nearest charging station.
When will we start to see more ZELPVs?
The Ami is an experiment. Citroën and its Stellantis parent are breaking new ground, taking the ZELPV from a minor segment on the fringes of the automotive industry to the consumer mainstream, in some significant markets.
But there could be one last, convincing case for OEMs to develop ZELPVs, which McGeachie outlined: "There's also potential from the perspective of autonomous vehicles. Being electrified already, and typically used within urban environments, they're not a bad platform for trials in autonomous vehicle technologies. And again, it's a lower-cost route. I think there are a number of reasons why OEMs would potentially be interested in these vehicles."
Cities have to change how their inhabitants get around, taking new zero-emissions solutions wherever they can find them. The ZELPV is such a solution. Small, clean, flexible to use and with the power of location intelligence already contained in consumers' smartphones, you have to look hard to find any downsides.
Expect to see your smartphone navigating your micro EV on a city street near you very soon.
Sign up for our newsletter
Why sign up:
Latest offers and discounts
Tailored content delivered weekly
Exclusive events
One click to unsubscribe