Enhancing the digital out-of-home and in-vehicle advertising experience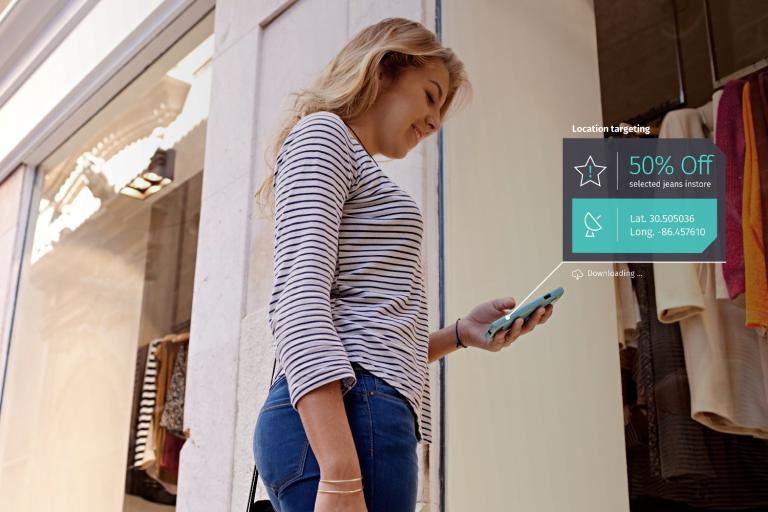 A new partnership with Verve — the leading mobile platform for location-powered programmatic video and display marketing — will help HERE amplify mobile display advertising performance and introduce new digital out-of-home and in-vehicle opportunities.
Today's mobile and connected devices provide insightful data that creates more opportunities for companies to understand consumers' motivations and habits, giving advertisers the ability to deliver more personalized, targeted and relevant consumer experiences. Mobile video and display ads allow advertisers to display their messages in select target areas in the market, strengthening the reach and effectiveness of digital out-of-home campaigns.
According to an October 2018 case study by the Interactive Advertising Bureau, spending on digital out-of-home advertising in the U.S. in 2018 was expected to reach a record high of US$7.4 billion. The second quarter of last year was the strongest in four years, propelled by a 15 percent jump in digital out-of-home.
By combining Verve's solutions for harnessing the power of location-context mobile data with our location intelligence, we're set to meet the demands of the growing digital out-of-home market. HERE enriches Verve's Velocity platform with sophisticated location datasets — ranging from places data and building polygons to venue maps. Business customers can then improve audience segmentation, optimize campaign measurement and ultimately serve consumers more relevant advertising by connecting with them at the times when and where they stop to shop.
Verve is committed to serving mobile advertising content that brings value to consumers' lives, whether for utility or entertainment. HERE gives them a deeper understanding of location context to enhance their data science practices, which extends their mobile platform capabilities and enables their customers to provide more meaningful ad experiences to consumers in the environments in which they interact.
Given the expertise HERE brings from the automotive industry and Verve's proficiency in Movement Science, the alliance also unlocks the potential to expand digital out-of-home advertising to a vehicle's infotainment system.
Verve and HERE align on a mission to create advertising experiences that resonate with consumers through the power of location in a responsible, transparent way. We are excited to embark on this journey together to improve digital out-of-home on mobile devices, and in the new arena of in-vehicle advertising by embedding mobile signals in a refined and precise geometry of the world.
If you are attending CES 2019 in Las Vegas and you would be interested to schedule an on-site meeting with our experts to discuss your specific needs related to Location technology, you can request your meeting here.
Sign up for our newsletter
Why sign up:
Latest offers and discounts
Tailored content delivered weekly
Exclusive events
One click to unsubscribe