Rapid delivery companies: the urban space race
With more people working from home and many looking to avoid large supermarkets, the rise of ultra-fast delivery is booming — but what will it take to conquer quick commerce?
In a recent McKinsey study, "Ordering In: The Rapid Evolution of Food Delivery", they make an interesting point: less than twenty years ago food delivery was mostly limited to pizza or Chinese food, and restaurant owners managed delivery themselves. "The US restaurant business was growing three to four percent per year" and delivery sales were increasing at roughly twice that pace at seven to eight percent per year.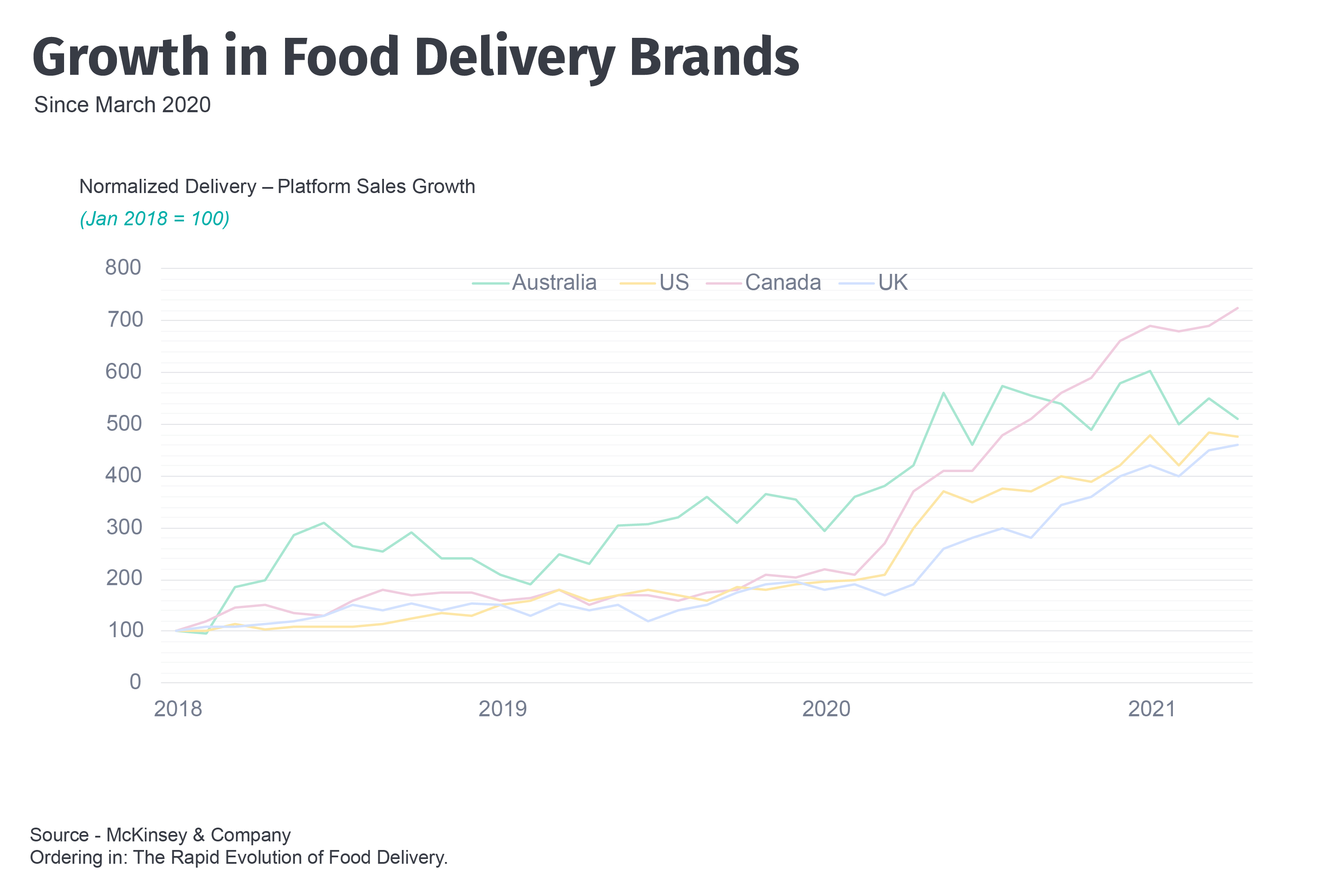 The restaurant delivery sector in Australia, Canada, the United Kingdom, and the United States grew twofold (in the United States) and as much as fourfold (in Australia) in 2018 and 2019. Source: McKinsey & Co.
But with COVID-19 stifling the thought of eating out, most dine-in restaurants quickly created delivery options to stay competitive. Now, a whole ecosystem of specialized delivery players is sweeping the sector with easy-to-use apps and tech-enabled driver platforms, helping to sustain consumer demand.
As of September 2021, McKinsey estimated the value of the food delivery market at US$150 billion globally, tripling since 2017. In America, the market doubled during COVID, with similar numbers in Canada, Norway and the UK.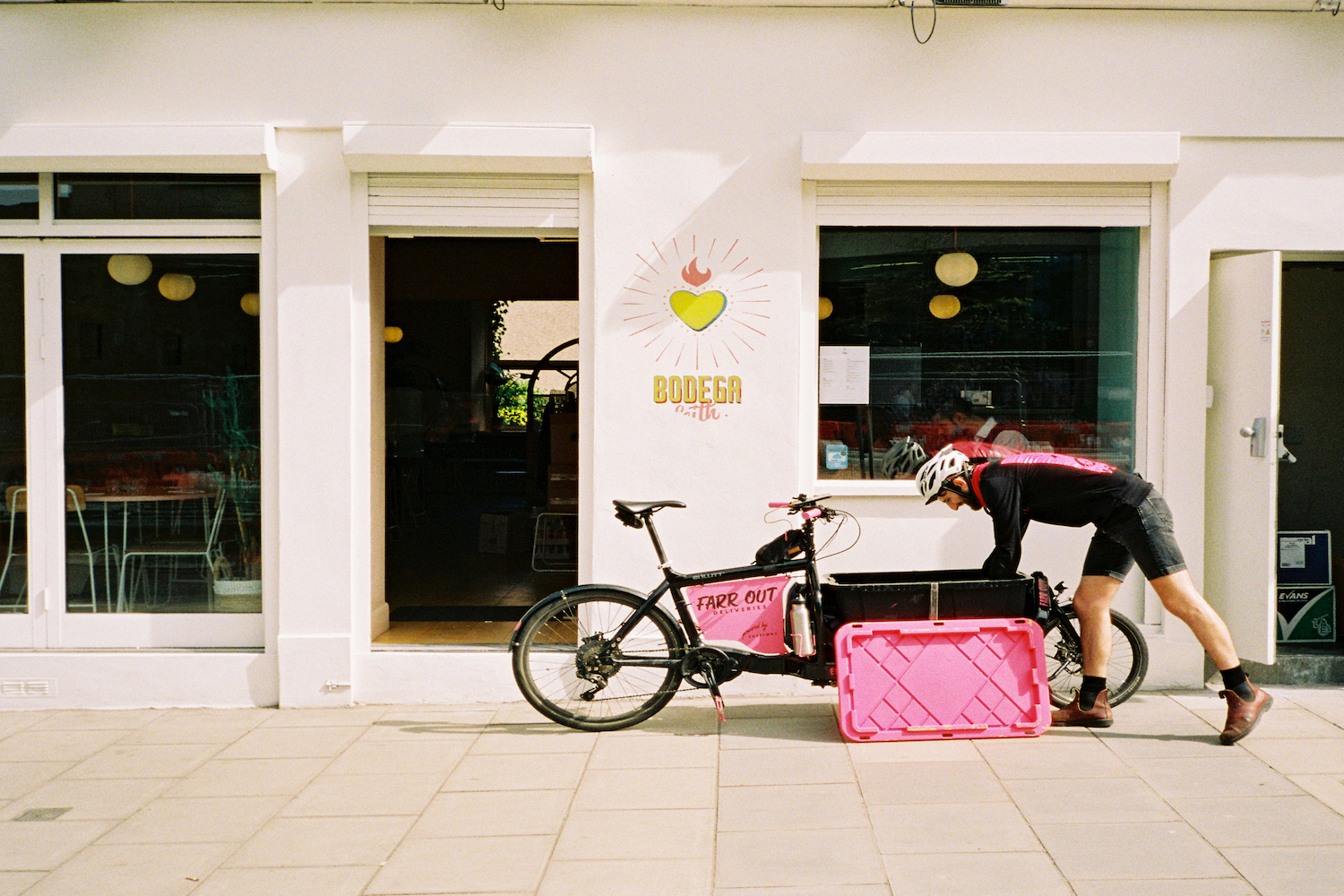 Read more: How fleets of cargo delivery bikes are making the last mile greener.
On-demand delivery: who will come out on top?
Even as people continue to enjoy the convenience of ordering meals at home, McKinsey shows that most delivery platforms are still finding their footing. Branding, costly real estate, little operating efficiency, driver compensation, competition for geographic areas and services-offered, and changing consumer habits are difficult to manage in addition to developing regulations.
"Are we making money? The answer is no," Eddie Lee, Gorillas UK General Manager, told BBC's The Food Programme in December 2021. "That's why we continue to raise venture money. We are a growth start-up."
Looking at the list of five key revenue streams below, it's easy to see how even a popular rapid delivery brand, like Gorillas, have a tough hill to climb:
restaurant commission fees – platforms typically charge restaurants about 15% to 30% of the price of a meal
customer delivery fees – usually US$2 to US$5 per order, collected directly from the customer
customer-service fees – surcharges of up to 15%, on top of delivery fees
in-app advertising – with platforms able to position brands/ products based on customer-preference data
driver tips – which go directly to drivers, but essentially subsidize costs related to employment
McKinsey & Co. predicts that delivery companies aren't expected to become profitable for several years but in the meantime, new revenue sources (like Venture Capital) and the reduction of certain costs, including delivery itself, will keep them afloat while they work to please new customers, "It's very important to grow the business with customer experience at top of mind," Lee explained to BBC's The Food Programme.
HERE Last Mile is a routing solution that can help delivery brands reduce the cost of transportation, help maintain ETAs and offer more competitive pricing:
Optimize routes: create routes and accurate ETAs based on current and past traffic patterns, delivery windows, driver schedules, and vehicle type
Replan schedules: respond to fast-changing conditions as they occur, and add or remove canceled jobs to meet ETAs
Support drivers: keep drivers aligned with run sheets, tour progress, and completed deliveries
Luckily, major investors continue to support the new delivery sector with recent funding for Wolt (US$530 million in January 2021), REEF Technology (US$700 million in November 2020) and Rebel Foods (US$26.5 million in July 2020). Notably, DoorDash and Deliveroo both offered public shares in 2020 and 2021 respectively, "demonstrating the excitement and uncertainty still present in the sector."
Simultaneously, the design of rapid delivery and eCommerce tech is raising significant funding as well, including Getir (US$550million in June 2021) and JOKR (US$170 million in July 2021), meaning there are even more players trying to get their slice of the pie.
Restaurants' profit margins of 7%-22% make paying for delivery platforms' commissions (15%-30%) unsustainable, particularly if delivery makes up the majority of a restaurants' business. (Source: McKinsey & Co.)
As noted by McKinsey, eventually the funding will run out, and some brands simply won't make it. Those who do will face stiff competition for territory and will have to fight to increase commission rates for restaurants and benefits for drivers. Some of the delivery demand will go to dark kitchens while some restaurants may choose not to deliver at all. At the moment, it's a wait and see situation but Eddie Lee remains hopeful, "We have intentions to be everywhere." (BBC Sounds)
Help fleet managers take control of delivery operations with our end-to-end planning application.
Sign up for our newsletter
Why sign up:
Latest offers and discounts
Tailored content delivered weekly
Exclusive events
One click to unsubscribe