Today's ETAs aren't enough — it's time to level up prediction accuracy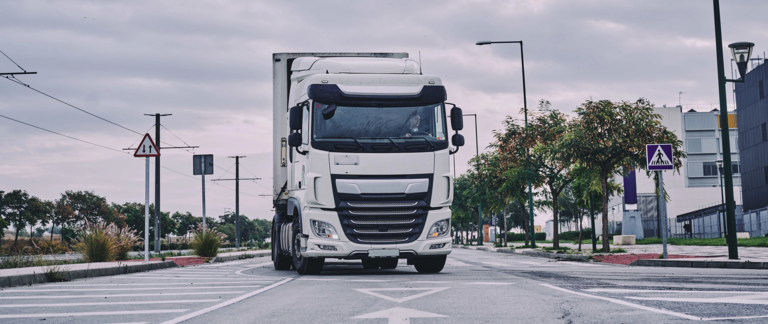 Running a fleet on time in an unpredictable world is hard, but new location technology is making the job easier.
In logistics, timing is everything. You commit to delivering a product during a given time window. Deliver late and you could be liable for costly penalties. You also risk disappointing your customer.
Knowing this, and knowing how unpredictable the real world is, it's astounding just how many businesses still calculate complex tour plans and ETAs using low-resolution data and poor algorithms. At least some acknowledge they have a problem — 56% of supply chain managers we polled admit they ought to invest more in their ETA prediction capability.
The good news is that recent advances in location technology give executives the ability to improve the accuracy of their ETA predictions — without breaking the bank. Gaining control over your ETAs boils down to understanding the reality of conditions out there on the ground as well as forming an accurate understanding of your fleet's behavior in that environment.
Let's look at some of the ways you can boost your ETAs.
Enhance real-time visibility
A great place to start is to make sure you're on top of changes across the transportation network. For fleets adhering to a packed schedule, even minor events can knock a plan off course: a road closes and an alternative truck-friendly route is needed; roadworks cause a traffic jam; or an electric charging point is unavailable at the moment of need.
Digital mapping platforms are getting better at keeping pace with real-world developments like these. HERE, for example, uses automated software and machine learning to identify millions of map changes and road network events every day, including those specifically relevant for trucks. 
A quasi-real-time view of reality empowers supply chain managers to rapidly react to exceptional events in their logistics execution and keep ETA predictions on point, as well as continuously evaluate if better routes are available.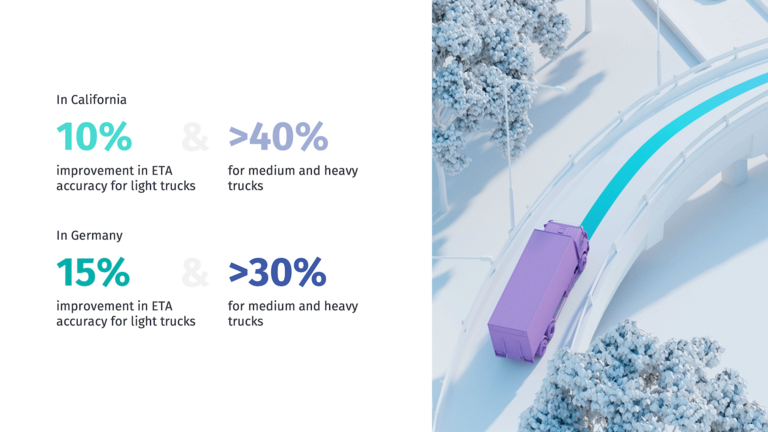 Augment your algorithm
The quality of your truck routing algorithm has a big influence on the accuracy of your ETA predictions. Not all algorithms are made equal. HERE Routing API leverages rich truck-specific map information to calculate routes between two or more locations, factoring in truck type, load restrictions, turn penalties, toll times and ferry journeys. Machine learning comes into play here too, helping to estimate journey times and the impact of traffic incidents with greater precision.
Recently, we've been testing and refining our ETA predictions against real journeys across hundreds of random routes in North America and Europe and further tuning HERE Routing API. The numbers are impressive — predictive accuracy improved by more than 30% and 40% for mid-sized and heavy goods vehicles in German and Californian tests respectively.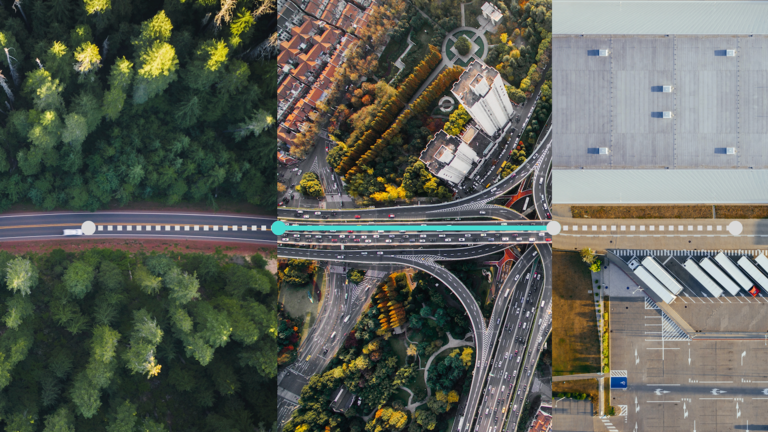 Enable end-to-end precision
Do you know where exactly your route will start and end? ETAs should really be calculated knowing the true origin and destination. If a journey begins in the middle of a forest and ends inside a factory, you want the ETA to represent the true expected travel time, not only the portion of the journey completed on public roads.
Meeting this need is a key inspiration for why we're putting our own advanced mapmaking technology in the hands of customers. Using our tooling, businesses can now transform their own raw data into private map content. This in turn can be used to augment and extend the HERE map and ensure that any journeys that cross into private land are navigable and ETA-accurate.
Beyond that, you might want to inject your local knowledge and insights into your private map. We've seen customers add preferred pick-up and drop-off points, as well as adjust their routing preferences to suit their needs. For example, a leader in eCommerce creates its own private routing layer on the map to ensure its trucks only drive certain roads in and out of its logistic hubs. We're excited about private maps — they're a tool for building competitive advantage and we think they're at the heart of the future smart enterprise.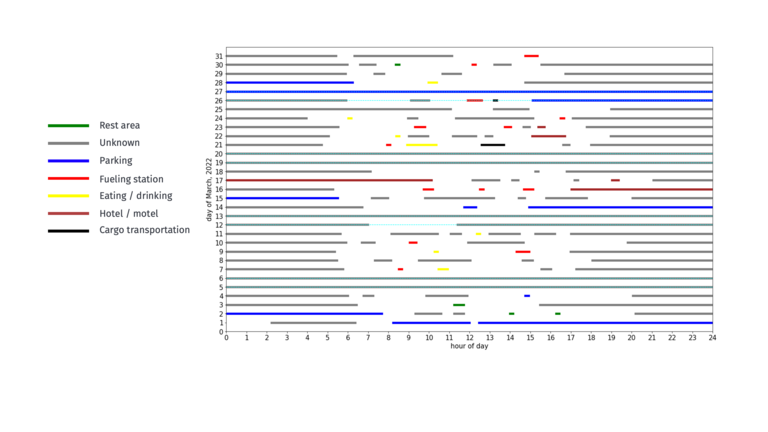 Create "roll" models
An enterprise's own data and business logic is useful in improving ETA prediction accuracy in another way. Telematics information, for instance, can be blended with map content to enable logistics managers to better understand the behavior of their fleets. This can involve identifying the kinds of stops trucks make and estimating how long those stops might take.
HERE uses geofences to connect trucks to millions of places like fueling stations and rest areas. By analyzing stop duration activity, it's possible to derive behavioral patterns for different truck types and use these patterns to aid ETA prediction.
Consider fleet-specific ETA profiles
Finally, one of the benefits of having a machine learning model leverage continual feedback loops and learn from your GPS data is that you can start to develop more tailored ETA predictions. HERE is presently developing an experimental feature that allows for ETA profiles to be generated based on the geographic and driving context. You can imagine that a small electric van making the rounds in Seattle is going to behave differently than an ICE truck in London.
The early results of our work are encouraging — prediction accuracy is up 20% in American tests and up 10% in German tests.
Improving ETA prediction accuracy starts with having access to an accurate and real-time representation of reality — the best digital map. After that, it's all about the private location intelligence you can flexibly build on top with the HERE platform — from extending the map and augmenting it with insights from your own fleets to adapting the business logic that determines how your vehicles should navigate through the world.
Sign up for our newsletter
Why sign up:
Latest offers and discounts
Tailored content delivered weekly
Exclusive events
One click to unsubscribe