How Germany's EV charging infrastructure has grown since green government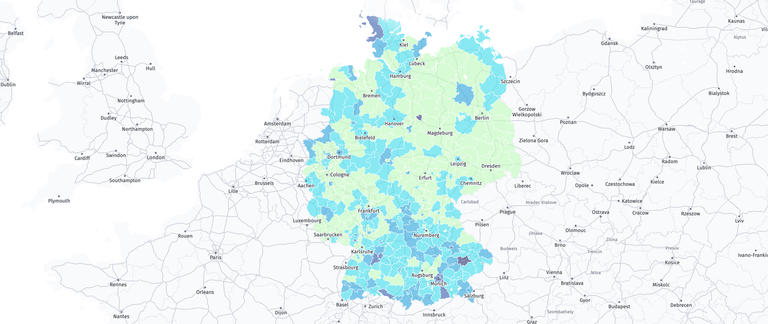 Germany — home to many automotive giants — has ambitious spending plans for EV infrastructure. But what can data tell us about how close this dream is to reality?
Germany has plans to spend 6.3 billion euros on expanding electric vehicle (EV) charging infrastructure in the next three years. Chancellor Olaf Scholz's government has also committed to reducing emissions in the transportation sector by 48% by 2030.
But are Germans ready to say goodbye to combustion engines? According to a recent survey by research institute Civey on behalf of Der Spiegel, 66% believe that EVs cannot replace combustion engines by 2035, and only 25% think they can.
A few weeks ago, a referendum in Berlin failed to achieve a change in the state's energy transition law and make Berlin climate-neutral by 2030. And Germany, home to many big players in the automotive industry, also voted to block a ban on internal combustion engine (ICE) vehicles by the EU after 2035.
Using data from HERE EV Charge Points and other sources*, we have analyzed the development of charging infrastructure in Germany and created an overview of the acceptance of EVs across the nation. This data has allowed us to compare how Germany fares against other nations.
By comparing growth in recent years, we can also see whether the three-way government of Social Democrats, Greens and liberals under Chancellor Scholz has significantly increased charging infrastructure in Germany. 
What we found
Coverage is patchy in many parts of Germany, ranging from 398 charge stations per 100,000 people in the southeastern district of Dingolfing-Landau to just 15 in the city of Duisburg, north of Düsseldorf.
East of Hanover, in Wolfsburg, has one of the highest concentrations — and is headquarters to the world's second-largest automotive manufacturer, Volkswagen. The city has about 388 charge stations for every 100,000 people.
The cities of Munich, home to BMW, Stuttgart, home to Mercedes-Benz, and the highly industrialized Dortmund offer high numbers of charge stations (113, 108 and 80 per 100,000 people, respectively), despite having populations of well over half a million. The density of charge stations per 10 square kilometers is also particularly high here.
"You might see an uptick in charge stations near any manufacturing plant where they are ramping up their EV production. Not least, automakers need to install charge points at their locations for testing and validation purposes, and keep them nominally charged until they reach their final destination. Additional charge points may also be installed on-site for the plant's hundreds or even thousands of employees," says Ronak Amin, Product Marketing Manager for Connected Driving, HERE.
There are many large car manufacturing plants in Leipzig — and further investments are in the works. Still, with 56 charge stations per 100,000 people and just a little over 10 stations per 10 square kilometers, the eastern German city's charging infrastructure could benefit from more investment.  
Different strokes
On a federal level, German EV charging infrastructure is coordinated by the National Control Center for Charging Infrastructure, directing cities and districts to execute the expansion. This often leads to disputes with the Association of German Cities, which points out that tasks and burdens should be distributed equally.
How do other countries balance the needs of local authorities with those of the government?
In Sweden, Stockholm stands out for its fast deployment of infrastructure, particularly with regard to fast charge points (150 kilowatts or higher), which can be installed from end-to-end in just seven months on average, according to a recent McKinsey study.
Stockholm's approach requires an initial investment of time, as cities and municipalities work with electricity distribution network operators to conduct feasibility screenings. Once a location is identified, approval processes are expedited, enabling operators to move ahead with their plans more quickly. 
To further streamline project approvals, Norway's capital Oslo has created a checklist.
The Netherlands has established a knowledge platform to address issues efficiently. And France has implemented a "right to a socket" policy that eliminates the need for extensive approval processes when installing charge points at home.
Green gains?
2021 was the last year of Chancellor Angela Merkel's government. We have compared the growth in charge stations from 2020 to 2021, and then from 2021 to 2022, the first year of the coalition government of Social Democrats, Greens and Liberals under Chancellor Olaf Scholz.
Charge stations have increased by approximately the same factor year-on-year. The increase was slightly greater from 2021 to 2022, but at an increase of 18.81% compared to 16.59% the previous year, this was not huge.
Some experts say pandemic effects (global semiconductor supply shortages, lengthy lockdowns, etc) had a negative impact on charging network expansion.
How ready for this transformation are Germans? The German Automotive Association continues to emphasize that charging infrastructure is lagging behind the sheer demand created by EVs out there already.
But with the discontinuation of large parts of the German EV state subsidy plan in 2022, new EV registrations have dropped significantly:
A boost in EV adoption is necessary to hit the government goals — and a boost in charge station expansion, as well. It seems unlikely a single measure will be sufficient, though. A concerted effort between the government, commercial investors and local authorities is needed.
The twin green and digital transition can only succeed if the latest available data is incorporated. It's about intelligent information, not just the power source. 
How is the rest of the European Union handling EV adoption challenges? We'll look into that in part two of the series and will compare EV charging infrastructures and EV fleets across 27 countries.
*HERE EV Charge Points collects data from charge stations in public spaces. These include free, paid, and access-restricted charge stations (for example, public, yet commercial ones found on retail parking lots). Private charge stations, such as those in residential buildings, are excluded. EV station data was pulled from our API for December 1, 2020, 2021 and 2022 from charge stations that were available to drivers that day.
Levels of information in HERE EV Charge Points include charge pools, charge stations, EVSEs and connectors. Included in the API response can be addresses, hours of operation, charge station details, payment methods and availability information. Information about voltage, amps, charge modes and connector types are also supported.
Third-party data has also been used from the European Alternative Fuels Observatory, where we looked into fully electric vehicles (EVs) only. Hybrid vehicles (PHEVs) aren't included in our report. 2021 Population data was used from the German Federal Statistical Office and vehicle registration data from the German Federal Motor Transport Authority.
A charge station has at least one, but usually more charge points (EVSEs). Different connector types and power levels may be available per charge point at a single charge station.
Sign up for our newsletter
Why sign up:
Latest offers and discounts
Tailored content delivered weekly
Exclusive events
One click to unsubscribe