We're mapping EV charging stations in cities across the world. How do they compare?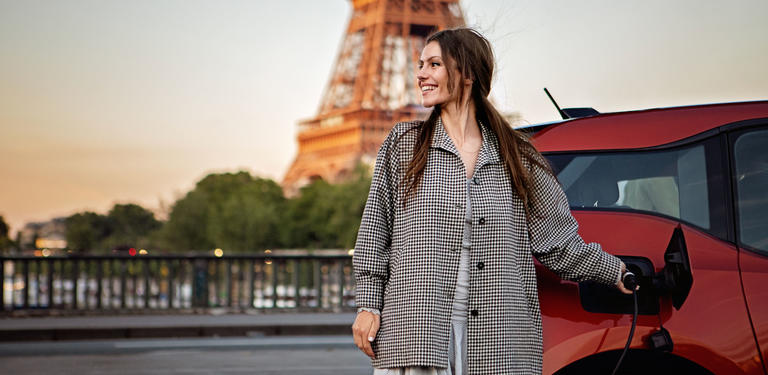 From Madrid to Mumbai, how well are major cities coping with the increasing demand for public charging for electric vehicles? To find out, we've created a map.
There are currently more than 16.5 million electric vehicles on the road worldwide, according to data from the International Energy Agency (IEA). Last year, the number of electric vehicle sales doubled to a record 6.6 million globally compared to 2020. This year, that figure looks like it will be dwarfed again, with EV sales up 75% and two million sold in the first quarter alone.
While private and workplace charging is likely to supply much of the demand, the IEA believes that more needs to be done to increase the number of public charging spaces.
Its report said: "There are important variations across countries in terms of charging infrastructure roll-out speed and need. The number of public chargers still needs to expand ninefold and reach over 15 million units in 2030."
As of 2021, there were estimated to be 1.8 million public charging points globally.
We've mapped 15 major cities to find out how many public chargers there are per 100,000 people. Let's take a look at the winners and losers.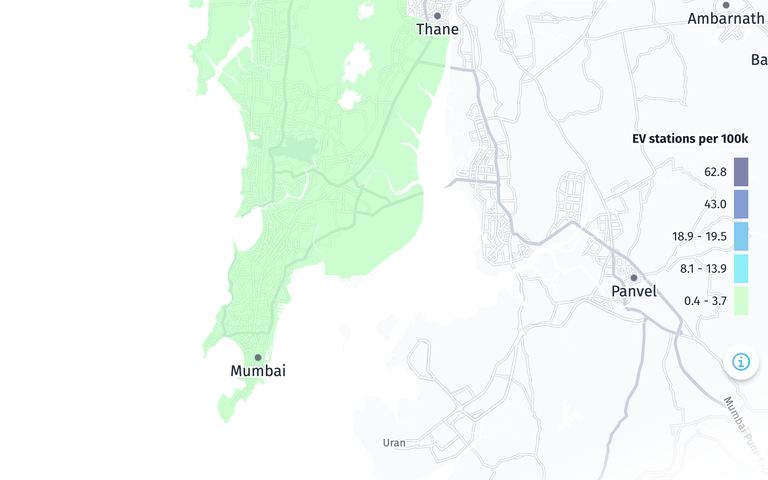 Mumbai, India
0.36 stations per 100,000 people
EV stations: 107
Population: 29.8m
EV stations per 100,000 people: 0.36
In emerging markets such as India, as well as Brazil and Indonesia, EV sales account for less than 0.5% of the total market share, so it's unsurprising to discover that, in terms of global ranking, the city of Mumbai comes in 15th place in this list. However, the city is taking steps to improve its infrastructure.
Earlier this year, it was announced that Mumbai would open 5,000 new charging stations in collaboration with Tata Power, one of the region's key electric car and infrastructure companies. Mumbai also welcomed India's first EV charging station powered by food waste, with plans to open more across the city.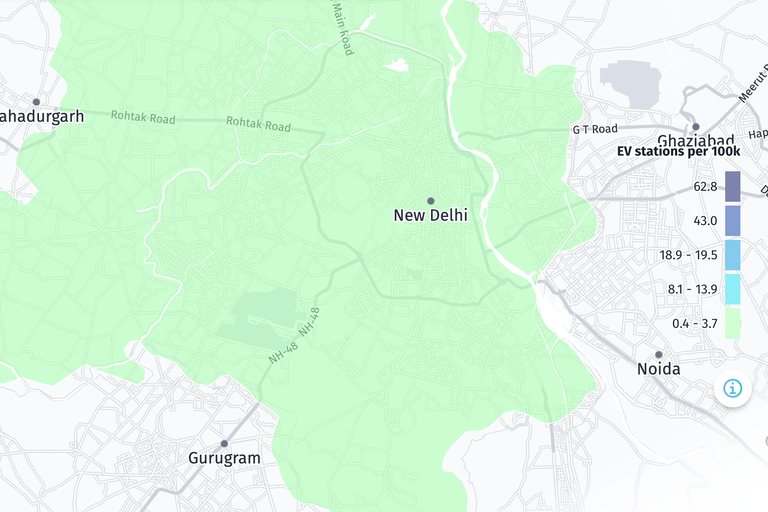 New Delhi, India
1.21 stations per 100,000 people
EV stations: 229
Population: 19m
EV stations per 100,000 people: 1.21
Delhi is one of five Indian cities earmarked for an electric bus pilot that could eventually see 5,850 take to the streets. And Indian ride-hailing company Ola Electric, based outside Delhi, has raised more than US$200m to develop electric motorcycles, scooters and cars. To keep up with the expected demand, the city is planning to build 18,000 new charging points by 2024.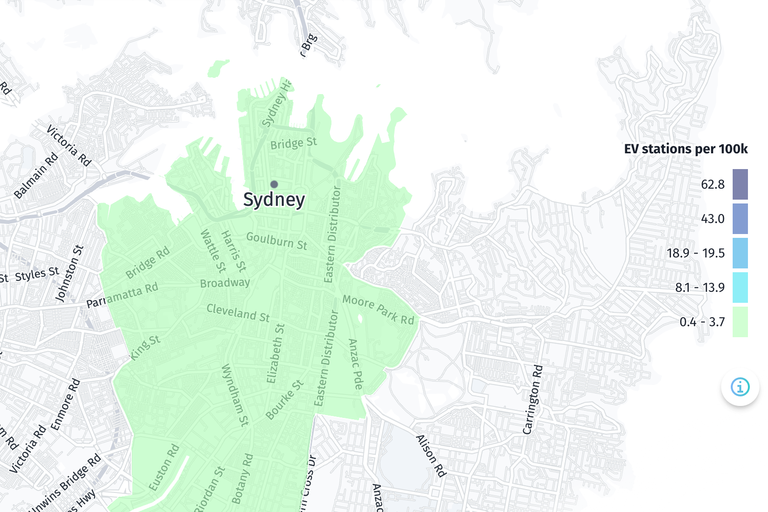 Sydney, Australia
1.23 stations per 100,000 people
EV stations: 65
Population: 5.3m
EV stations per 100,000 people: 1.23
Despite being the world's largest producer of lithium (a metal used in EV battery production), as well as one of the largest miners of nickel, Australia falls short on EV infrastructure.
Part of the problem might be the low adoption of EVs: between 2011 and 2021, there were only 28,189 EV sales in Australia, accounting for less than 2% of sales in 2021.
One issue, say critics, is the lack of incentives for EV owners. Stephen Corby, a journalist with Australian motoring advice site Cars Guide, said: "A significant factor in the lack of uptake of electrified vehicles in Australia is our country's lack of incentives and tax breaks for potential EV drivers, with Victoria even going to the extreme measure of introducing a law to charge EV owners a special road tax of 2.5 cents per kilometer and owners of hybrids two cents per kilometer."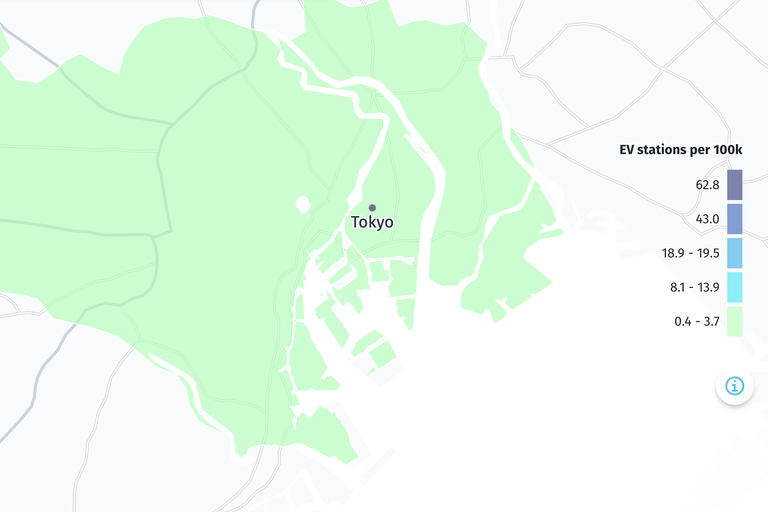 Tokyo, Japan
2.42 stations per 100,000 people
EV stations: 924
Population: 38.1m
EV stations per 100,000 people: 2.42
Despite being a major pioneer in electric vehicles and battery technology, it seems the Japanese consumer appetite for them hasn't kept pace with ambition. EVs currently account for only 1% of all car sales. Part of the problem is Japan's preference for hydrogen vehicles and plug-in hybrids, with very little promotion of pure electric vehicles. Only 20,000 EVs were sold in Japan in 2021.
However, the Japanese government recently unveiled a package of subsidies, with US$114m set aside for infrastructure improvements.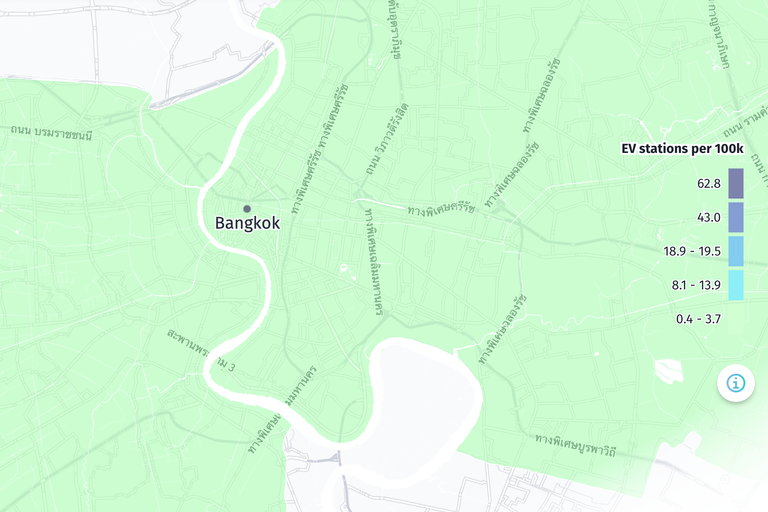 Bangkok, Thailand
3.72 stations per 100,000 people
EV stations: 398
Population: 10.7m
EV stations per 100,000 people: 3.72
EV sales in Thailand are expected to grow by between 15% and 20% this year, driven by the Thai government's efforts to boost the country's EV industry. Earlier in the year, Thailand announced generous tax incentives and subsidies to promote EV ownership in the region.
As part of its plans to increase EV infrastructure, Thailand is offering low-interest loans to charging companies and start-ups in a bid to meet its goal of 2,400 charging stations by 2025, and 12,000 by 2030.
Houston, United States
8.08 stations per 100,000 people
EV stations: 578
Population: 7.2m
EV stations per 100,000 people: 8.08
One of the reasons for the United States comparatively low public charging points, as seen here with Houston, is its high uptake of private charging. By global standards, the USA has a high volume of houses with garages, so fewer public chargers can serve a higher number of electric vehicles.
According to the Houston Chronicle: "In September, the National Renewable Energy Laboratory noted that Greater Houston had 467 charging stations and nearly 1,200 total charging ports. Given that 80 percent of the region's 16,500 EV owners charge at home, the existing number of public charging stations is enough to support the demand."
But with half of Houston's vehicle sales expected to be electric by 2030, more investment is needed in the charging infrastructure. A recent bill will see US$7.5 billion being pumped into a national EV charging scheme to have five times as many charging points by 2030.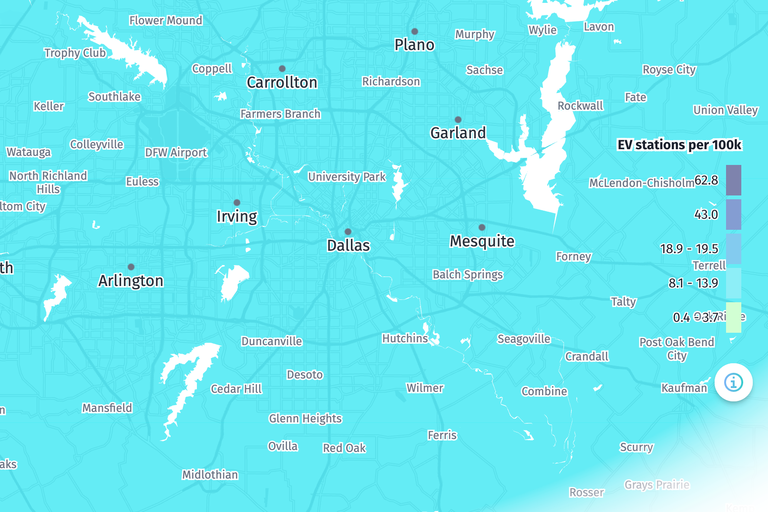 Dallas, United States
11.01 stations per 100,000 people
EV stations: 847
Population: 7.7m
EV stations per 100,000 people: 11.01
Dallas is another American city that will benefit from the new bill. In the Dallas-Fort Worth area, EV growth has been very strong. But, says Utility Drive, "about 30% of households are multifamily, creating a greater demand for public chargers".
In response, S&P Global Mobility believes that more than 42,000 new chargers will be required to meet Dallas' growing EV market by 2030.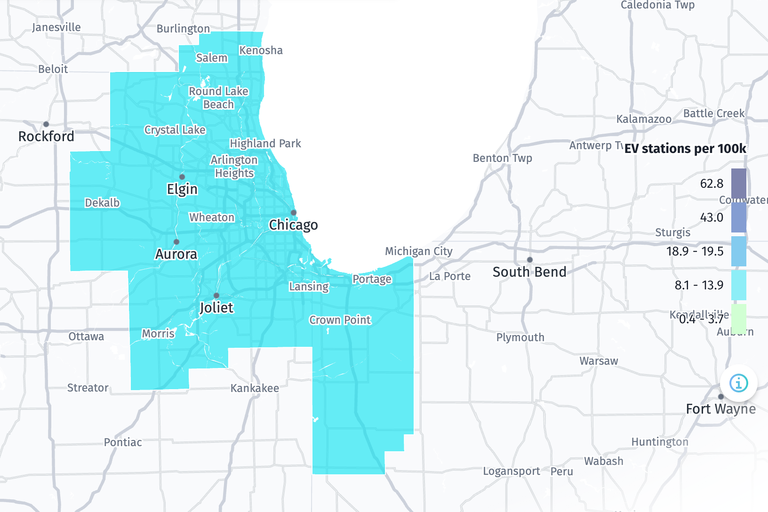 Chicago, United States
11.39 stations per 100,000 people
EV stations: 1,071
Population: 9.4m
EV stations per 100,000 people: 11.39
Illinois, and in particular its largest city Chicago, has the eighth highest number of electric vehicles in the United States. The metropolitan area has 600 public charging points, which is currently satisfying demand.
But with the US planning to have one million EVs on the roads by 2030, the state of Illinois will receive US$148m in infrastructure investment over the next five years. Chicago's cold winter climate — which can reduce EV range — is a barrier to EV adoption, said the Financial Times.
In an article, it stated: "Perhaps it's no accident that California, a state where most drivers seldom see frost, announced last month that it would halt sales of new petrol-powered cars by 2035. Several other US states are likely to follow — but not many in the upper Midwest."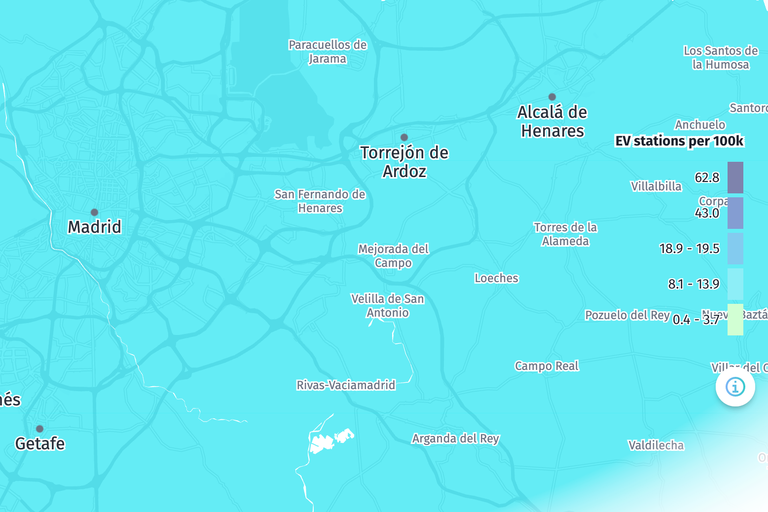 Madrid, Spain
12.55 stations per 100,000 people
EV stations: 816
Population: 6.5m
EV stations per 100,000 people: 12.55
Earlier this year Madrid opened Spain's largest electric vehicle charging station. Capable of charging 46 EVs simultaneously, the 20 fast chargers can replenish a car's batteries back to 80% in just 10 minutes.
The Madrid local government is exploring options to open more of these mega charging stations on public land. The city also introduced a new policy known as Madrid Central that limits all but the least polluting vehicles from driving in the city center.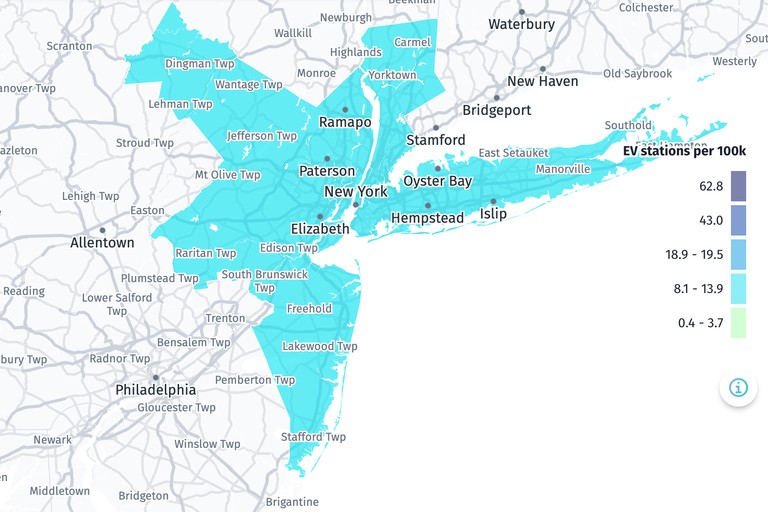 New York, United States
12.64 stations per 100,000 people
EV stations: 2,418
Population: 19.1m
EV stations per 100,000 people: 12.64
According to the Gothamist "electric car ownership remains [a] novelty in NYC as infrastructure is slow to come online". There are about 21,000 EVs registered in New York City, which is less than a 1% market share compared to gasoline-powered vehicles.
With many New Yorkers living in apartment blocks, public — or workplace — charging is their only option. Currently, there are more than 6,000 public chargers in the city with plans to build 10,000 curb-side chargers by 2030 to cater to residents who park their cars on the street.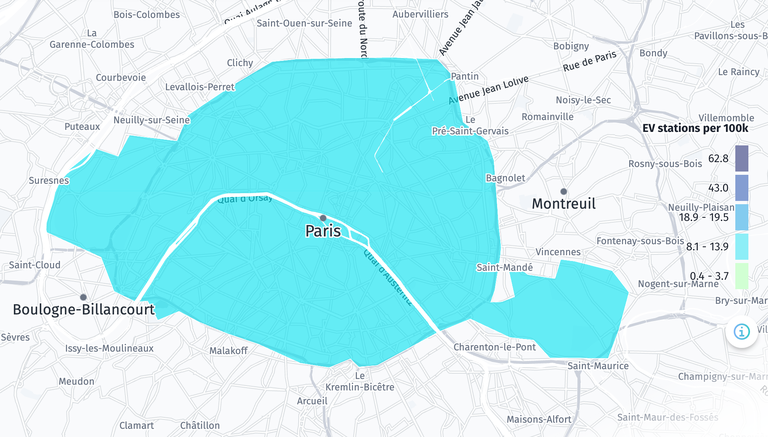 Paris, France
13.94 stations per 100,000 people
EV stations: 2,047
Population: 14.7m
EV stations per 100,000 people: 13.94
The home of the Paris Climate Agreement is no stranger to carbon-cutting initiatives. There are more than 620,000 EVs in France, accounting for 7.5% of all vehicles sold. The mayor of Paris has even set a goal of 2030 to phase out fossil-fuel-powered vehicles.
As part of its "green recovery plan", Paris has subsidies for buying new and used EVs, a scrappage scheme to encourage drivers of older cars to swap to an electric car, and a plan to have 100,000 chargers nationwide in the near future, backed by US$100m in funding.
Berlin, Germany
18.89 stations per 100,000 people
EV stations: 1,161
Population: 6.1m
EV stations per 100,000 people: 18.89
Germany plans to have six million electric vehicles on the road by 2030. As part of its infrastructure plan, Ubitricity, a Shell company, has won a bid to convert 200 lamp posts into EV charging points.
If successful, the scheme could eventually see 800 lamp post chargers soon. As 60% of Berlin's residents don't have access to a private parking space, it's hoped the chargers will encourage more EV ownership in the city. Berlin also boasts an electric-only car sharing service, called WeShare, as an attractive alternative to EV ownership.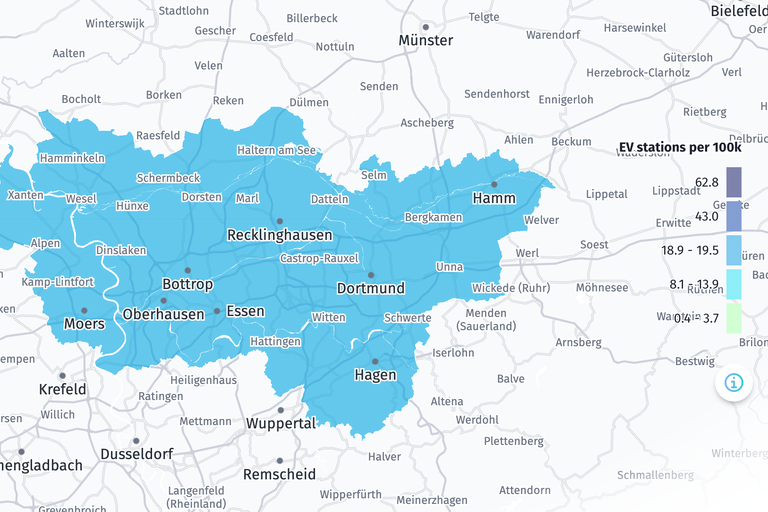 Ruhr, Germany
19.47 stations per 100,000 people
EV stations: 2,080
Population: 10.7m
EV stations per 100,000 people: 19.47
The Ruhr is the largest conurbation in Germany — and the fourth largest in Europe. The industrial region, which includes the cities of Essen and Dortmund, offers several advantages to electric car drivers, such as the use of bus lanes, free parking and use of otherwise closed roads.
With the German government planning to have five million EVs on the streets by 2030, it has pledged US$700 million for research into sustainable charging infrastructure. One such scheme has already started in the Ruhr. RWE Energy has installed 400 chargers that run on 100% renewable energy, with US$10m of government funding.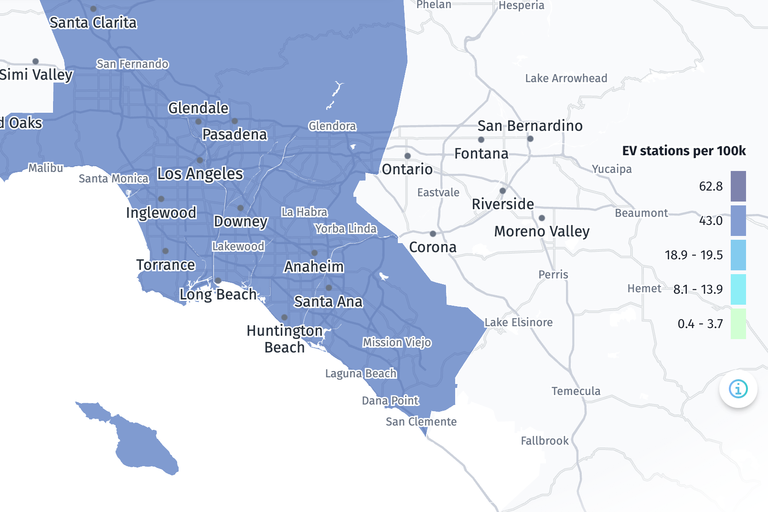 Los Angeles, United States
43.0 stations per 100,000 people
EV stations: 5,637
Population: 13.1m
EV stations per 100,000 people: 43.0
"California continues to lead the nation in EV sales, with BEVs, PHEVs and FCEVs making up nearly 18 percent of new light-duty vehicle registrations in the first quarter of 2022," says a report by the Alliance For Automotive Innovation.
The state of California has already banned sales of new gasoline-powered cars by 2035 and pioneered the use of electric vehicle lanes. But while Los Angeles has a lot of electric cars, and public chargers to power them, the infrastructure in California needs to ramp up to meet its ambitious zero-emissions goal, believes the New York Times.
In a podcast, automotive correspondent Neal Boudette said: "If you're going to have millions of electric cars on the road, you need way more charging stations than we have now. There are charging stations out there, especially in urban areas. Tesla has its own network. But we need way more than what we have. It's going to take literally billions in investment to build out the charging network that we're going to need for 2035."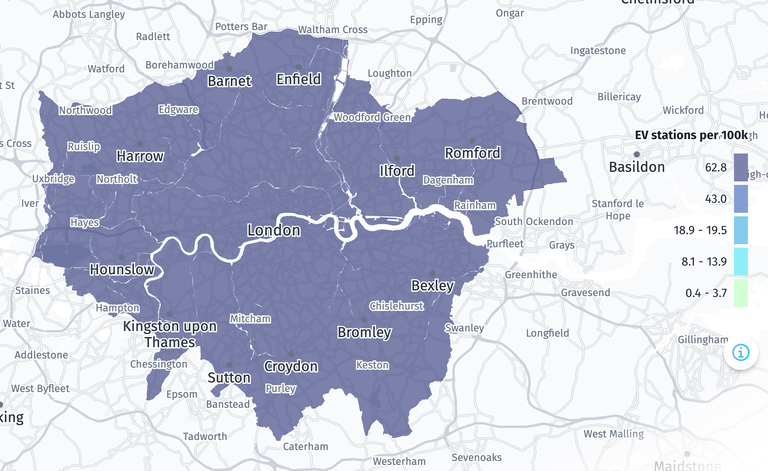 London, United Kingdom
62.86 stations per 100,000 people
EV stations: 8,959
Population: 14.2m
EV stations per 100,000 people: 62.84
London tops our list of cities with the most chargers per 100,000 people. In July, EVs accounted for half of all new car sales in the UK capital, with almost 6,000 registered in June alone.
The UK government has banned the sale of new petrol and diesel cars by 2030 and London drivers are already making the switch thanks to congestion charge exemptions for EVs and a grant towards their cost.
To meet demand, London Mayor Sadiq Khan believes 40,000 to 60,000 chargers will be needed, nearly seven times the current volume.
Sign up for our newsletter
Why sign up:
Latest offers and discounts
Tailored content delivered weekly
Exclusive events
One click to unsubscribe