With the help of location technology, last mile delivery can go electric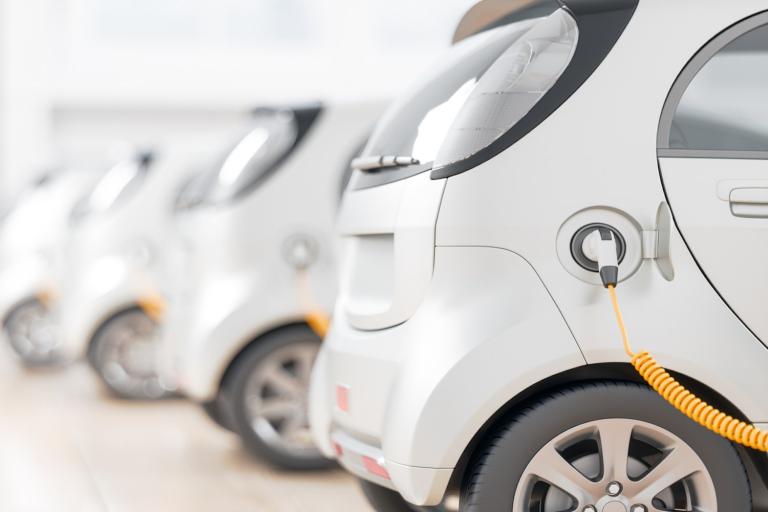 Switching to electric delivery vehicles makes more sense when you can connect to fleet telematics data and a delivery management system.
"In my mind, it is feasible to electrify an entire fleet for a city and provide each vehicle with its own charging station." - Christoph Herzig, Director of Product Management, HERE Technologies
We've talked a lot about last mile delivery solutions in the past few months.
How could we not?
With coronavirus making local delivery routes even more demanding, an increase in e-commerce purchases of 76%, supply chain blockages and product shortages, improving last mile delivery is a hot topic that has real-life significance.
In January 2020, the World Economic Forum (WEF) reported: "Growing demand for e-commerce delivery will result in 36% more delivery vehicles in inner cities by 2030, leading to a rise in both emissions and traffic congestion... Without effective intervention, urban last-mile delivery emissions and traffic congestion are on track to increase by over 30% in the top 100 cities globally." The (pre-COVID) study examined twenty-four different strategies that can reduce traffic, congestion and CO2 emissions.
Electrifying and automating last mile vehicles was one of the "interventions" discussed by the WEF. While HERE360 has discussed the benefits of electric vehicles (EVs) in the past within the context of the consumer-passenger market, we have yet to consider what electrifying entire fleets might involve.
To get a better sense of the future of electric last mile delivery and the location technology that can support the shift, we spoke with Christoph Herzig, HERE's Director of Product Management.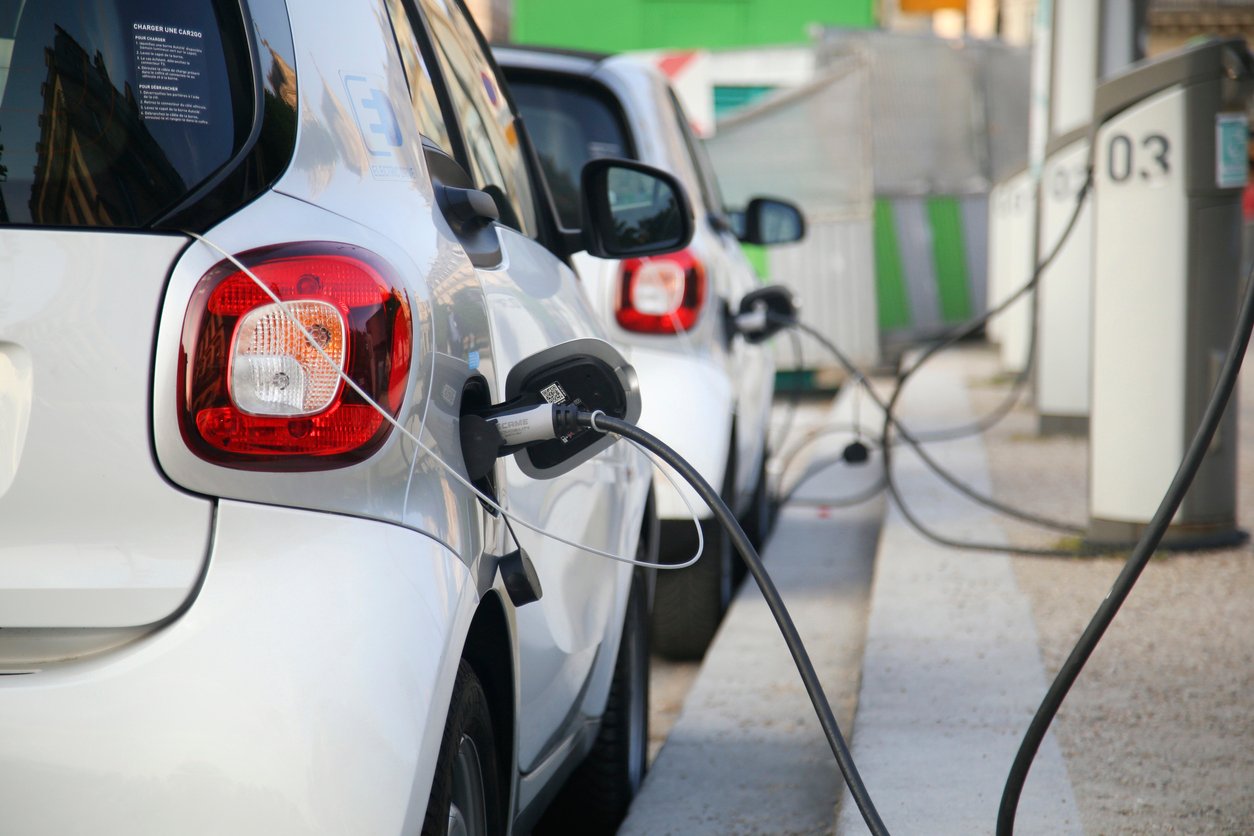 Femke Halsema, Mayor of Amsterdam described their CO2 reduction plan to CityLogistics: "To... achieve our decarbonization targets, we have put a plan in place according to which the inner city will be free of fossil-fueled trucks and vans by 2025, causing a 77% reduction in NO2, and a 42% reduction in CO2 from all of the traffic in the city, including passenger cars."
Making last mile delivery EV-friendly
The connection is clear: using electric delivery vans and trucks instead of gas-powered fleets will reduce CO2 emissions and improve air quality. So, why are fleet managers so hesitant to make the switch?
Christoph Herzig clarifies: "We know from experience that fleet managers will typically buy the least expensive version of a van... to reduce the cost of the initial investment and avoid maintenance costs in the future. [For fleet managers] it's more important to have sufficient cargo space and that the driver can safely operate the vehicle... Now, when they take the same van but electrified, what they get is a [connected] digital device... An electric vehicle is a "smartphone on wheels"... This makes it possible to extract data and [integrate] it into the planning process. An EV produces a lot of data about consumption, stop times, routes, etc... But with standard delivery vans, you would have to retrofit some kind of telematics module into them."
Thus, making the last mile electric, and as a result greener, also means digitizing last mile procedures and operations.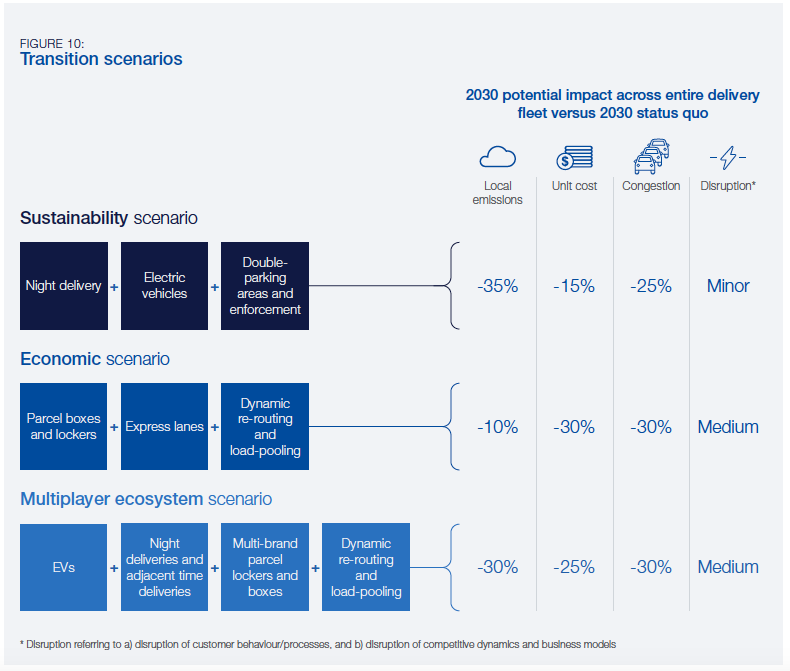 In this chart, the World Economic Forum illustrates the impact of electrifying last mile delivery fleets. Image credit: World Economic Forum report, January 2020, "Future of the Last Mile Ecosystem"
With consumer-passenger electric vehicles, battery range has been a longstanding concern; no one wants "range anxiety", or to end up stuck halfway between home and work. But last mile fleets have different purposes, and that's why Herzig sees such great potential in electrifying delivery vehicles: "In the last mile delivery case, typically in an urban area, a standard round trip is anywhere between 50 and 200 kilometers max, which means that even with a reasonably sized battery you can complete an entire [delivery route] on one charge... regular consumer electric vehicles are designed for city-to-city traffic or in-between trips; this is not required here."
Using an EV for private use can be complicated because of a lack of charging infrastructure. If you live in a rental unit, where would you install a charging dock? Are there enough charging stations on the street? These issues are not as much of a problem when considering EVs in a logistics scenario, "...In last mile delivery, the delivery vans go "home" to a depot at night where there is a secure yard, owned by the carrier or logistic provider. So, when they upgrade their fleet to electric, they can also upgrade their yard and add charging stations. And in the case of day shifts when [employees] are delivering goods, [fleets] have a whole night of charging available, so there is no need for expensive fast-charging infrastructure."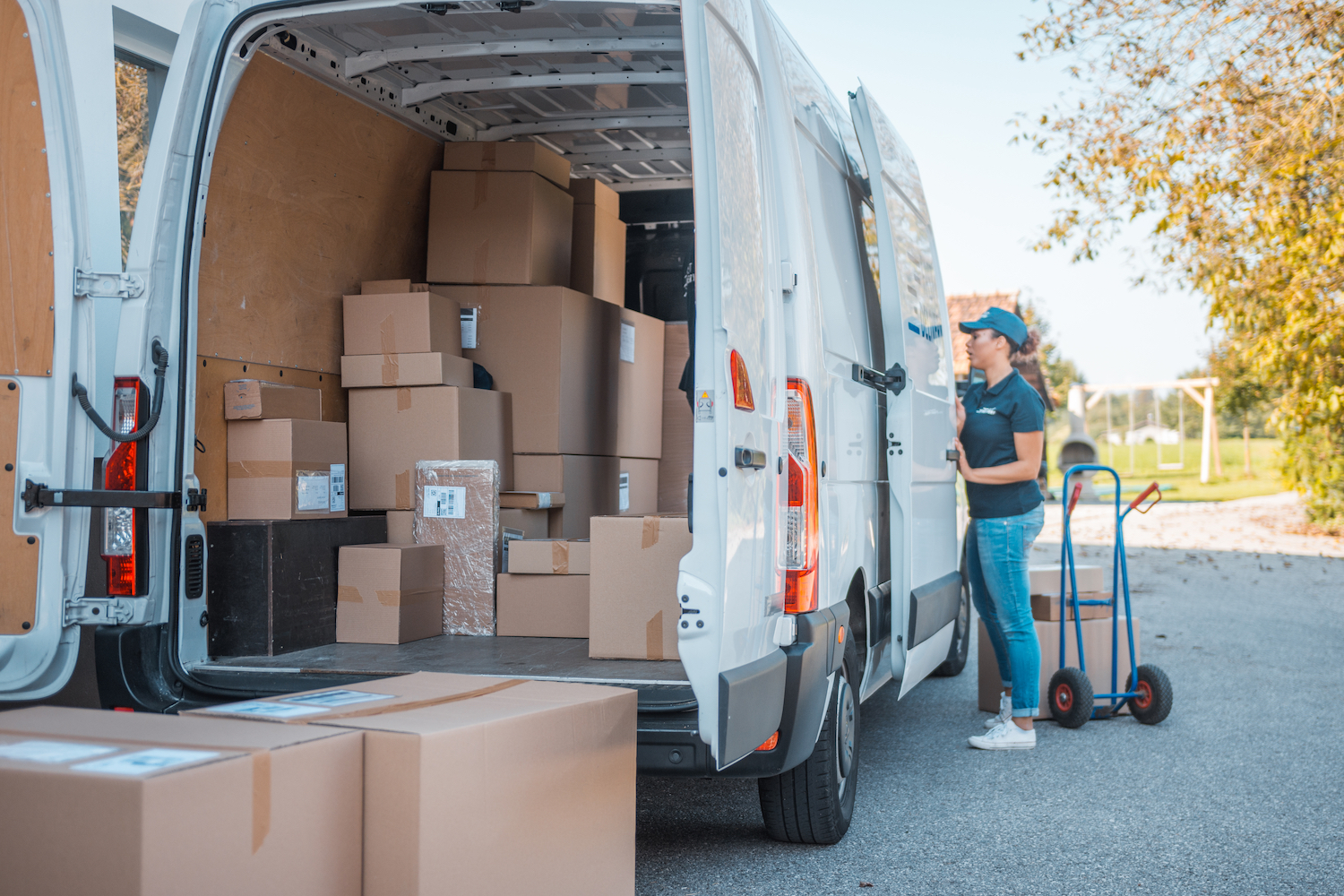 In 2018, UPS launched a trial using fifty electric delivery vans in Hamburg. The company united with Workhorse Group, Inc. to design a custom fleet with zero tailpipe emissions.
It's all about energy
Location technology can support the move to electric by providing telematics solutions that use battery and vehicle data to make better user experiences.
"When you travel on a flat surface at an average speed you consume a certain amount of energy, very much like when you're driving a normal car. When you go up a hill, you consume more energy because you need more power, but when you go downhill... you can recuperate energy. With HERE's Routing API you can input the consumption model, which depends on the ascent, descent, acceleration and deceleration along the route in addition to auxiliary power usage (eg air conditioning) to calculate an EV-optimized route. This can extend the range of the vehicle. This works well because HERE map data contains all necessary information about slope, curve angle, and speed limits of each road in your city, correlated with historic traffic flow," explained Herzig.
[caption] HERE's Fleet Telematics can provide real-time data about speed limits, roadway inclines and curves and tolls and other factors that can impact productivity.
HERE's Route Planning API can also calculate delivery plans based upon an EV's specific capabilities. Herzig explains how: "When [HERE] plans the routes, and optimizes the tour plans, we can take into account the actual range of the vehicle based on real-time battery-charge information, which comes from the connected telematics system."
For logistic companies hesitant to shift to electric and EV original equipment manufacturers (OEMs), understanding the range of the EV battery is the most important factor to consider. When last mile providers choose to support their investment in electric energy with a data-driven fleet telematics system, OEMs can make smaller batteries and therefore more affordable vehicles, and fleet managers are relieved of the task of managing battery range, routing and scheduling.
Because vehicle data is continuously fed into the telematics system and then integrated into the planning and optimization algorithm, last mile firms have access to information that will help them meet both ETAs and environmental goals.
"Fleet managers still have a lot of concerns about the disadvantages of electric vehicles. And I say that location technology can take that burden away and make it easy to move to electric vehicles. Electrifying the last mile would have a profound impact on the CO2 emissions in many cities." - Christoph Herzig, HERE's Director of Product
Sign up for our newsletter
Why sign up:
Latest offers and discounts
Tailored content delivered weekly
Exclusive events
One click to unsubscribe