The digital cockpit: how UniMap can build a better experience

The challenge is on for car manufacturers to build connected systems inside the car that can compete with offerings from Big Tech firms. UniMap is the answer.
The digital cockpit is being talked about as the future of the driving experience. It is the dashboard of the near future, which will bring all the vital information the driver needs together.
When all the information and functions the driver needs are seamlessly presented together on the dashboard, driving promises to be safer, smoother and more enjoyable.
However, we are not there yet. While automakers search for the best way to bring the next generation of services to consumers, there is one tool that will make it easier. Working from a map where all the data is semantically aligned makes it possible to link everything together.
UniMap, available to pilot customers from this year, is a mapping system that enables changes in the physical reality to be visible on the map within 24 hours. It stores all data in a single, semantically-aligned environment and enables customers to combine and connect data sets.
"The biggest thing OEMs can achieve with this kind of mapmaking process is to align map data across different domains, or zones," said Ronak Amin, Product Marketing Manager for Connected Driving at HERE. "This will have a meaningful impact on driver experience."
Some domains today include the infotainment system, which contains navigation services and other apps, connectivity, body and comfort, powertrain, and the advanced driver assistance system (ADAS). ADAS includes functions such as intelligent speed assistance and use cases such as lane departure warning, lane keeping assist and adaptive cruise control. These could seamlessly merge into the infotainment experience when data is semantically aligned for consistency across domains, for example.
Until now, multiple pipelines of data would feed into these systems, making integration complex.
An end to fragmentation
The danger of different teams working on different domains – and using different maps to do so – is that the content can end up being mismatched.
What happens in practice for many consumers now is they use separate functions inside the vehicle in a disconnected way.
"Today, how that's handled for most drivers is that they are flipping back and forth for their different driving needs," Amin explained. "They see the ADAS information in isolation of the navigation map, which in some cases is being viewed on a smartphone. It can be a very detached and fragmented experience. The idea behind the digital cockpit is to provide all relevant driver information at their line-of-sight, without this kind of disjointed experience."
Having one unified catalog of data makes it easier from an engineering and deployment perspective to create an integrated system.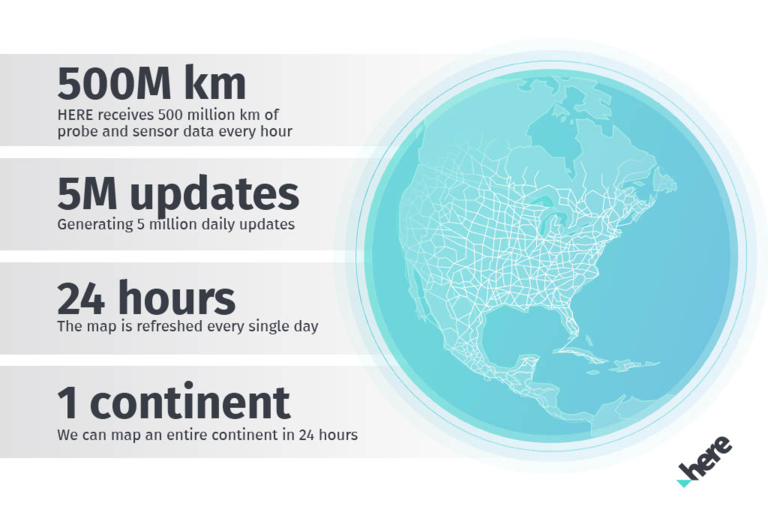 "UniMap aligns all the necessary data into one pipeline and will offer more impressive speed, relevance and refresh rates than before," Amin said.
"By significantly reducing the time between content capture and publishing, products can be delivered with shorter latency between real-world change and data exposure. The output is much faster, much more accurate, and much fresher."
For vehicle manufacturers, the capabilities go way beyond developing better navigation systems. UniMap can be used to build digital twins, and to implement traffic and route optimization. Its speed and accuracy will also help the industry to advance with automated driving levels.
UniMap is available to selected customers from this year and will be generally released in 2024.
Sign up for our newsletter
Why sign up:
Latest offers and discounts
Tailored content delivered weekly
Exclusive events
One click to unsubscribe