With cars this smart, being stuck in them for weeks isn't so bad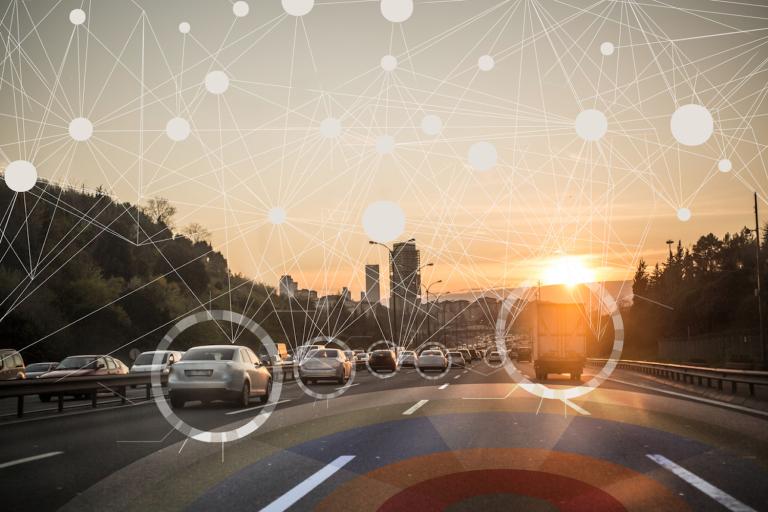 Gone are the days when you spend twenty minutes connecting your devices in your car - thanks to data, driving is more connected, and autonomous.
Wouldn't it be nice if it didn't take so much time to connect and reconfigure your devices when you transition from house to car?
The Experiences Per Mile (EPM) Advisory Council thinks so too. In their most recent report* the committee states that cars will be more connected, autonomous, shared and electric by 2030.
The EPM Advisory Council was formed to encourage collaboration among automotive executives, analysts and industry insiders about the future of automotive sectors, driven by connected technologies. Their report makes other ambitious predictions:
96% of new vehicles shipped globally will have built-in connectivity, a 2X increase since 2020
79% of new vehicles will have Level-2 Autonomy or higher vs 45% in 2020
26% of mobility profits will be derived from new sources, on-demand mobility for example, vs 1% in 2020
Supporting the committee's forecast are surveys that find consumers struggling to schedule tasks, check news and maintain SMS communication while in-car. Drivers also complain about wasting time: "completing monotonous tasks during each step of their mobility journey, including planning among disparate and non-connected points of their mobility experience, setting up and personalizing in-vehicle features and a litany of tasks after the journey is complete."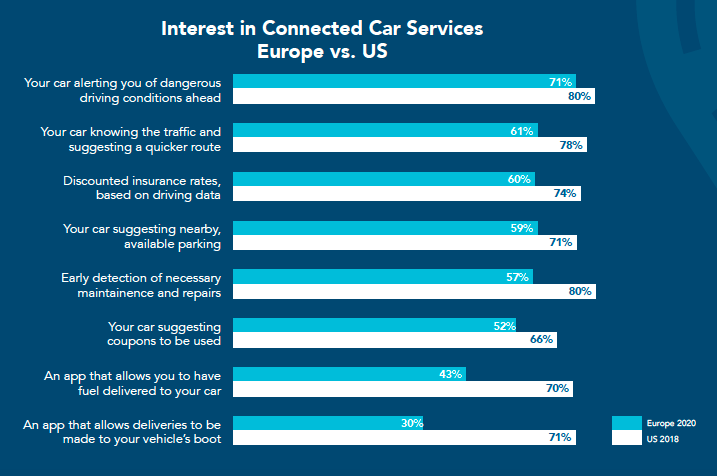 The EPM reports the results of a survey of drivers in the USA (2018) and Europe (2020). "Of those who expressed interest in each service, approximately 80 percent were willing to share anonymous or personal connected car data to gain access to these capabilities." Image credit: Otonomo

In 2019, The New York Post stated that the average American spends a full 19 days per year in their car. If this is accurate, it's simply logical to make being in your car less of a digital hassle by transforming vehicles into efficient connectivity hubs, not unlike your smartphone.
HERE360 consulted Charity Rumery**, a member of the EPM Advisory Council and HERE VP of Automotive and Industrial Sales, about the future of connected driving and how it will change the way we experience being in our cars.
"As we head into the future of connected driving, I am very excited about the migration away from the static infotainment systems we know in offline vehicles, to customized user experiences that span the driver's world inside and outside the vehicle." - Charity Rumery, HERE VP of Automotive and Industrial Sales
Shifting from RPM to EPM
It may not seem like it now, but as mobility advances the car is expected to once again become the pleasurable, personal space it was once thought to be.
Behind this transformation are connectivity platforms, like HERE Connected Driving, and sensors laying the foundation for enhanced driving experiences, improved safety and added control.
Data collected by sensors such as parking availability, maps, routing and road hazards support consumers with detailed information about their driving environment, helping to build trust for other autonomous Advanced Driver Assist Systems (ADAS).
Connected driving offers real-time and historical data insights giving auto manufacturers the opportunity to improve safety for all vehicles, autonomous or not. Charity Rumery offers an illustration: "Connected vehicles will enable tight integration between vehicle sensors, high-definition mapping and location technology to improve driver and passenger safety. Examples include your car alerting you to dangerous driving conditions ahead or knowing there is a traffic back-up and proactively suggesting a quicker route, avoiding the increased risk of rear-end collisions in a traffic jam."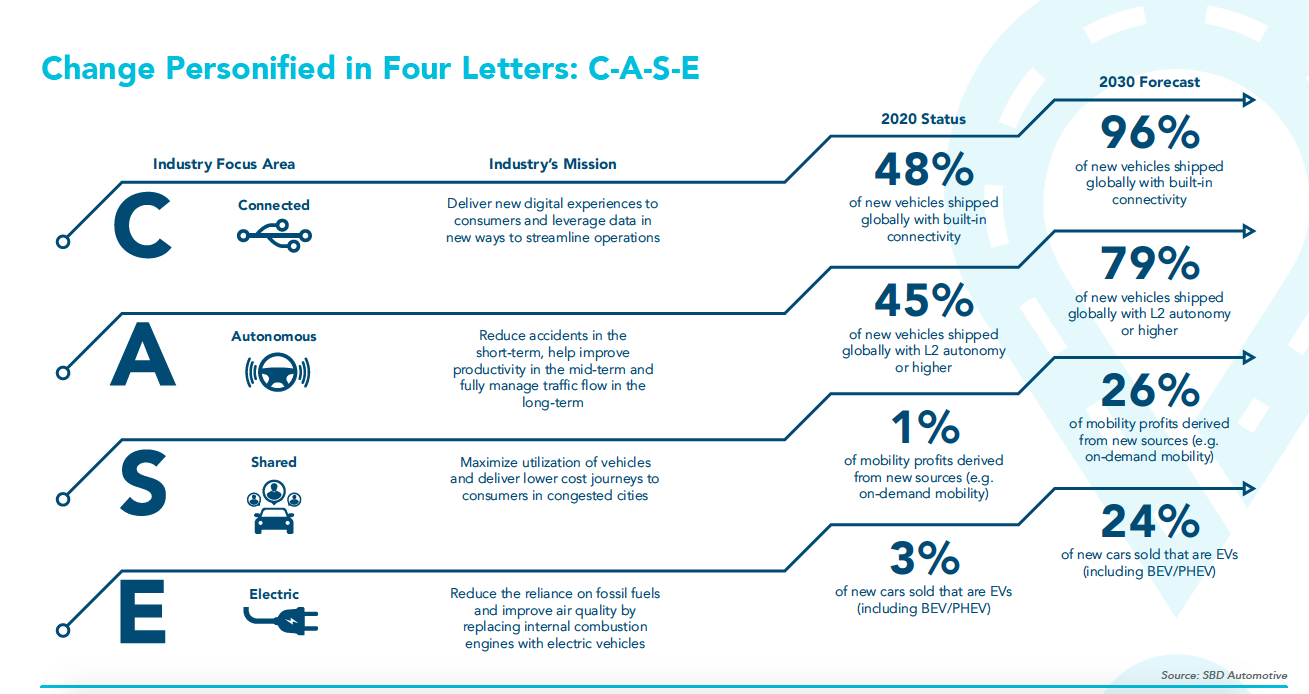 After more than one hundred years of "business as usual" in the automotive sector, the industry has shifted gears and has set forward on an ambitious, digital path called "CASE" — Connected, Autonomous, Shared and Electric. Image credit: SBD Automotive

ADAS technology can also facilitate efficiency: "Imagine a world where you know what time to leave based on traffic patterns… coupled with hands-free driving capabilities while on the highway, and the ability to automatically join a scheduled conference call for the remainder of your commute. From there you are routed to the closest or most reasonably priced parking and can leverage hands-free reservation and payment, as you make it to the office on time… The automaker's companion app can alert when parking is about to expire and even auto-start the vehicle so it's warm and ready for your commute home," Rumery explains.
The main goal of the EPM Advisory Council, vehicle connectivity and ADAS systems isn't to add more individual technologies to people's lives but to integrate all devices into a seamless digital, and useful, experience.
Connecting you to the rest of your life
Digital experiences are climbing up the "importance ladder". HERE ADAS and Automotive Location Platform are prepared to meet future driving demands:
Heighten Driver Awareness: offers a complete understanding of the entire road network including alerts about hazards, traffic, speed limits, cameras, stop signs and more
Increase safety: stay on track regardless of weather conditions with lane-level data that offers increased visibility of road curves, slopes and lane lines – even when sensors struggle
Unique experiences: integrate comprehensive road, lane and traffic data to maximize driver comfort and increase trust in autonomous driving tools
The digital transformation of the car industry is being fueled by increasing availability of vehicle and mobility data. The EPM reports states: "All the vehicles on the road today generate in excess of 30,000 petabytes per day."
Increasingly our leaders are realizing that all parties must unite, suppliers, dealers, fleet operators and customers, to deliver an optimal driving experience. This has led to the EPM Advisory Council but also to a shift in perspective regarding data.
A petabyte might seem overwhelming but today, businesses and thought leaders are using big data to gain insight into customer preferences and create innovative new experiences.
Improve drivers' experience with HERE ADAS.
*EPM 2030 report made available via HERE Technologies
**Charity Rumery was interviewed June 26th, 2020
Sign up for our newsletter
Why sign up:
Latest offers and discounts
Tailored content delivered weekly
Exclusive events
One click to unsubscribe