Berlin's Weinachtswerkstatt gives more than just Xmas presents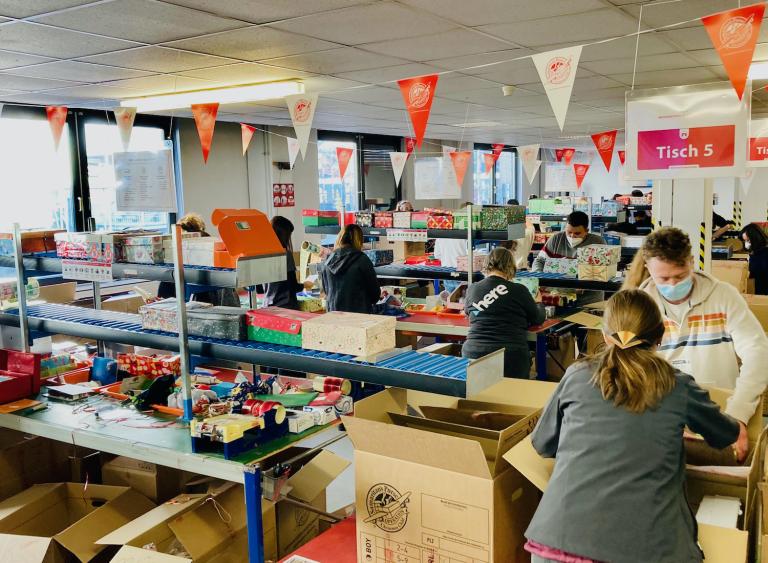 This holiday season HERE Berlin employees take on the role of Santa's elves, wrapping presents for kids around the world.
For too many children, Christmas is an unhappy time. According to an article in the UK's Daily Mirror, one in five children didn't receive presents during the 2020 holiday season. In the same year, Statista calculated a total of 7.3 million American families living in poverty, and the German newspaper, DeutscheWelt reported 15.9% of Germany's population was at risk of falling below the poverty line.
To help take the financial strain off parents this holiday season, HERE partook in an event called "Weinachtswerkstatt" — a community-based initiative dedicated to bringing presents to underprivileged kids.
HERE met in Berlin on November 26th, 2021 to wrap presents for children whose families may be struggling to purchase Christmas gifts.
But more than gift-giving the Weinachtswerkstatt, or "Christmas workshop" in English, offered HERE employees a chance to convene over a good cause, raise awareness about low-income families and poverty in the EU, and support the HERE Berlin community, and beyond.
Hosted by Samaritan's Purse, the event's overarching theme is "Christmas in a Shoebox", and is the world's biggest gift campaign for children in need.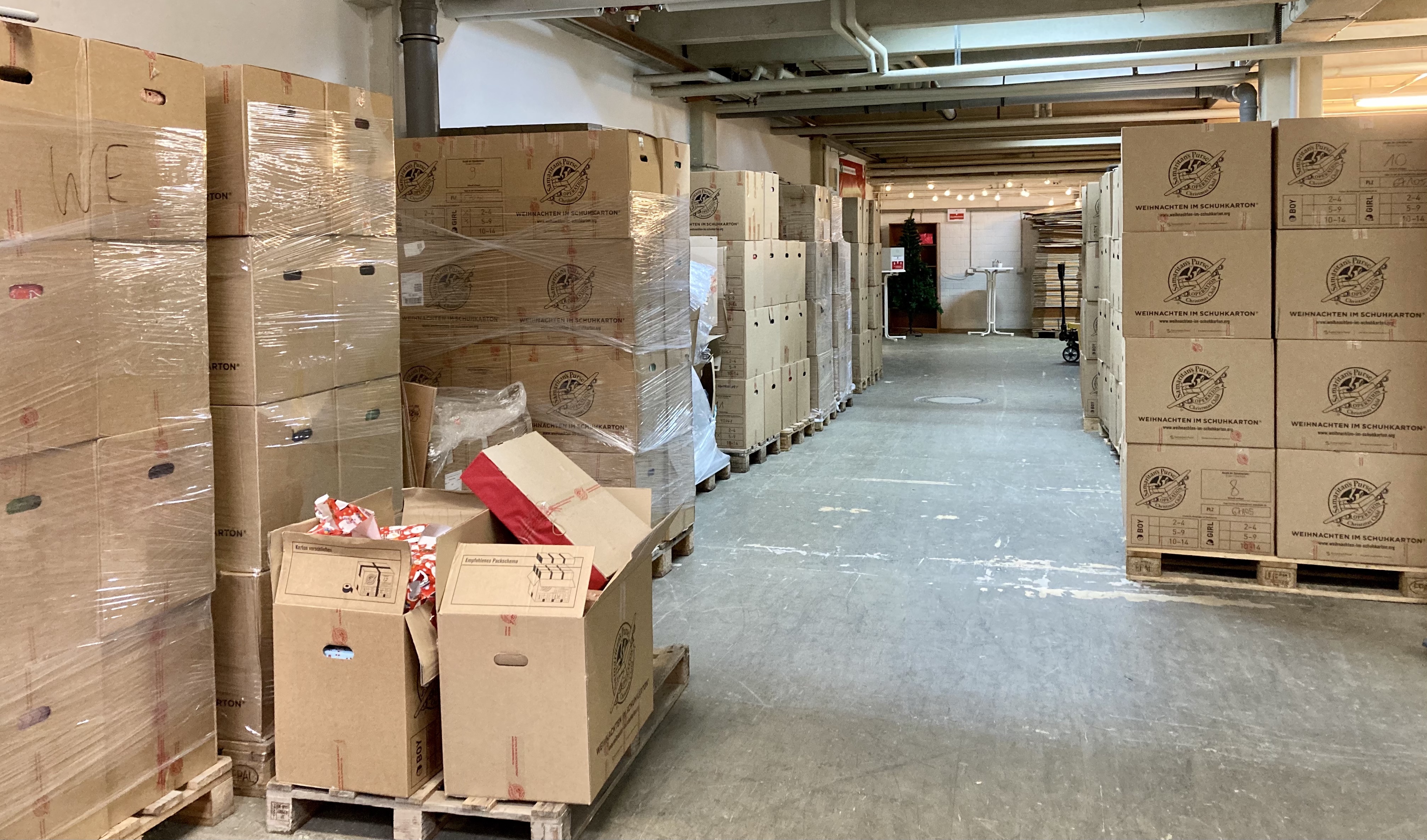 The Samaritan's Purse warehouse in southwest Berlin, pictured above, is filling up with boxes full of wrapped gifts.
In 2020, Peter Fast, Samaritan's Purse Regional Manager, said they packed approximately 400,000 shoeboxes with toys, socks, candy and personal items like toothpaste and brushes donated by residents of German-speaking countries such as Austria, Belgium, Luxembourg and Germany. The recipients are mostly families in eastern Europe. "We're hoping to send 500,000 boxes this year," Fast told HERE360. In the Netherlands, HERE participated in a similar project called, Schoenendoosactie.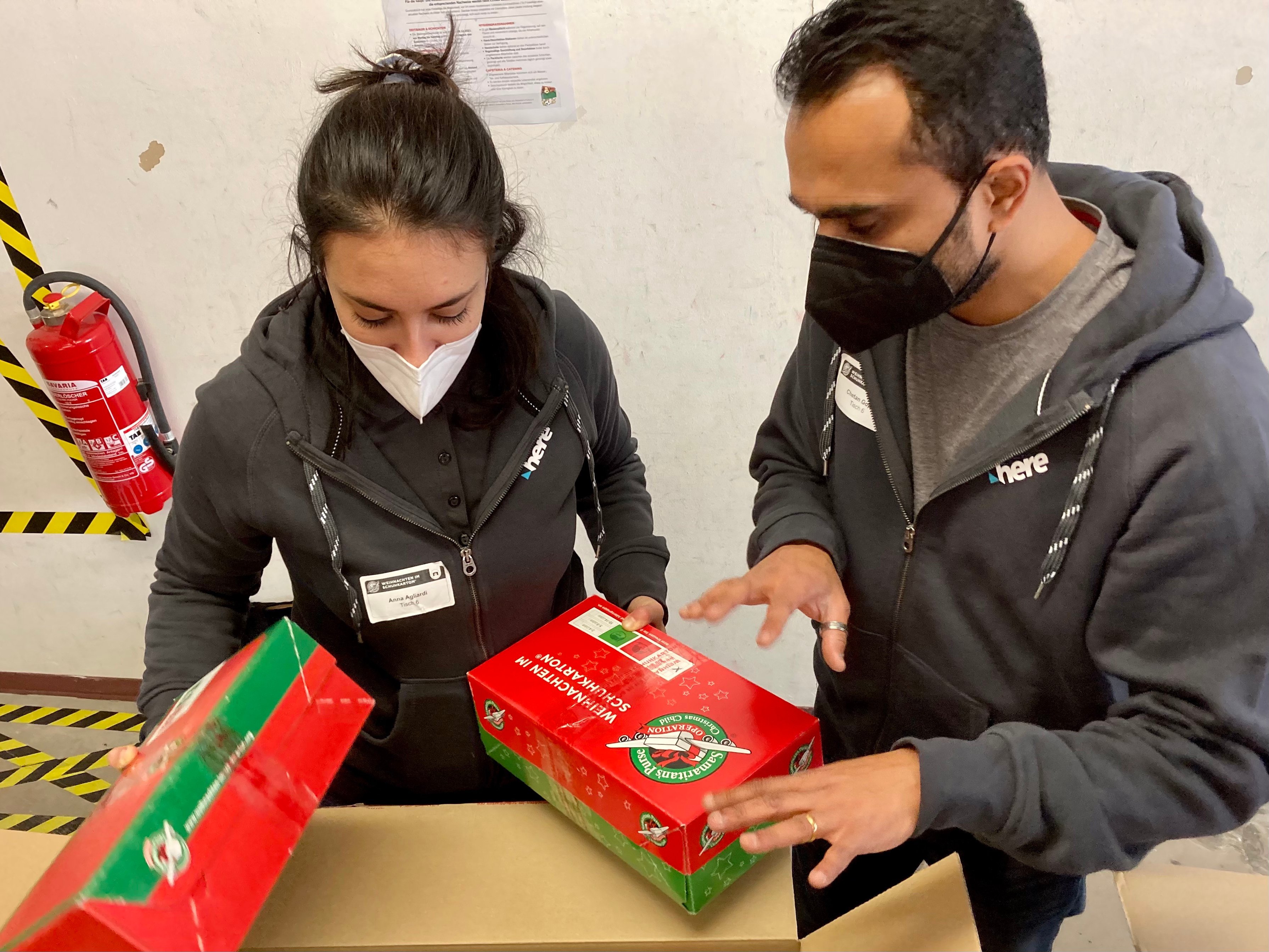 Anna Agliardi, HERE Senior Marketing Specialist, and Chetan Gopal, HERE Engineering Manager, compare box packing strategies.
HERE360 was onsite in Berlin asking participants why this Weinachtswerkstatt was important and what results they hoped to achieve.
HERE360 asks HERE Senior Product Manager Uwe Schulze what impact these boxes will have on the recipients.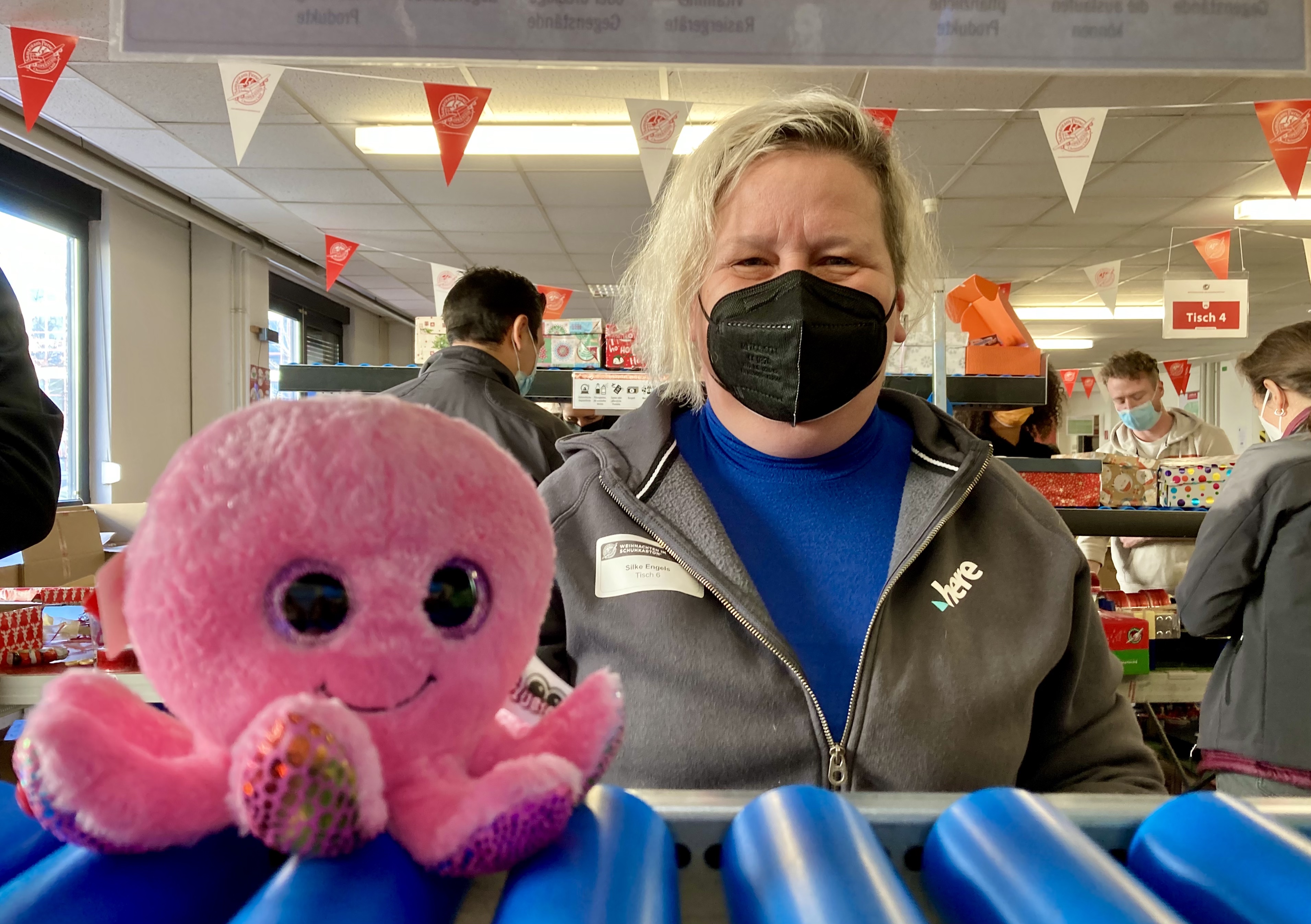 HERE Head of Content Planning Silke Engels, smiles behind one of the many workshop conveyor belts used to move full shoeboxes to the gift-wrapping zone.
HERE360 asked Anna Agliardi about what participating in Weinachtswerkstatt means to her.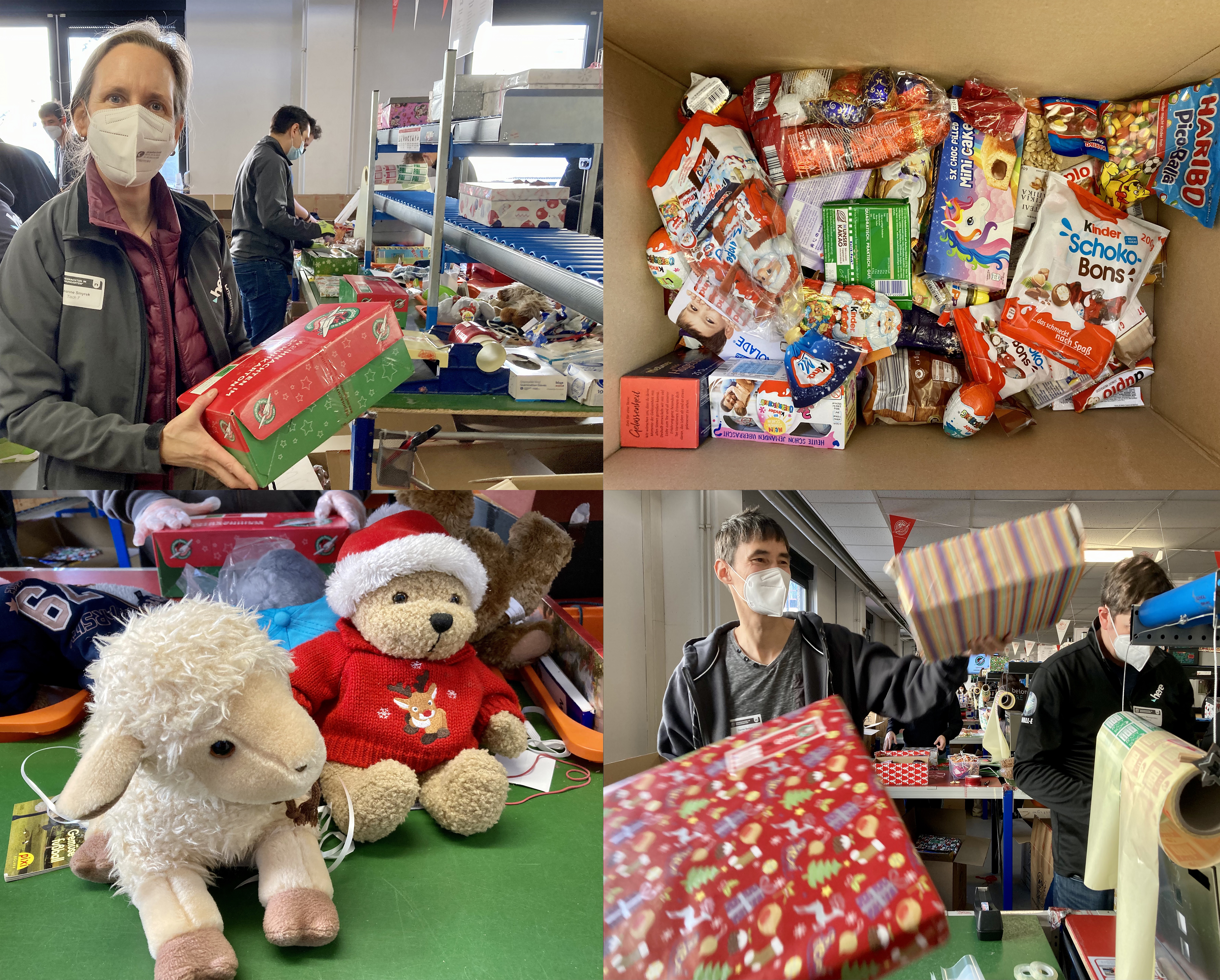 One of the tasks that volunteers perform at the "Weinachtwerkstatt" is to categorize similar toys into groups, before filling the shoeboxes, and wrapping them in festive papers.
Berlin's Weinachtwerkstatt is a part of an international project, called "Operation Christmas Child". Since 1993, more than 186 million children in over 150 countries have received Christmas in a shoebox.

According to the project website, 9,123,202 shoeboxes were packed worldwide in 2020 and 327,544 shoeboxes were packed in Germany.
Find out how you can join HERE this year.
Sign up for our newsletter
Why sign up:
Latest offers and discounts
Tailored content delivered weekly
Exclusive events
One click to unsubscribe