The impact of AR on supply chain efficiency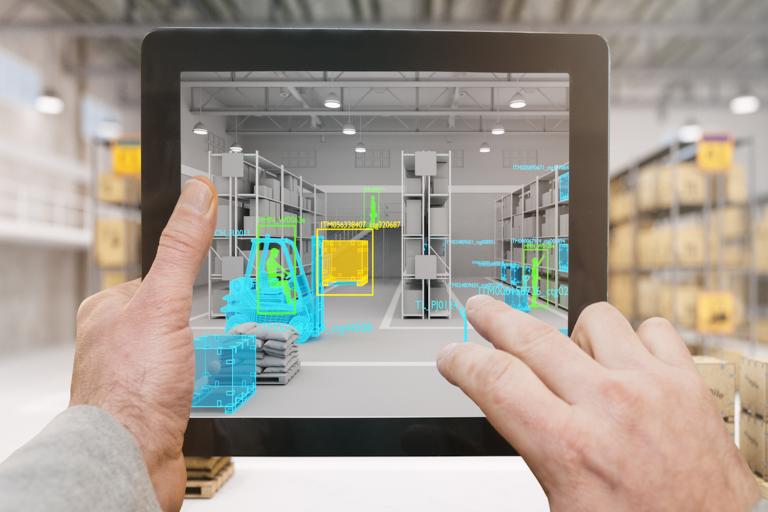 Give your business Terminator-like vision. And help save time, money and investment with augmented reality.
In 1991, the sci-fi film Terminator 2 was released.
Through the Terminator's 'eyes' we saw an android's view of an enhanced world: digital information streamed into his field of vision and giving him the edge in a lawless dystopia.
Today, we call this technology augmented reality. And while we might not use it to defeat virtually indestructible robots, it's going to revolutionize how we shop, game and socialize forever.
Don't take my word for it. Here's what Apple CEO Tim Cook said:
A significant portion of the population of developed countries, and eventually all countries, will have AR experiences every day, almost like eating three meals a day. It will become that much a part of you.
The supply chain is one area that will benefit greatly from AR. Back in 2014, DHL wrote a report predicting the impact it would have on logistics. Its authors said: "AR can give logistics providers quick access to anticipatory information anytime and anywhere. This is vital for the prospective and exact planning and operation of tasks such as delivery and load optimization, and is critical to providing higher levels of customer service."
In other words, it'll make your business faster, smarter and more efficient.
From the food we eat to the cars we drive, the supply chain is a vital cog that keeps the world moving. But when things go wrong, as we're seeing now with the coronavirus pandemic, that machine is put under immense pressure.
"Coronavirus is one of the biggest problems the supply chain is facing. As well as the supply and demand mismatch, there are fewer people on the ground to run the supply chain smoothly. AR can help by automating a lot of these processes," said Ajatshatru Kotwal, HERE Director of Product Management and Tracking Services.
Let's take a look at some of the ways AR can benefit the supply chain.
Win in the warehouse
DHL partnered with AR hardware providers Vuzix and Google as part of a test into using the technology to streamline its warehouse operations.
Swapping paper-based information sheets for a Google Glasses-style device, the pickers were given the information to do their jobs directly into their wearable. This meant they spent less time looking down at a checklist, freeing up their hands for the task at hand. And the technology goes further still. AR gives warehouse staff precise indoor navigation (such as HERE Indoor Positioning), object recognition, instruction and training.
The results were positive. After the small US and Europe-based study, DHL recorded a 15% rise in average productivity due to reduced error and greater efficiency.
And DHL is far from the only company experiencing this. In a GE Healthcare warehouse, which manufactures MRI machines, workers wearing smart glasses were able to receive orders straight to their device, as well as guide them to the correct parts area.
The company saw a 46% uplift in productivity. Brian Ballard, CEO and co-founder of Upskill, told GE.com:
Imagine how much productivity is usually lost just trying to figure out where these products are located? When you can digitize that information so that its available and dynamic in real-time, the opportunities for efficiency are quite meaningful.
Tune-up your transportation
Transportation is, literally, the wheels that keep the supply chain moving. AR has the potential to revolutionize this sector for key workers, such as long-haul truckers or dockside cargo handlers. Caterpillar, for instance, has been using it to reduce the downtime of its vehicles by offering virtual, real-time machine maintenance and safety checks.
Additionally, AR can be used to make driving safer and more seamless. Nissan is one of many manufacturers developing the head-up displays of the future. Its "invisible-to-visible" technology turns a vehicle's windscreen into an interactive 3D display that takes information from onboard sensors and the cloud to present a holistic view of the road. And with advances in location technology, such as HERE Lanes, drivers can receive precise lane-level navigation, accurate ETAs and dynamic route guidance without taking their eyes off the road.
Even in shipping, AR can boost efficiency. For instance, in packing and checking loads, it can be used to quickly calculate volumes, inspect for damage, scan complicated trade documents for errors and translate parcel labels in real-time.
Ace the last mile
According to Retail TouchPoints, the last mile accounts for up to half of the total shipment cost. And it's often the most complicated and important part of the process, too.
Delays, missed deliveries, parking and traffic are just some of the issues facing today's last-mile drivers and riders.
But using camera or wearable AR devices, scanning multiple packages can be completed in seconds, allowing drivers to pack vans in a more intuitive way based on the delivery route. For example, if delivery requires special access, this could pop up on the AR device as navigation instructions en route, identifying entrances, providing indoor guidance and reducing search and delivery times.
Stanimira Koleva, HERE Senior Vice President and General Manager, APAC, told TechWire Asia:
Augmented reality can help van drivers find the precise address in the most efficient way, tackling road closures and beating traffic. Using location data, logistics companies can help their on-ground staff to pinpoint the exact destination of the parcels they're carrying. When traffic and other data is factored in, this becomes even more efficient.
HERE has a suite of products to underpin augmented reality, from routing and traffic to powerfully precise maps.
Sign up for our newsletter
Why sign up:
Latest offers and discounts
Tailored content delivered weekly
Exclusive events
One click to unsubscribe