Social distancing: a COVID conundrum for commuters or a dawning for e-scooters?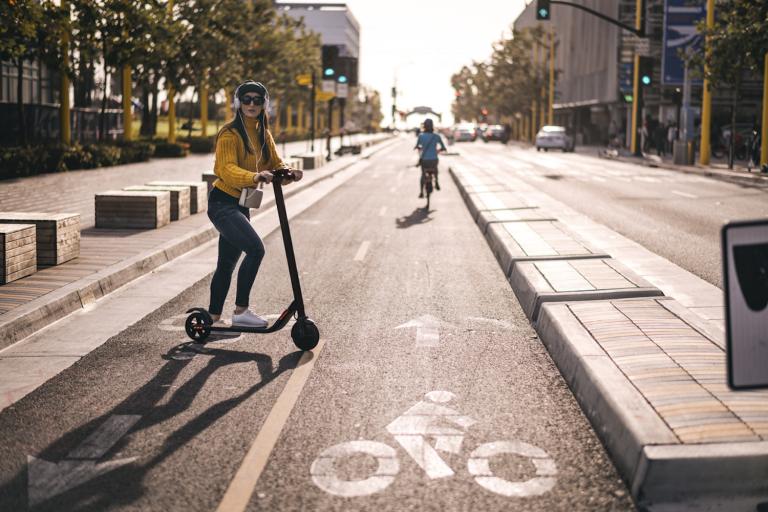 A transportation revolution is underway that could see e-scooters alleviate the pressure on public transport during COVID-19. But first, cities need location insights to plan their scooter-sharing schemes effectively.
As countries around the world ease back COVID-19 lockdown restrictions, people are left with a dilemma. How do they commute while maintaining social distancing?
For many, the obvious answer is to walk, drive or cycle. But e-scooters are emerging as a popular choice: they're quick, nimble and emissions-free, and can help cities ease their pollution and congestion problems, too.
Governments are coming around to the advantages of e-scooters as a way to ease the burden on public transport systems that have severely limited capacities due to social distancing measures.
In South Korea, scooter ridership is up 14% over recent weeks says ride-sharing platform Lime. And just last month, New York State legalized e-scooters, joining several other major US metropolitan cities including Los Angeles, Chicago and San Francisco.
Germany, France, Austria and Switzerland are some of the European countries where e-scooters are legal and a popular alternative to taking the bus or walking.
Both Estonia and the UK will soon follow suit, with plans to legalize e-scooters for use on public roads. The UK government is currently reviewing the law and has brought forward a trial that was due to start in 2021 to next month. It has also ear-marked £250m to improve cycle lanes, where e-scooters would also be allowed to be ridden.
As Edmund King, President of the AA, told Driving.co.uk, "Electrified micro-mobility has the ability to revolutionize inner-city transport and last-mile delivery capabilities". He also says safety should be the number one priority: currently, there is no legislation about wearing helmets when riding e-scooters.
Waiting in the wings is a host of electric scooter rental companies ready to service this burgeoning market including US-based Lime and Bird and European start-ups Tier Mobility and Voi. Many scooter-sharing services have been severely disrupted by COVID-19, with fewer people using them during lockdown. This could be the break some companies have been looking for.
Patrick Studener, head of EMEA at Bird, told CNBC: "Following the (UK) government's announcement on scooter trials, we've had dozens of inquiries from city officials who want to get their cities moving again; congestion and emission-free while maintaining social distancing."
Planning e-scooters as part of the public transport mix is difficult. First, there's the question of where to place the docks – or whether to have docks at all (find out the difference between docked and dockless scooters.)
Dockless hire schemes are great for convenience but can lead to e-scooters being abandoned on pavements, as the city of Paris knows only too well. But docked schemes need to be carefully planned to make sure they are in a hot spot or beside train stations or other transport hubs where people can hop on a scooter as part of a multi-modal journey.
Location technology from HERE can help you understand the best spot for e-scooter docks by analyzing historical and real-time mobility patterns using data from vehicles, traffic sensors and mobile devices.
As Dominique Bonte, vice president at ABI Research, writes in Automotive World: "Micromobility operators need to adopt a range of advanced technologies."
She says that understanding where to place your e-scooter ride-sharing docks is crucial and companies need "AI-based real-time location data analytics to improve spatial intelligence and understand demand-response patterns to optimize redistribution and recharging efficiencies."
Sign up for our newsletter
Why sign up:
Latest offers and discounts
Tailored content delivered weekly
Exclusive events
One click to unsubscribe