It's time to update our gender symbols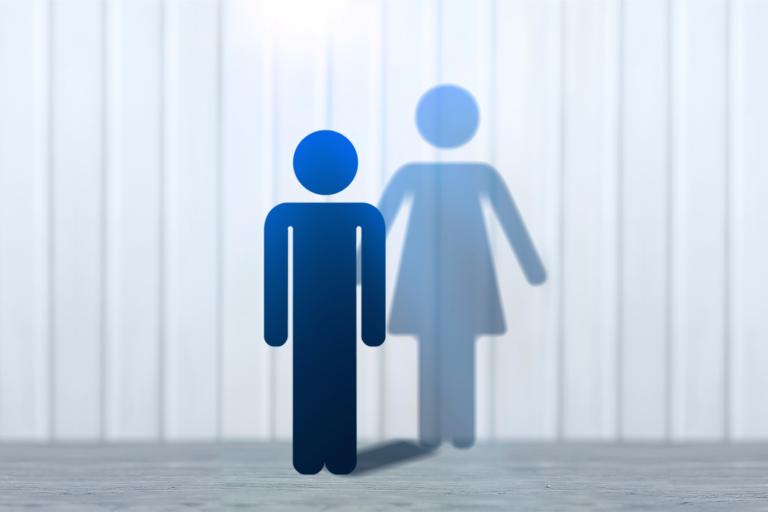 Shifting perceptions of the masses can be a monumental task, and this UX designer is working to change the status quo and bring more gender equality to the world through iconography.
Gender equality is a big focus for us on and off the blog this month – from celebrating incredible women who've done exceptional things, to striving toward our equality goals in the workplace (an important ongoing year-round effort).
In keeping in step with this theme, we caught up with Alvaro Laura Garcia, Senior UX Designer at HERE, to talk about his creative explorations to help spark more of a conversation and ultimately advance gender equality through our mapping iconography.
"Gender equality isn't something that's been addressed by iconography design through time," he says. "The male figure has been the standard representation of a human being, and voices questioning this have been silenced by what we can only describe as a male-centric global society."
On his way to becoming a dad for the first time in June this year, the journey towards parenthood has understandably had him considering how gender normativity influences not just parenting, but society as a whole. It was this line of thinking that inspired him to use his design platform to bring more gender balance to HERE mapping iconography, as well as the world his child will grow up in.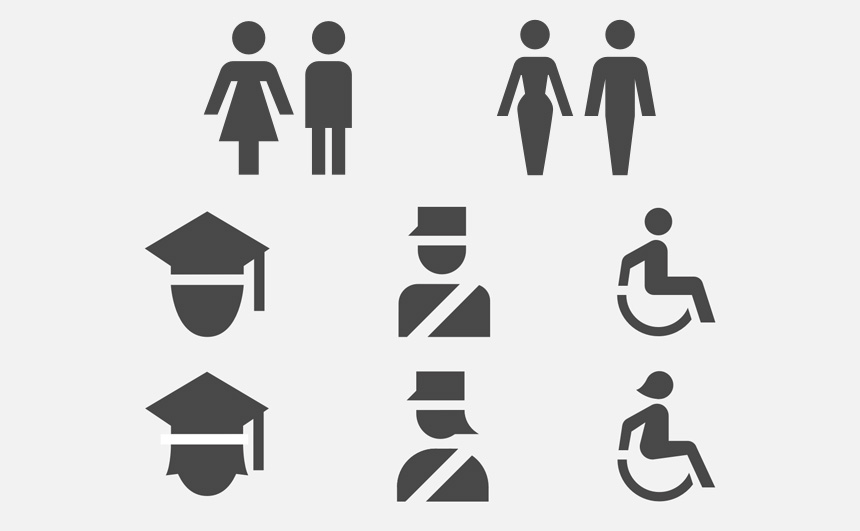 HERE Cartography Iconography - Prototype icons for future improvement.
It's not an easy task.
Visual language is a powerful, pervasive tool and us humans have been conditioned since way back to accept the icons we see — in life, on signs, in maps — as 'the way it is'. Because of this, it's going to take more than a few designers, companies, and people doing things differently and fighting for visibility to make a big change. But it's a start.
"There is a lot of information in the world that we have been decoding unconsciously for our whole lives. It takes a lot to shift that."
The solve isn't clear.
When it comes to female icons, we all know the outdated (and, frankly, very unfashionable) A-line dress has got to go. But then what? This is what Garcia is trying to figure out through working with colleagues internally, paying close attention to social conversations, and trial and error (and trial and error, and trial and error) through design.
"As you can see in the examples, symbols that incorporate arguable female features are not the solution. These impact icon legibility and recognizability, and reinforce the normative representation of female, supporting the androcentrism present in iconography. This is what we are trying to push back on."
The topic is as controversial as it is subjective and pleasing every human is a pipe dream. But that's no reason not to try.
"It's sad that, today, if we use only men [in our iconography], nobody will ask themselves: "Why are they using men?" But if we use all women, people will ask themselves: "Why are they using women?," he says.
"It's subconscious and subtle. It's a low-level, male-centric approach to communication but it's not harmless. Its ubiquity makes it very relevant and change very necessary."
It's not a one-person job.
Being one of the few visual designers at HERE, Garcia is heading up this task for now, with help and encouragement from his team, especially his female team members who pushed him to pursue the idea in the first place. That said, he is acutely aware of what it is to be a male taking on this task and knows this isn't something he can or should do alone.
"I can't say that I am a perfect image of what I hope to be. I still have many things in my personality that have to be adjusted. The more I pay attention to the conversations around me, the more I realize I was part of the problem."
Since this is a community-focused issue, we'd like to open up this discussion to all of you. What are your thoughts? What advances have you seen other companies making in this area? What action would you take to change the current imbalance in visibility between men and women? Comment below.
Sign up for our newsletter
Why sign up:
Latest offers and discounts
Tailored content delivered weekly
Exclusive events
One click to unsubscribe