We need more women in STEM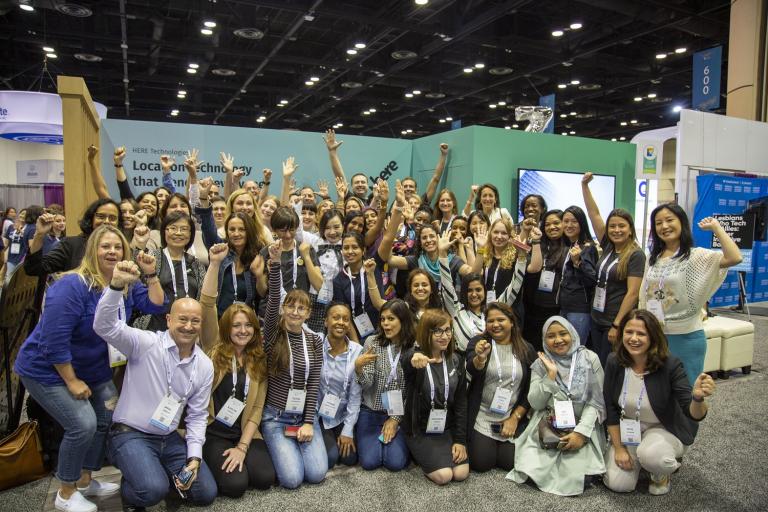 Within the industries of science, technology, engineering and mathematics (STEM) there remains a lack of equal representation. HERE is proud to support the Grace Hopper Celebration and empower women to achieve gender equality in tech.
There are several unique challenges women may encounter when it comes to working in STEM. These challenges can present themselves at any point along the vocational journey starting when a woman is first considering a career in STEM, to getting into the industry itself or later on as she carves out a space for herself within an organization.
As a Senior Software Engineer at HERE Technologies, Cheryl Xu says, "Some of the biggest barriers for women to grow a career in STEM is lack of confidence. There is sometimes a bias against ourselves. That's why it's so important to find female mentors and leaders to look up to and to inspire us when we think we can't, to encourage us when we think we shouldn't."
Our action plan
At HERE, we're dedicated to supporting and empowering women in STEM. We take every opportunity to encourage inclusion, promote equality and demonstrate our commitment by joining a coalition of businesses dedicated to addressing the gender gap including Paradigm for Parity, promising gender parity in leadership roles by 2030, and Employers for Pay Equity.
We strongly believe in extending this level of commitment to the wider tech community, which is why we support the annual Grace Hopper Celebration (GHC) and its founding organization, AnitaB.org with its bold vision of 50/50 gender parity in tech by 2025.
Launched in 1994, the Grace Hopper Celebration is the world's largest gathering of women technologists (20,000 strong and growing every year!) Through workshops, demonstrations, keynotes, networking and more, GHC is an invaluable resource for everyone.
Our employees from across the globe shared their thoughts and advice for women looking to take their first step into the world of STEM. 
The continuous impact of "Amazing Grace"
The event's namesake, Grace Hopper (nicknamed "Amazing Grace"), was a US Navy Rear Admiral and computer science legend. She invented the first compiler for computer programming language, and some of that language is still in use today.
This year HERE was honored to sponsor GHC for a third time, and in early October 60 HERE employees from across the globe attended to celebrate, connect, gain inspiration and continue to further their professional development and growth.
First time attendee, Akanksha Kamra, Senior Business Analyst at HERE said, "GHC not only gave me an opportunity to connect with so many wonderful and talented women but also taught me how important it is to empower, uplift and support others."
We're committed to creating a culture that embraces inclusion, diversity, and belonging for all people. Gender diversity and equality is a core goal we've set for ourselves, because diverse perspectives drive innovation and we can't properly represent our partners and customers if they are not represented within our company. And with a tech company that aims to be the #1 location intelligence platform – innovation is key to meet our customers needs and inclusion is imperative to our culture of belonging, but it is also imperative to our competitive advantage.
Rishupreet Kaur, a HERE Engineering Manager specializing in Highly Automated Driving, captures the GHC mood perfectly in a poem she penned, "At GHC, I feel so much at home / I truly believe I am no more alone / While 50/50 may seem like a herculean task / Equality of opportunities is all we are gonna ask!"
Interested in learning more about STEM careers and open positions at HERE? Visit our careers page.
Sign up for our newsletter
Why sign up:
Latest offers and discounts
Tailored content delivered weekly
Exclusive events
One click to unsubscribe