Surf to turf: the new way to get to work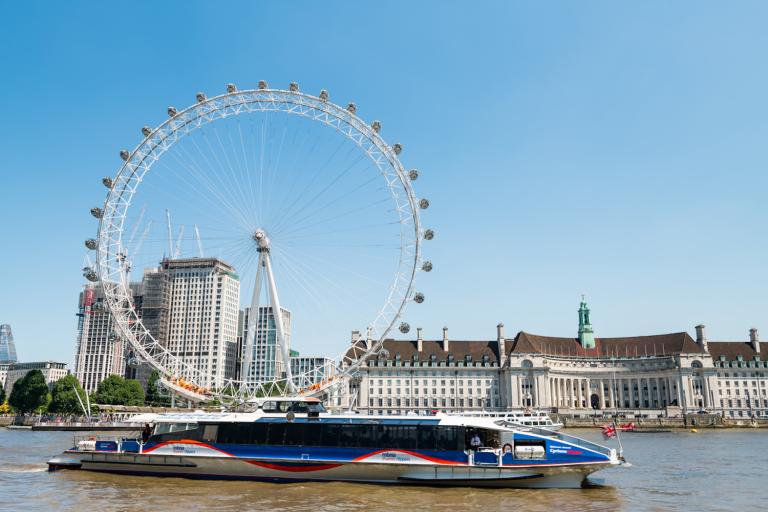 Londoners returning to work post-lockdown now have the option of commuting by Uber boat: a partnership with Thames Clippers that services 23 of London's piers.
On July 8, Uber teamed up with Thames Clippers to launch "Uber Boat" in London, Uber's first commuter boat service.
Linking roads to rivers presents Londoners returning to work after a COVID-restricted summer with even more mobility options. But, getting from one to the other efficiently could be tricky.
HERE Transit can offer riders precise trip solutions to help guarantee scheduling, routing and connections.
Jamie Heywood, Uber's regional general manager for Northern and Eastern Europe, told British journal The Standard: "Many Londoners are looking for new ways to travel around the city, particularly when they start commuting back to work. Later this summer we will launch the Uber Boat by Thames Clippers in London as a means for people to arrange travel on the river and road, all through the Uber app."*
Sea change
Previously, Uber has added bicycles, electric scooters and taxis to their mobility portfolio. In 2019 they integrated London Tube and bus updates into their app under the "public transport" option. The latest partnership with London's riverboats, Thames Clippers, is the next phase in Uber's goal of becoming the go-to app for urban transportation.
The UK journal, The Standard, reports:  "Over 4.3 million people use the River Thames for commuting and traveling each year, and over forty percent of passengers said they will increase their use of Thames Clippers in the future as an alternative means of getting around the city."
However, this is not the first time Uber has stretched its sea legs, so to speak.
In San Francisco, you can hire a private Uber Boat (for US$30) to take you between the East Bay and the city. And in Croatia, Uber Boat provides seafarers with two services: transfers that literally ship people from the mainland and between islands, which costs approximately €350; or the "Uber boat trip" which involves reserving a boat, priced by a number of stops and duration.
The ride-share brand has even hosted private Uber Boat parties in Lagos.
With commuters potentially hopping from car to subway, bus, bike or boat, HERE Transit solutions can help ensure seamless connecting points and efficient routing.
While Uber hasn't specifically stated that the union with Thames Clippers is in response to the need for more evenly spaced COVID-safe public transport, Thames Clippers has prepared for social distancing etiquette. Pre-COVID, Thames Clippers carried 1.4 passengers/sqm, which has been reduced to 0.85/sqm. The London tube, in comparison, reported carrying between 5 and 7 people/sqm and has reduced this to 1.3 passengers/sqm. Health and safety features on Thames Clipper boats include fully contactless trips, mandatory face mask regulations, and staff equipped with PPE.
Route and schedule information can be found on the Thames Clippers website, "The Uber Boat by Thames Clippers will stop at twenty-three piers along the Thames between Woolwich (Royal Arsenal) Pier in the East and Putney Pier in the West. Services run from early in the morning until late at night 7 days a week." Prices range from £4.50 to £19.80 depending on zones and the number of trips.
The tide is high
For cities such as Vancouver, Amsterdam and Istanbul commuting by water is nothing new and is often marketed as a tourist experience.
Many people living in British Columbia (BC), for example, take ferries to get to school and work every day. CTV News reported 500 students living along BC's coast use BC Ferry services twice daily. And, within Vancouver City proper, approximately the same amount choose to commute to or from Bowen Island for work and studies; just a quick 20-minute sail from Horseshoe Bay located on the western tip of the city. There's even a tiny ferry for inner-city water travel.
But regardless of the regularity of commuting by boat, being able to plan detailed itineraries based on real-time transit schedules can help take the stress out of complex, multi-modal commuting and help ensure you arrive on time.
Don't get stuck in the flotsam and jetsam
With HERE Transit , commuters and riders can access real-time routing, scheduling and connection information making switching from surf to turf and back again simpler and efficient.
Seamless: pedestrian connectivity reveals if and when a switch from one mode of transport to another is necessary via dynamic and accurate routing
Significant: valuable insights offer "pedestrian only" info including the availability of stairs, elevators, pathways, bridges and tunnels
Sensitive: door-to-door instructions feature estimated transit even when no timetables or data is available and accounts for duration, transfer points, tariffs, transit preferences, maximum walk times and delays
Go beyond simple navigation with HERE Transit
Sign up for our newsletter
Why sign up:
Latest offers and discounts
Tailored content delivered weekly
Exclusive events
One click to unsubscribe