The biggest innovations in location intelligence at CES 2019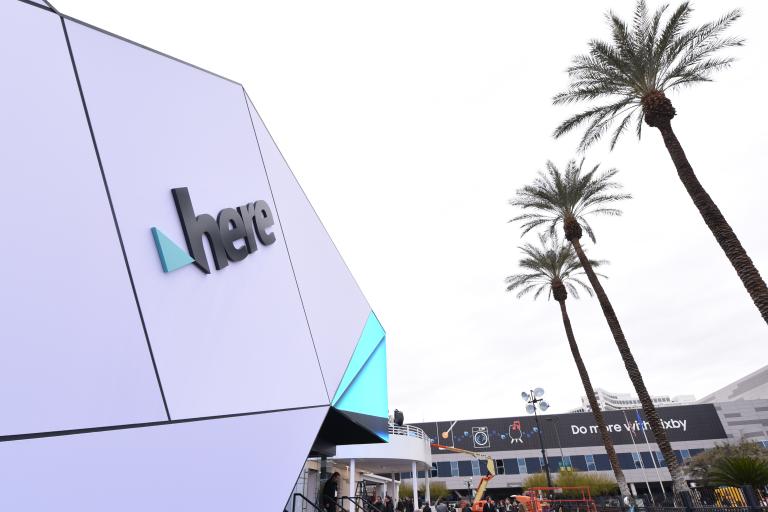 Location intelligence powers businesses far and wide. Whether you're an auto-maker, a fleet logistics manager, an advertising executive or an application developer, we presented something for you at CES 2019.
This week, more than 182,000 people from 155 different countries descended into Las Vegas for the world's largest and most famous consumer technology show, CES. Whether you're looking for the next generation of TVs, or if you're keen to see the latest in connected fitness, or if you've been eagerly waiting for someone to invent a voice-enabled loo, there is truly something for everyone.
Behind the flashy new boxes and appliances, CES is a hotbed of innovative technologies that will power tomorrow's services, which is the area where HERE brought our A-Game.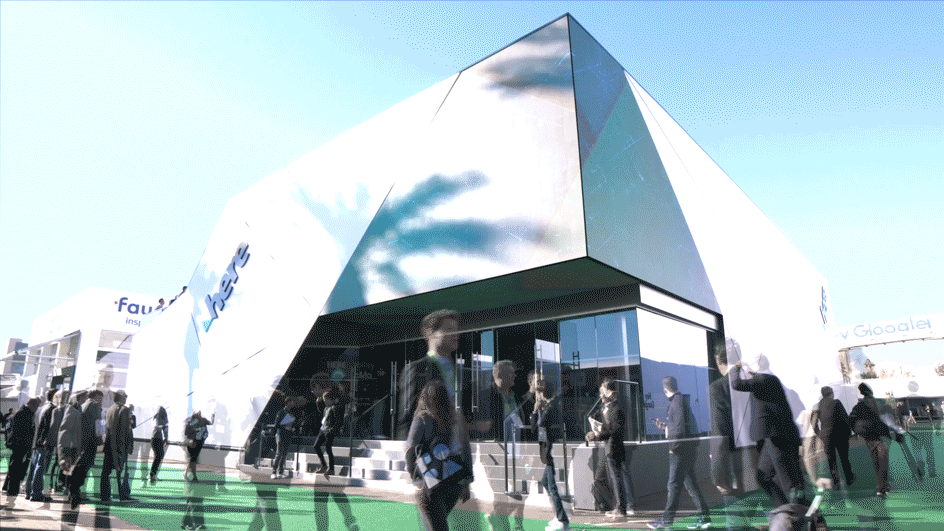 From the ground up, our CES presence represented our values in innovation, efficiency, and sustainability. Our two-story HERE installation covered 10,000 square feet, contained 25 kilometers of cables and 32 screens. At the close of the show, the building will be deconstructed in less than 24 hours. Nearly 90% of the materials used will be recycled or repurposed for other projects.
Our building played host to thousands of visitors over the course of the week. Within, our guests were treated to an inside-view of the multiple layers that make up our location intelligence platform. Each of those layers, as our experts explained, play a key part in producing new solutions and services that are coming to life all around us.
A car that talks to you is nothing new, but you'll soon be able to talk back. Alexa Auto enables natural voice input, so drivers can search for locations, find the best routes, and change options on the fly without ever taking their hands off the wheel. HERE provides Alexa with her powers of location intelligence. You can learn more in this conversation between Kirk Mitchell, VP Tech, Media Telco at HERE and Chris Wenneman, Director Alexa Automotive at Amazon.
Putting your business' data to work is one of the key jobs of our HERE OLP Marketplace. The secure, cloud-based data marketplace enables businesses to participate in a simplified data exchange. In this neutral, scalable environment, businesses benefit from aggregated data from many other businesses (even market competitors) while contributing they data they select and keeping their own data secure. You can read more about this from Sanjiv Ghate, VP Data Monetization and Marketplace at HERE.
Location data and 5G will transform the advertising industry. With data science at the core, marketers will soon gain the ability to deliver highly customized messages to their precise audiences via digital signage, connected car screens, smartphones and more. Hervé Utheza, Head of Media, Advertising Telco at HERE, shares more:
Connected cars and IoT devices need secure, wireless updates. HERE OTA Connect effortlessly answers that need while bringing next-level capabilities into reach. Powered by the Open Location Platform (OLP), OTA Connect allows vehicles and IoT devices to report their current condition to their owners and manufacturers, who can then distribute updates to improve performance and device longevity. Find out more from Timmo Littke, Business Development Manager at HERE.
Sign up for our newsletter
Why sign up:
Latest offers and discounts
Tailored content delivered weekly
Exclusive events
One click to unsubscribe