How we built a map to illustrate truck route calculations across 3 major U.S. freight corridors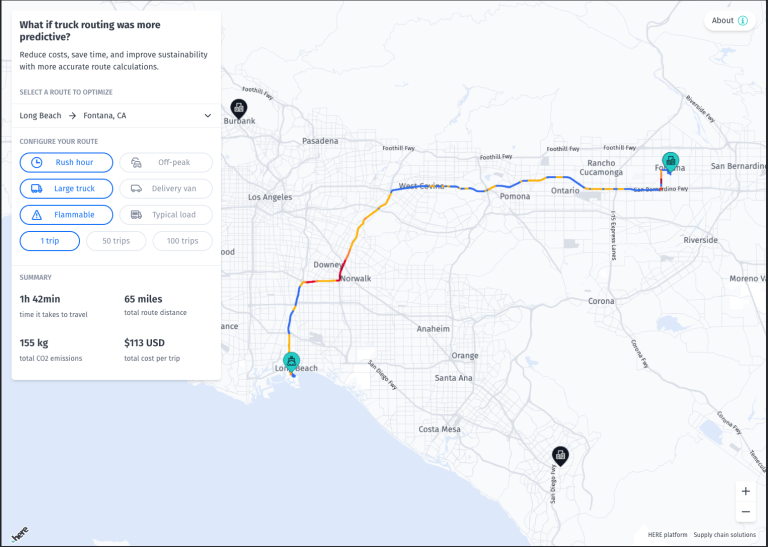 We built this map to illustrate the real-world impact of truck route calculations across 3 major U.S. freight corridors. Factors such as time of day (rush hour or off-peak), vehicle size (large vehicle or standard delivery van) and type of load (flammable or regular) all impact the optimal suggested route, as well as duration, distance, CO2 emission, and associated cost. To illustrate these routing differences, we chose 3 different route destinations all starting at the port of Long Beach:  Fontana, Burbank, and Mission Viejo.

Data

The HERE Truck Routing and Traffic Analytics API were used to determine all route calculations, leveraging HERE's capability to customize vehicle and load configurations, and determine truck-safe routes, while integrating traffic information and first-party data.
CO2 emission calculations are based on algorithms developed by Empa and Migros for the CO2 fleet insights offering. Cost per hour figures (using $66.87/hour) are based on data from the U.S. Truck Average Marginal Costs per Hour in 2020 (American Transportation Research Institute).
User experience and UI
The map highlights one of the three routes in HERE's accent color, with portions of the road experiencing heavier traffic highlighted in yellow and red. Blue represents standard traffic, while yellow and red represent more congested roads. Users can switch between the three routes by either clicking on a different destination directly on the map or by selecting a route from the select menu in the card on the left. For the base map, we chose a graytone style to make it easier to see the routing changes.
Users can also configure a specific route by switching between different parameters for time of day, vehicle size, and type of load to see how that affects the route itself, as well as the duration, distance, CO2 emissions and associated cost. To put the routing changes in perspective, users can also see summary statistics based on 1 trip, 50 trips, and 100 trips. Switching between parameters enables users to see quickly how each of these choices impacts time, distance, CO2 emissions, and cost.
Embedding the map 
The map can be embedded as an iframe, with detailed instructions for desktop and/or mobile devices available under the About modal.
HERE data and products used
The HERE Truck Routing and Traffic Analytics API were used to determine all route calculations, leveraging HERE's capability to customize vehicle and load configurations, and determine truck-safe routes, while integrating traffic information and first-party data.We also used the HERE Javascript API with custom grayscale styles to render the basemap.
Learn more about how fleet managers use precise location data to improve ETA calculations and supply chain visibility on here.com
 
Sign up for our newsletter
Why sign up:
Latest offers and discounts
Tailored content delivered weekly
Exclusive events
One click to unsubscribe