HERE and Mobileye: crowd-sourced HD mapping for autonomous cars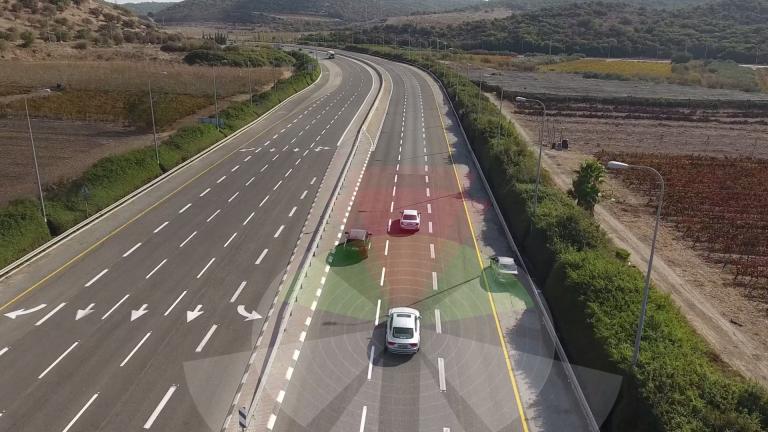 To make autonomous driving a reality, strategic collaboration is key and that's why we're partnering with Mobileye, a global pioneer in technology for intelligent and automated vehicles.
As we have previously discussed on HERE 360, autonomous cars need to be able to precisely position themselves on the road, making high-definition mapping an imperative part of the autonomous-driving-puzzle. For automated vehicles to plan optimal driving strategies, it's also vital that the maps they rely on 'heal' as quickly as possible. For this, vehicle sensor data will play a big role.
How Mobileye's REM technology works
To maintain in near-real-time an accurate map of the environment, Mobileye is harnessing the power of the crowd by exploiting the proliferation of camera-based ADAS systems.
The camera-equipped vehicles collect and transmit data about the driving path's geometry and stationary landmarks around it. The map-relevant information is then analyzed in real-time in the vehicle and compressed to facilitate very small communication bandwidth.
The data is then packed into small capsules and sent to the cloud. The cloud server aggregates and reconciles the continuous stream of information (Road Segment Data, RSD) producing a highly accurate and low Time To Reflect Reality map, called "Roadbook".
Linking HERE and Mobileye autonomous driving technologies
With the planned integration of Mobileye's Roadbook, HERE HD Live Map would be enriched with an important data layer that brings rich additional contextual awareness to the vehicle. In order for any map to be used by an autonomous vehicle, the vehicle must be able to localize itself within it. By detecting all landmarks stored in the Roadbook, the autonomous vehicle automatically localizes itself on the map.
Through its planned partnership with Mobileye, HERE will also have access to raw sensor and observation (RSD) data from certain vehicles equipped with Mobileye's innovative REM technology. HERE will use data that to support the maintenance of HERE HD Live Map and ensure it is updated even more quickly
Finally, the two companies' collaboration will also see Mobileye utilize the HERE Open Location Platform. Specifically, Mobileye plans to utilize this next generation platform for the ingestion and processing of its RSD data, as well as for the creation and dynamic maintenance of its Roadbook products.
As HERE and Mobileye share a similar view of where automotive and other industries are going, we look forward to a partnership that will aid the creation of a "world HD-map" standard, initially leveraging the combined fleet size of certain vehicle brands; with the objective of eventual expansion into an industry wide initiative.
We also look forward to exploring other potential opportunities where HERE and Mobileye products and services are complementary, to further support automotive companies in their strategies around autonomous driving and mobility in general.

Sign up for our newsletter
Why sign up:
Latest offers and discounts
Tailored content delivered weekly
Exclusive events
One click to unsubscribe