How did Germany's €9 train scheme affect road traffic?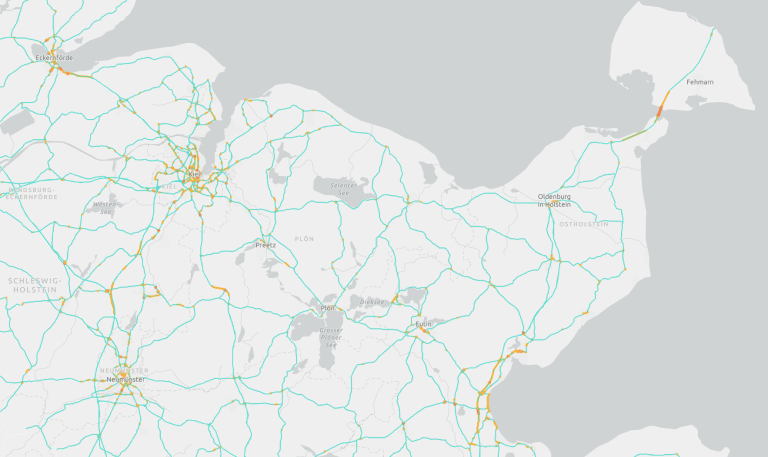 Every summer, millions of Germans cool off along the beaches of the Baltic and the North Sea. But this year, they could travel there for just 9 euros a month.
As part of a larger effort to respond to the effects of the pandemic and high inflation, the German government introduced a public transportation subsidy scheme encompassing all local and regional public transportation across the country. Valid for one month with very few exclusions, the program was offered to everyone from June to the end of August — in short, staycations became a very tempting prospect.
But how did it affect summer traffic?
The HERE360 & Developer blog team compared real-time traffic flow data from July 2021 and July 2022 derived from HERE Real-Time Traffic — a solution designed to show how location technology can help businesses and institutions understand how roads and drivers perform. Or in this case, the impact of public transportation.
So, what did we learn? Interestingly, traffic congestion in seaside hotspots has not dropped significantly in July.
The visualization above represents an excerpt of data from HERE Traffic API, focused on federal roads, regional roads and the Autobahn in northern Germany. We calculated the weekly congestion average based on daily congestion data (8am to 6pm, at the top of the hour).
As you move the slider, you'll hardly see any difference between 2022 and 2021. Traffic congestion remained consistent year on year.
Some areas even saw an increase in July traffic — such as in the bustling tourist town of Eckernförde and around the island of Sylt's train station, home to a popular car shuttle train service.
We were able to identify a few areas that experienced a noticeable drop in congestion, but after taking a closer look, the decrease seems to be due to finished roadworks — for instance, along the Autobahn A1 near the busy coastal towns of Scharbeutz and Timmendorfer Strand, about an hour away from Hamburg.
The above is also true for long segments of federal highway B75 in the city of Lübeck (Wallbrechtstraße), the notoriously polluted stretch of the B76 in Kiel (Theodor-Heuss-Ring), the B73 near Cuxhaven (Altenbrucher Landstraße) and federal highway B5, a major artery that serves the rural Nordfriesland region, near Itzehoe.
If you set the left map to July 2019 and zoom into some of the hotspot highway intersections, the difference to July 2022 becomes more significant: Emden, Sylt, Timmendorf, Fehmarn — major highways around these destinations were less congested before the pandemic when more people vacationed abroad.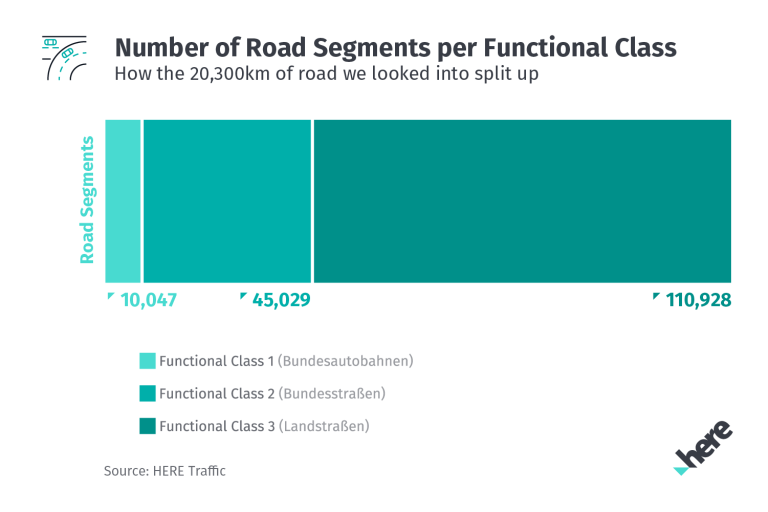 Mixed results
Until the first week of August, a whopping thirty-eight million 9 euro tickets were sold, exceeding expectations. Hopes were high that the scheme would encourage people to use public transportation instead of cars, and even generate a positive impact on the climate by helping to encourage more sustainable modes of transportation.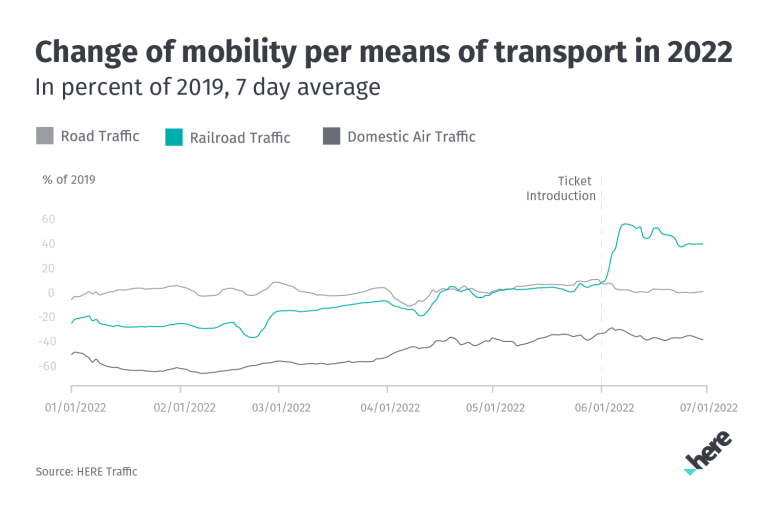 Our findings show this was only partially successful. Data recently released by the German Federal Statistical Office reveals a clear uptick in overall railroad usage just after the scheme's introduction in June in comparison to 2019, while a decline in road traffic was negligible. Our HERE Real-Time Traffic probes for northern Germany tell a similar story.
Why is this the case? The Association of German Transport Companies (VDV) explained that about 25% of recent public transit journeys would not have been made at all without the ticket scheme. Instead of replacing existing excursions, the increase can be attributed to additional trips that would otherwise have been made by car.
Across the EU, other countries are rapidly following suit. Irish train fares have been cut by 20% until the end of 2022 and the Spanish government has announced free use of several railway connections starting this September. Over in Luxembourg, a similar scheme has been in place since 2020.
At first, German railroad operators criticized the new legislation, but quickly changed their minds when the trial performed better than anticipated — they have already proposed a new €69 monthly pass.
So what's the bottom line?
For those who take advantage of the cheaper fare, the 9-euro ticket can help mitigate the impact of inflation.
As schemes such as this one become more commonplace and the cost of living increases, more drivers could be tempted to swap roads for rail — whether they're on their daily commute or traveling cross-country.
Sign up for our newsletter
Why sign up:
Latest offers and discounts
Tailored content delivered weekly
Exclusive events
One click to unsubscribe